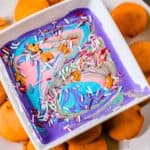 Print
Unicorn Poop Rainbow Dessert Dip
With all the talk about unicorns and rainbows these days, we came up with this Unicorn Poop Rainbow Dessert Dip. Perfect for all those unicorn birthday parties.
Place cream cheese in an electric mixer with marshmallow fluff, salt, vanilla, pudding mix and mix well.

Once the ingredients are completely combined you can add a TBSP of cream to loosen it up a little bit.

Divide the mixture into 4 separate bowls and add the food coloring to each bowl.

Mix well.

Pour the colored mixtures in to one bowl- directly on top of each other so it makes a bullseye type pattern.

Using a toothpick, mix the colors to make swirls.

Add sprinkles and unicorn pieces.

Serve with cookies, pretzels and fruit.