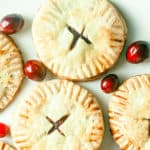 Print
Cranberry Hand Pies
Hand Pies – an easy breakfast option with a cranberry pomegranate filling. We like to make these cranberry hand pies on the weekend and then heat them up in the morning for breakfast.
Preheat oven to 375 degrees F. Line 2 baking sheets with parchment paper. Set aside.

In a small saucepan, mix together the filling ingredients. Bring to a boil over medium-high heat, then reduce heat to a gentle simmer and cook, stirring occasionally, until the cranberries pop and the sauce has thickened, about 10 minutes. Remove from heat and let cool.

In a small bowl, beat together the egg and milk.

Sprinkle some flour on a large cutting board and carefully unroll the pie crusts. Using a 4 inch cookie cutter cut dough into circles. Ball up the dough and re-roll it to get more circles out of it.

Drop a heaping tablespoon of the cranberry filling onto the center of half of the dough circles. Brush the edge with the egg wash. Place the remaining 6 rounds on top of the filling topped dough circles. Press the edges gently to stick the top and bottom dough rounds together, then press to seal with a fork.

Transfer pies to the lined baking sheets. Brush the tops with the egg wash, and slice an "X" in the tops to vent steam.

Bake for about 25-30 minutes until golden brown. Allow to cool and serve!