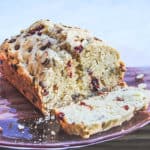 Print
How to Make Cranberry Almond Bread
Cranberry Almond Bread is a dessert or breakfast loaf with cranberries, almond and a bit of orange zest. I love this with a cup of coffee for breakfast.
Grease a 9" loaf pan and set aside.

Preheat oven to 350.

In a large bowl combine the egg, milk, oil, zest and extract. Add in the remaining ingredients and mix until moistened.

Pour into prepare pan.

Bake for 45-50 minutes.

Cool at least 10 minutes in pan before removing.