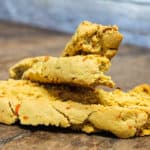 Print
How to Make Carrot Cake Biscotti
Carrot Cake Biscotti is a just like carrot cake but in a crunchy cookie form. We make our carrot cake biscotti without nuts but you can easily add in walnuts or pecan if you like. These are the perfect biscotti.
Preheat oven to 350.

Line cookie sheets with silicon mats and set aside.

In a large bowl of an electric mixer fitted with the paddle attachment cream the butter and sugar until light and creamy (about 5 minutes)

Add the eggs and vanilla and combine- be sure to scrape down sides.

Add the flour, baking soda, cinnamon and salt and finally carrots.

Form a large loaf about 12-14 inches long.

Bake approximately 25 minutes or until lightly browned.

Cut the loaf into slices about ½" in width.

Put cut side down and bake for an additional 10 minutes.

Flip each biscotti and cook for another 10 minutes.

Cool 10 minutes before moving from cookie sheets.