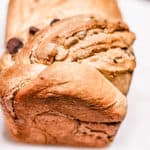 Print
How do you make Babka?
What is Babka? Babka is made from a doubled and twisted length of yeast dough and is typically baked in a high loaf pan. You can use fruit filling or cinnamon and/or chocolate. This was my first time making Babka and I think it came out delicious.
Cinnamon- Chocolate filling
2

cups

sugar

2

TBSP

cinnamon

1

cup

chocolate chips
Raspberry Filling
1

jar raspberry preserves
For the Babka- Mix water, yeast, 1 cup flour and salt in a bowl. Cover with a towel and set aside until the top is foamy.

In another bowl, whisk the eggs, honey and olive oil.

Pour the yeast mixture into an electric mixer with the paddle attachment, add the egg mixture and turn on the mixer to low. Add the flour a little bit at a time until it is incorporated. Change to a dough hook and knead for at least 5 minutes.

Grease a large bowl with oil and place dough in. Cover with plastic wrap and let rise for an hour until dough has doubled.

Grease 3 9x5 loaf pans and line with parchment paper.

Cut the dough into 3 equal pieces. Roll one piece out to a large rectangle.

Place your choice of filling on the dough.

Roll the dough up like a jelly roll with the long end.

Slice the rolled up dough in half lengthwise and twist the dough a few times (5 or 6) and place into prepare pan.

Repeat with the remaining 2 pieces of dough.

Preheat oven to 350.

Let the three pans of dough rise for 30 minutes.

Bake in the oven for 45-50 minutes.

Lower the oven to 325 and bake for an additional15 minutes.