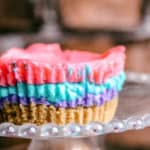 Print
Easy Unicorn Poop Dessert
This Unicorn dessert is so easy to make and you do not have to bake it! We had so much fun making this unicorn poop dessert this week.
Place cupcake liners into 12 muffin tins.

Mix the melted butter with the crust mix until moist.

Divide evenly across the preprared liners.

Press down the crust mix in each liner and set aside.

Mix the filling packet with the milk with an electric mixer for about 5 minutes until it starts to thicken.

Divide amongst 3 bowls.

Add the food coloring to each bowl (1 color in each bowl) and mix well.

Layer each colored filling evenly amongst the crust in each liner.

Chill for at last 2 hours.