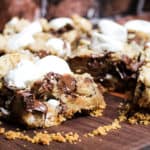 Print
S'mores Cookie Bars
S'mores are a melted marshmallow with chocolate and graham crackers. This cookie bar is all the goodness of a regular s'mores without the mess.
Preheat oven to 35Line a 8" square pan with aluminum foil and spray pans with a non stick cooking spray. Set aside.

Combine the graham cracker crumbs with melted butter and press into the bottom of the prepared pan.

Cream ½ cup butter and sugars until light and fluffy.

Add in the egg, vanilla and almond and mix to combine.

Add in the flour, baking soda, salt and mix to combine. Fold in the chocolate chips and mini marshmallows. ( reserve a few marshmallows for decorating later)

Spread the dough onto the cracker crust.

Bake for 20 minutes.

While the bars are cooking. Break the candy bar in pieces and place in freezer for about 10 minutes.

Remove from oven and press in the candy pieces plus a few marshmallows for decoration.

Cool completely before cutting into pieces.