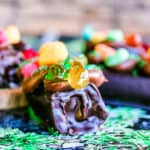 Print
Bugs on a Log Dessert Recipe
Disney's "The Lion King" is in theaters now and we are headed out to see it again. This
Bugs on a Log recipe is perfect for a birthday or movie night and they were
inspired by two of my favorite Disney characters, Timon & Pumbaa.






1

box Yodels

1

tub Chocolate frosting

Gummy snakes

worms, etc.

Green Sanding Sugar
Put the Yodels in the fridge for at least 1 hour prior to assembling.

Unwrap the Yodels and place on flat service.

Place chocolate icing into a plastic bag and cut a small piece of the tip.

Pipe a wiggly line down the center of each yodel.

Top with your gummy bugs.

Sprinkle with green sanding sugar if desired.