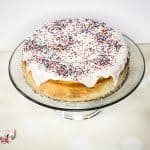 Print
Italian Baked Ricotta Cake Recipe
This Ricotta Cake is the perfect mix of old school Italian recipes with the ease of using a cake mix. This cake has the perfect consistency and can be topped with an easy glaze and nonpareils. Ricotta Cake Mix
Preheat oven to 325, spray a 10" springform pan with non-stick cooking spray.

In the bowl of an electric mixer with paddle attachment add the ricotta, eggs, extracts and oil- blend for about 2 minutes until batter is smooth.

Add in your cake mix and blend.

Add in the heavy cream and mix.

Pour into the prepared pan and bake for about 75 minutes or until center is set – Make sure you test before taking out of the oven.

Cool in pan for about 5 minutes then remove the springform pan side and cool completely.

Make your glaze by mixing powdered sugar, almond extract and milk together in bowl until smooth.

Pour over cooled cake, then top with nonpareils.

Cut and serve.