I love reading! I am trying to instill this love with all of my children as well. My middle son can read so well at age 7, it is very impressive while my oldest will read anything that has to do with animals. The following are a few books that Candlewick Press sent to us to jump start our summer reading.
Raymie Nightingale, By Kate DiCamillo
Ages 10 yrs and up
Synopsis: Raymie Clarke has come to realize that everything, absolutely everything, depends on her. And she has a plan. If Raymie can win the Little Miss Central Florida Tire competition, then her father, who left town two days ago with a dental hygienist, will see Raymie's picture in the paper and (maybe) come home. To win, not only does Raymie have to do good deeds and learn how to twirl a baton; she also has to contend with the wispy, frequently fainting Louisiana Elefante, who has a show-business background, and the fiery, stubborn Beverly Tapinski, who's determined to sabotage the contest. But as the competition approaches, loneliness, loss, and unanswerable questions draw the three girls into an unlikely friendship — and challenge each of them to come to the rescue in unexpected ways.
Hour of the Bees, By Lindsay Eagar
Ages 10-14
Things are only impossible if you stop to think about them. . . .
Synopsis: While her friends are spending their summers having pool parties and sleepovers, twelve-year-old Carolina — Carol — is spending hers in the middle of the New Mexico desert, helping her parents move the grandfather she's never met into a home for people with dementia. At first, Carol avoids prickly Grandpa Serge. But as the summer wears on and the heat bears down, Carol finds herself drawn to him, fascinated by the crazy stories he tells her about a healing tree, a green-glass lake, and the bees that will bring back the rain and end a hundred years of drought. As the thin line between magic and reality starts to blur, Carol must decide for herself what is possible — and what it means to be true to her roots. Readers who dream that there's something more out there will be enchanted by this captivating novel of family, renewal, and discovering the wonder of the world.
Dan Versus Nature, By Don Calame
Ages 14 yrs and up
Synopsis: Shy and scrawny Dan Weekes spends his time creating graphic novels inspired by his dream girl and looking out for his mom as she dates every man in the state of California. Then his mom drops a bomb: she and her latest beau, Hank, are engaged, and she's sending her "two favorite men" on a survivalist camping trip to "bond." Determined to trick Hank into showing his true — flawed — colors on the trip, Dan and his nerdy germaphobe best friend, Charlie, prepare a series of increasingly gross and embarrassing pranks. But the boys hadn't counted on a hot girl joining their trip or on getting separated from their wilderness guide—not to mention the humiliating injuries Dan suffers in the course of terrorizing his stepdad-to-be. With a man-hungry bear on their trail, no supplies, and a lot of unpleasant itching going on, can Dan see his plan through now that his very survival depends on Hank?
The Princess in Black and the Hungry Bunny Horde, By Shannon Hale and Dean Hale, illustrated by LeUyen Pham
Ages 5-8
Synopsis: Princess Magnolia and her unicorn, Frimplepants, are on their way to have brunch with Princess Sneezewort, an occasion Frimplepants enjoys more than anything in the world. But just when he can smell the freshly baked bread and the heaping platters of sugar-dusted doughnuts, Princess Magnolia's glitter-stone ring rings. The monster alarm! After a quick change in the secret cave, Princess Magnolia and Frimplepants are transformed into the Princess in Black and her faithful pony, Blacky. But when they get to the goat pasture, all they can see is a field full of darling little bunnies nibbling on grass, twitching their velvet noses, and wiggling their fluffy tails. Where are the monsters? Are these bunnies as innocent as they appear?
Julius Zebra: Rumble with the Romans!, Written and illustrated by Gary Northfield
Ages 7-10
Synopsis: From a smelly water hole on the African savanna, Julius Zebra is captured, along with Milus the scarred lion and Cornelius the clueless warthog. Transported to the ferocious clamor of the Colosseum, Julius Zebra and his motley menagerie of friends must gear up to be . . . gladiators! The only way they will gain their freedom is if they win the love of the Roman crowds. But do they have what it takes to succeed in a world where only the meanest and toughest survive? Follow the madcap adventures of Julius Zebra and his pals in short chapters with funny, irreverent text and zany cartoon-style illustrations, with an illustrated guide to Roman numerals and a handy glossary at the end.
Shaun the Sheep: Pranks a Lot!, By Martin Howard, illustrated by Andy Janes
Ages 5-8
***My seven year old LOVED this one!
Synopsis: Why does Bitzer the sheepdog suddenly have a mustache? What could turn Shaun the Sheep bright pink? A series of pranks punctuated by a paranoid truce pits Shaun and Bitzer against each other in an increasingly hilarious battle of wits. Of course, it's all fun and games until someone gets hurt — namely Shaun, who has fallen to the bottom of a hole and hurt his leg. Or has he? What will Bitzer do when he finds out Shaun is faking? Who will get the last laugh in this side-splitting tale of revenge, retaliation, and squirting flowers? Shaun the Sheep fans will be thrilled with this uproarious new installment.
Cody and the Fountain of Happiness, By Tricia Springstubb, illustrated by Eliza Wheeler
Ages 7-10
Synopsis: For whimsical Cody, many things are beautiful, but nothing so much as the first day of summer vacation. She doesn't want to waste one minute of it. Meanwhile, teenage brother Wyatt is moping over a girl, Mom is stressed about her new job, Dad is off hauling chairs in his long-distance truck, and even camp has been closed for the summer. Just when all seems lost, Cody bumps into a neighborhood boy looking for a runaway cat. With a new friend and a soon-to-be-found cat, Cody is on her way to the fountain of happiness.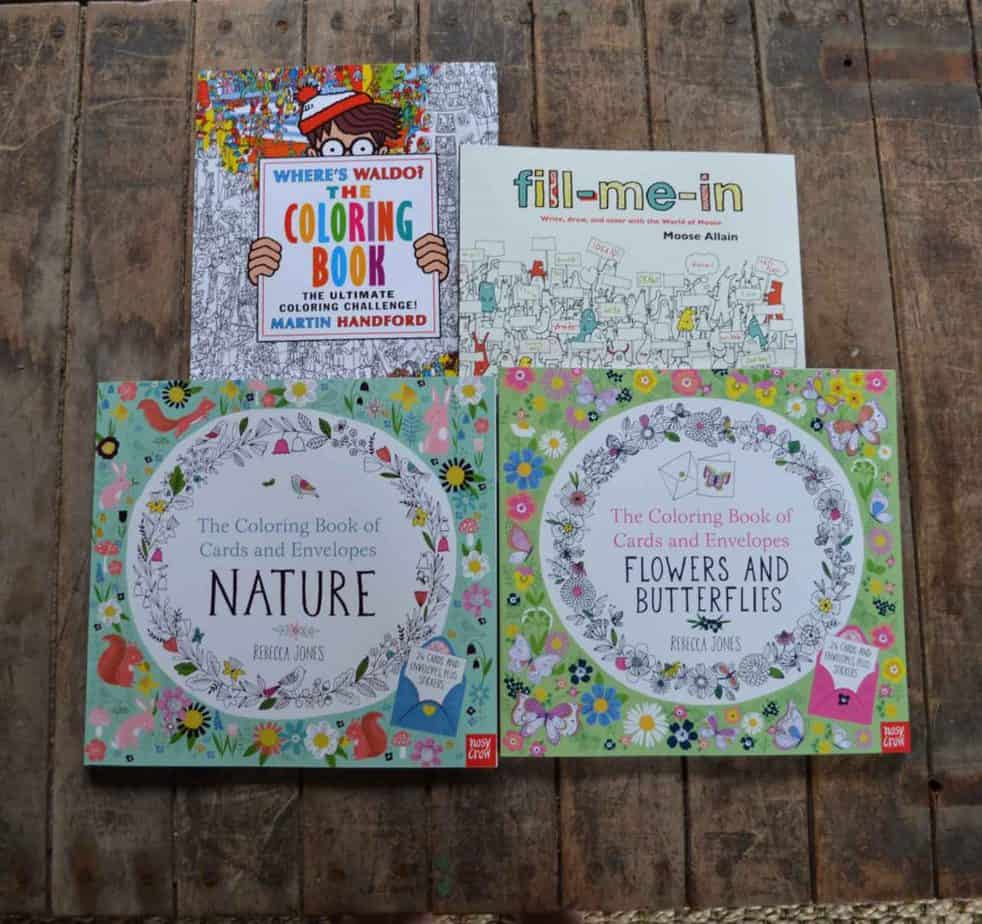 These coloring books are so much for all ages including adults! I love the stress reduction qualities of these books and the kids absolutely love to color them. The notecards are a fun new twist!
Disclaimer: I received product in exchange for my honest review.