This post was sponsored by the National 4-H Council as part of an Influencer Activation for Influence Central and all opinions expressed in my post are my own.
There is nothing that I enjoy more than cooking and sharing the kitchen with my kids. My youngest daughter really enjoys spending time cooking and baking in the kitchen with her momma and I could not be any happier about it. This has truly become our quality time spent together and I hope that she is learning a little bit about healthy snack choices.
My daughter is definitely is a picky eater and I think the time we spend together making food and snacks in the kitchen helps her overcome some of her food obstacles.
With the holidays fast approaching, it can definitely be a season to indulge, but it really does not have to be. I like to offer a fresh fruit platter along with the sweet treats and believe it or not the kids will reach for the fresh fruit as well. I have a delicious fruit dip that I love to serve with strawberries, grapes and raspberries or really whatever fruit is in season.
This delicious fruit dip uses 1-cup low fat yogurt, 1 package 1/3 fat cream cheese, ¼ cup light brown sugar and 1 teaspoon vanilla blended together in an electric mixer. Using these ingredients make it a better choice for you to eat opposed to baked goods. Let's face it- a lot of our snacking comes down to good choices.
We have learned that nearly 16 million children live in homes that are food insecure, which means that unfortunately they do not have access to food throughout the year. As a teacher I definitely see this first hand at school. I love that 4-H Food Smart Families program targets families that are eligible for SNAP and/or WIC benefits and are teaching them how to prepare healthy meals on a budget. We all can benefit from these tips.
The Food Smart Families program includes two components. The first is that it is empowering families and youth with the knowledge of healthy living and how to shop on a budget while making good nutritional choices. The benefits of learning how to budget for food, healthy cooking skills and good food choices are skill sets that will follow them throughout their lives. The second component is that they are connecting families with nutritious assistance resources in their communities. Really this is such a great program that we can all relate too.
For more information have a look at their infographic.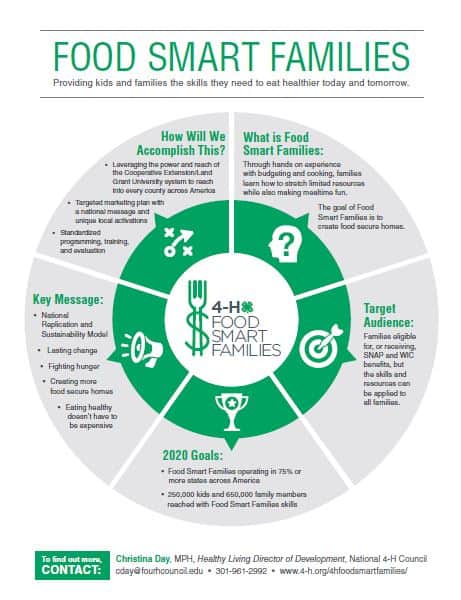 This is truly a program that is near and dear to my heart. I can see it in the eyes of my daughter how important it is for her to spend time with me in the kitchen and I love that I am able to provide some skills for her to make good food choices. The partnership between UnitedHealthcare and 4-H have made the difference to more than 340,000 youth and their families in 14 states. Truly amazing.
For more information on their incentives and programs visit them on the web or on their YouTube channel to learn more.