I received product to facilitate this post. All opinions are my own and yours may vary.
Challenge accepted. When I first heard of "Clifty Farm Blogger Recipe Challenge", I knew that I had to enter. I LOVE a challenge and if I could win money too, then this is the contest for me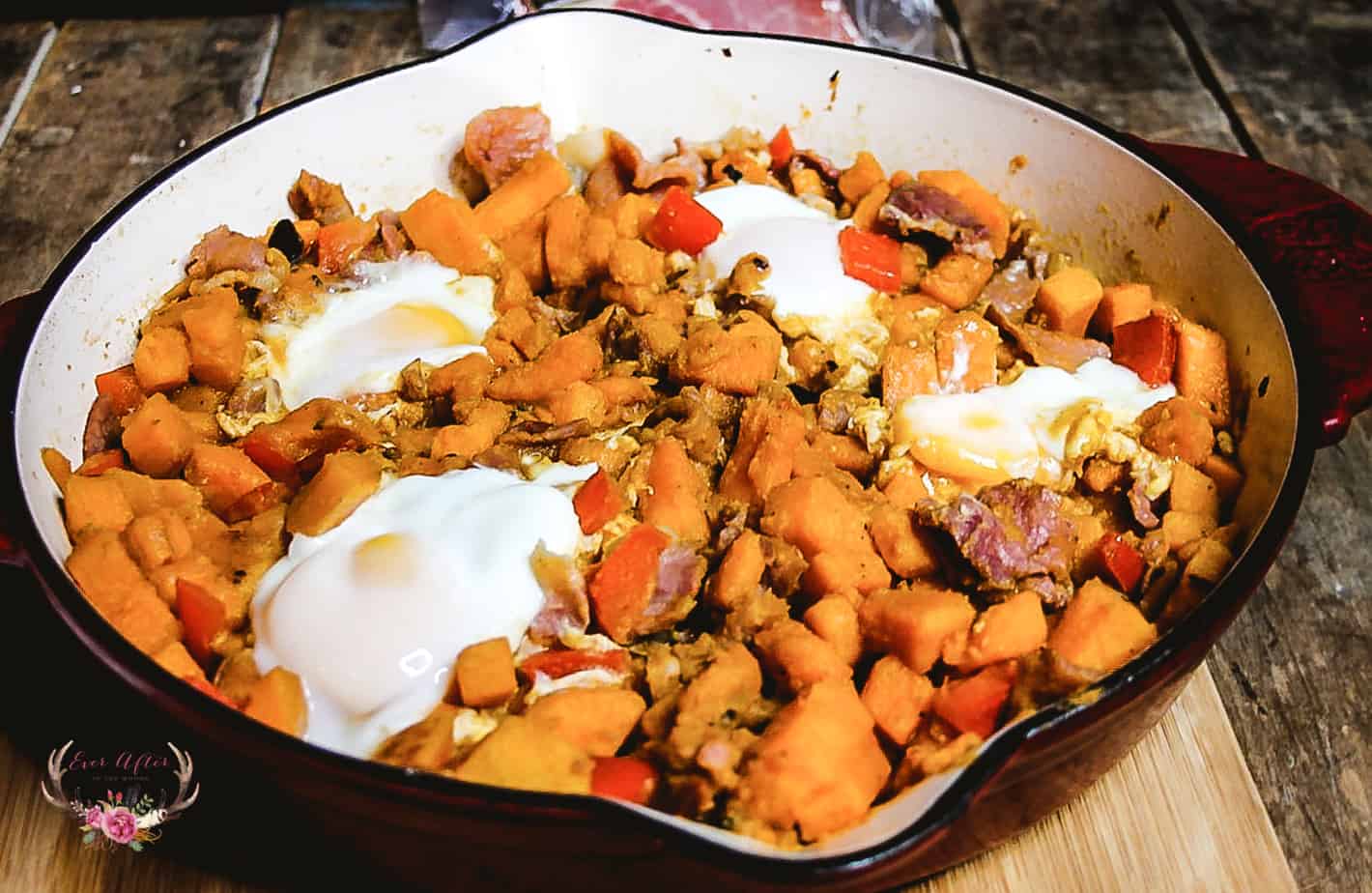 Clifty Farm Blogger Recipe Challenge
Clifty Farm's delicious Country Ham Biscuit Cut Slices (which is what I used in my recipe) and Country Ham Seasoning Meat can transform any recipe into an extravagant dish. They have so many different products to choose from. The spiral sliced ham looks delicious too.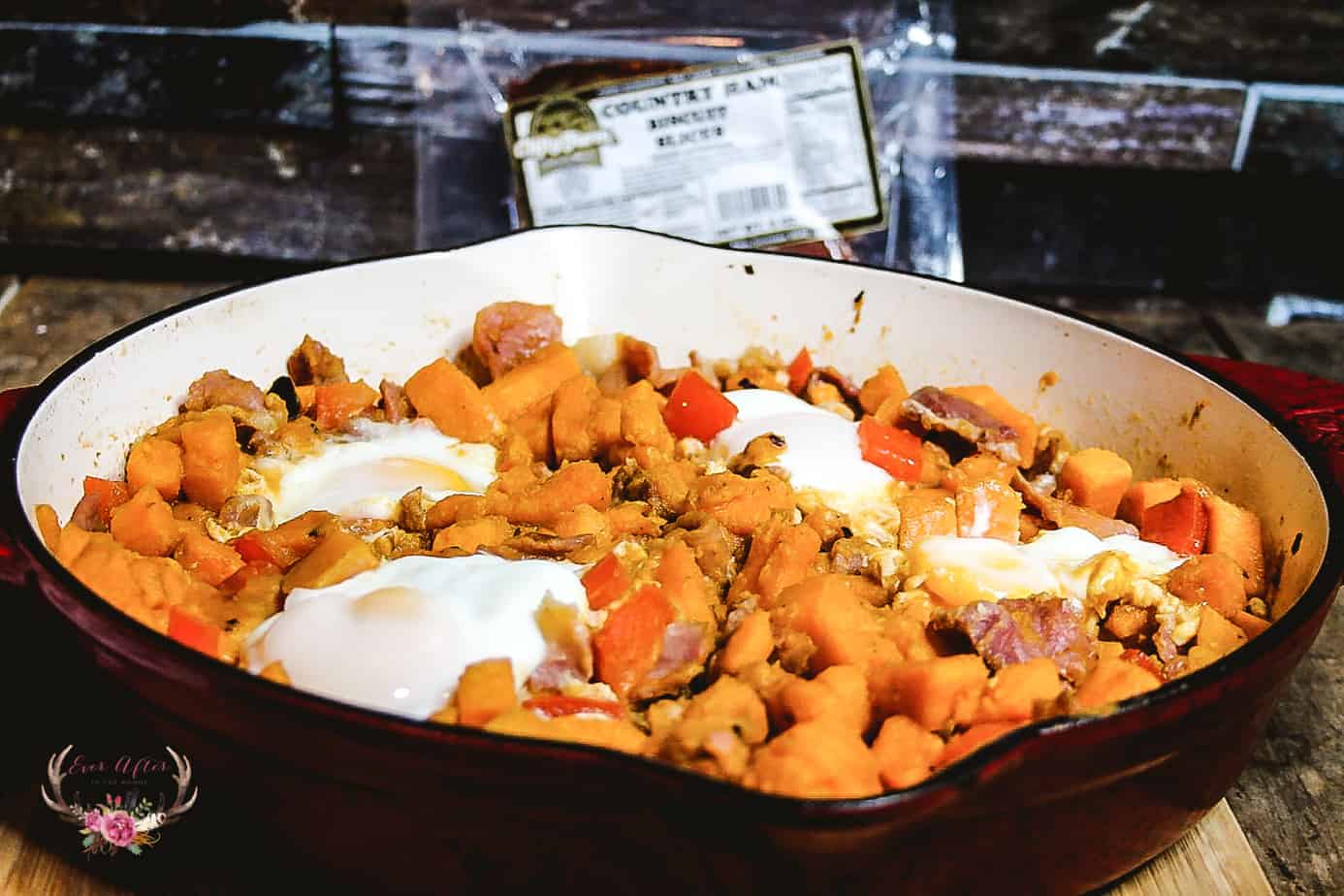 About Clifty Farm
Fourth generation owned and operated family business that went on sale back in 1954. Truman Murphey, the founder of Clifty Farm, grew up down in the country around Paris, Tennessee. Truman remembered the day when every farmer cured his own hams.
Today, Truman's grandson, Michael, is now overseeing the family business, replacing his father Dan, who passed away in 2016. Michael started working in the business as a teenager and is now president of Clifty Farm Country Meats.
Have a look at Clifty Farm on the web:
Save $1.00 on your next purchase of Clifty Farm Products, visit link below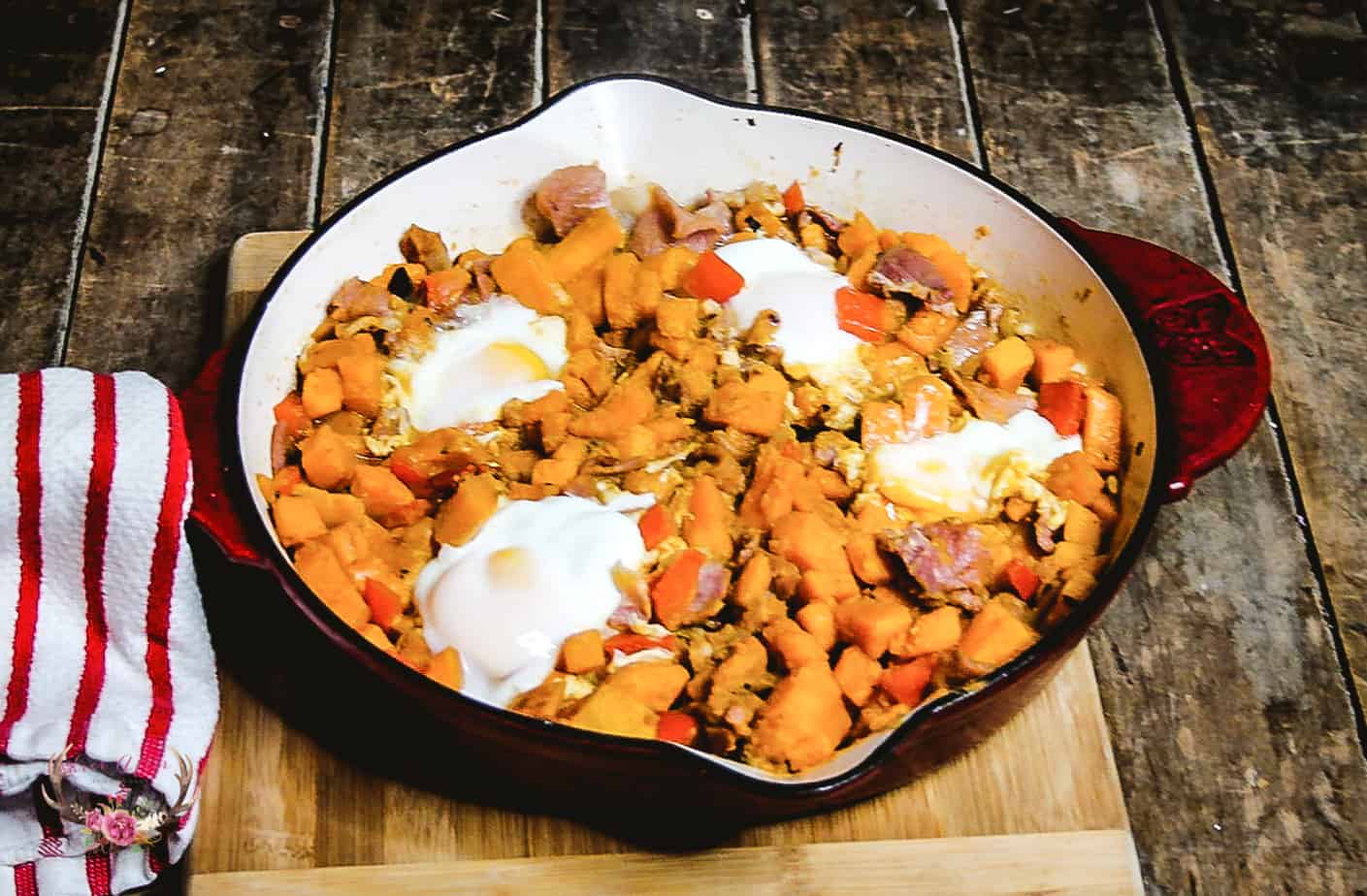 My Entry for the Breakfast Category is Sweet Potato, Apple and Ham Hash made with pieces of Clifty Farm ham.

Sweet Potato, Apple and Ham Hash
Ingredients
1 pkg Clifty Farm Country Ham Biscuit Cut Slices, cut into pieces
2 cups peeled and cubed sweet potatoes
2 TBSP butter
1 TBSP olive oil
1 apple, peeled, cored and chopped
1 red pepper, chopped
4 eggs
½ tsp red pepper flakes
¼ tsp nutmeg
½ tsp cinnamon
Salt and pepper to taste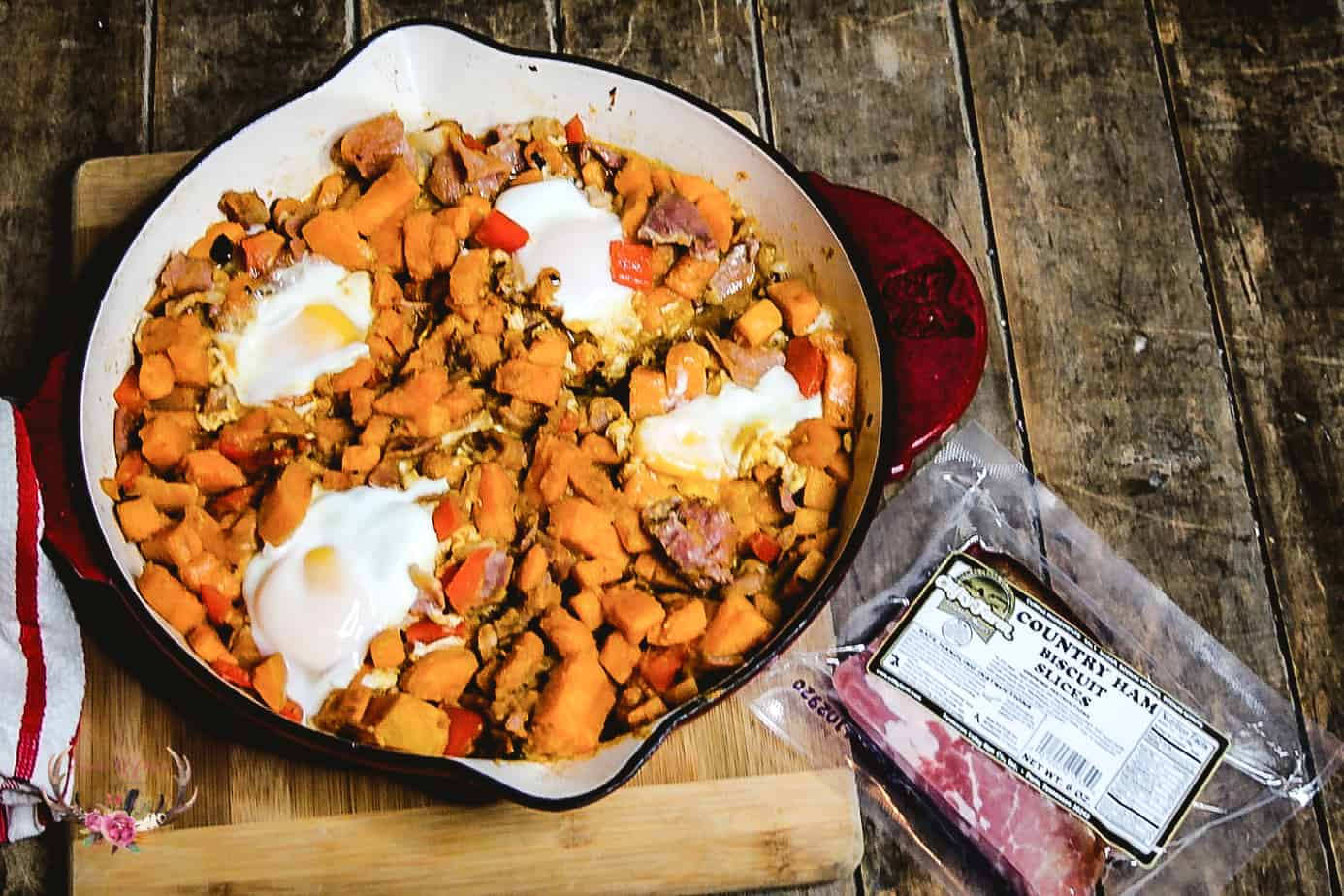 Directions
In a large skillet (I used cast iron) sauté the sweet potatoes in butter for about 10 minutes over a medium heat.
Add the sweet potato, red pepper and apple to the pan and continue to cook for another 5-10 minutes.
Add in the red pepper flakes, salt, pepper, cinnamon and nutmeg and ham.
Stir well.
Create 4 holes in the hash and carefully break your eggs into each hole and cook covered for about 10 minutes or until your eggs are ready the way that you like them.
Serve immediately.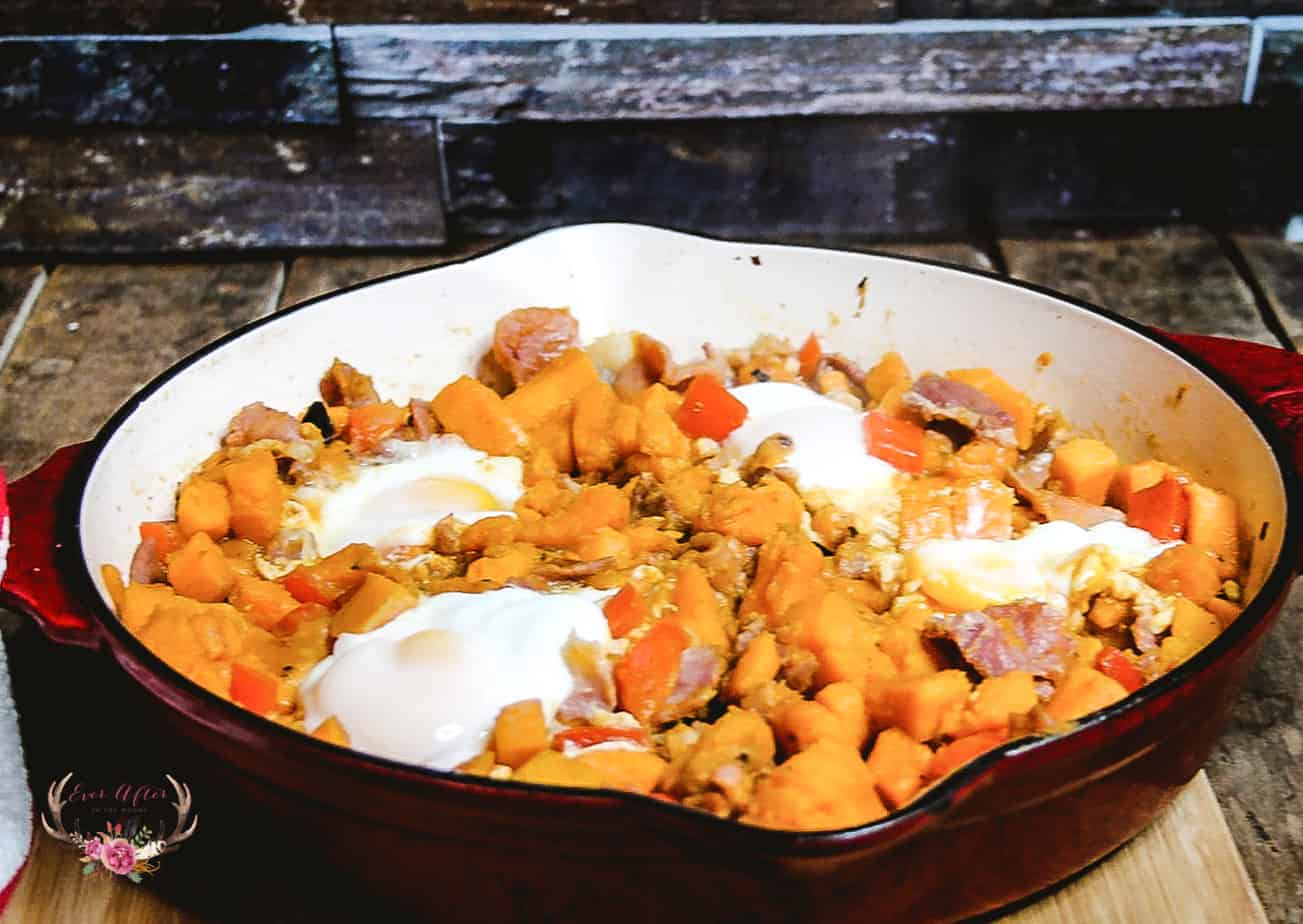 This hash had just the right amount of spice and was hearty and filling – perfect for a weekend morning. Wish me luck in the contest and happy baking!!!