Okay, okay- you know that I love subscription boxes. I really do- it is like a Christmas present showing up on your doorstep that someone has curated especially for you. It is like a complete surprise. Let me just say I normally do not like surprises but boxes full of stylish products, beautiful packaging and amazing beauty product, I can get behind that kind of surprise!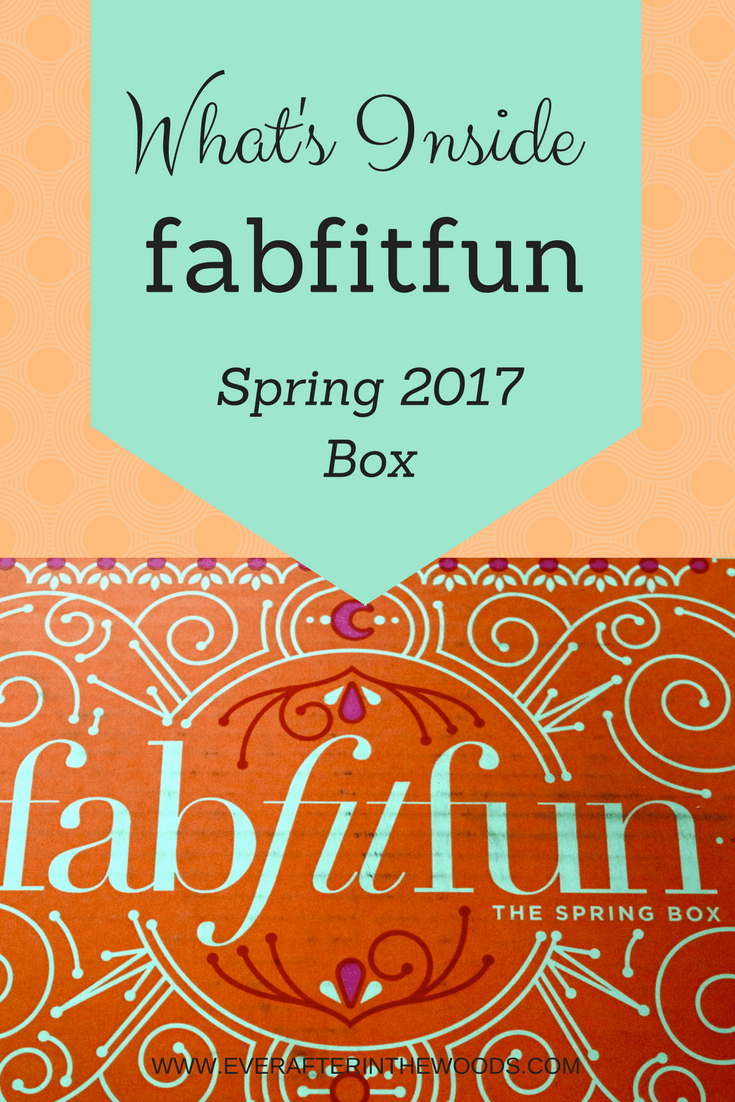 So this is the first time I received a fabfitfun box. I have seen them across the internet in unboxing videos and stylish flat lays but I needed to try it for myself. So I subscribed. This is not a sponsored review- I bought this box on my own and I am in no way receiving any sort of compensation for my thoughts. But one thing for certain- I love this box! For $49.99 it is a steal for what you get! So here's what is inside:
What's Inside the fabfitfun Spring 2017 Edition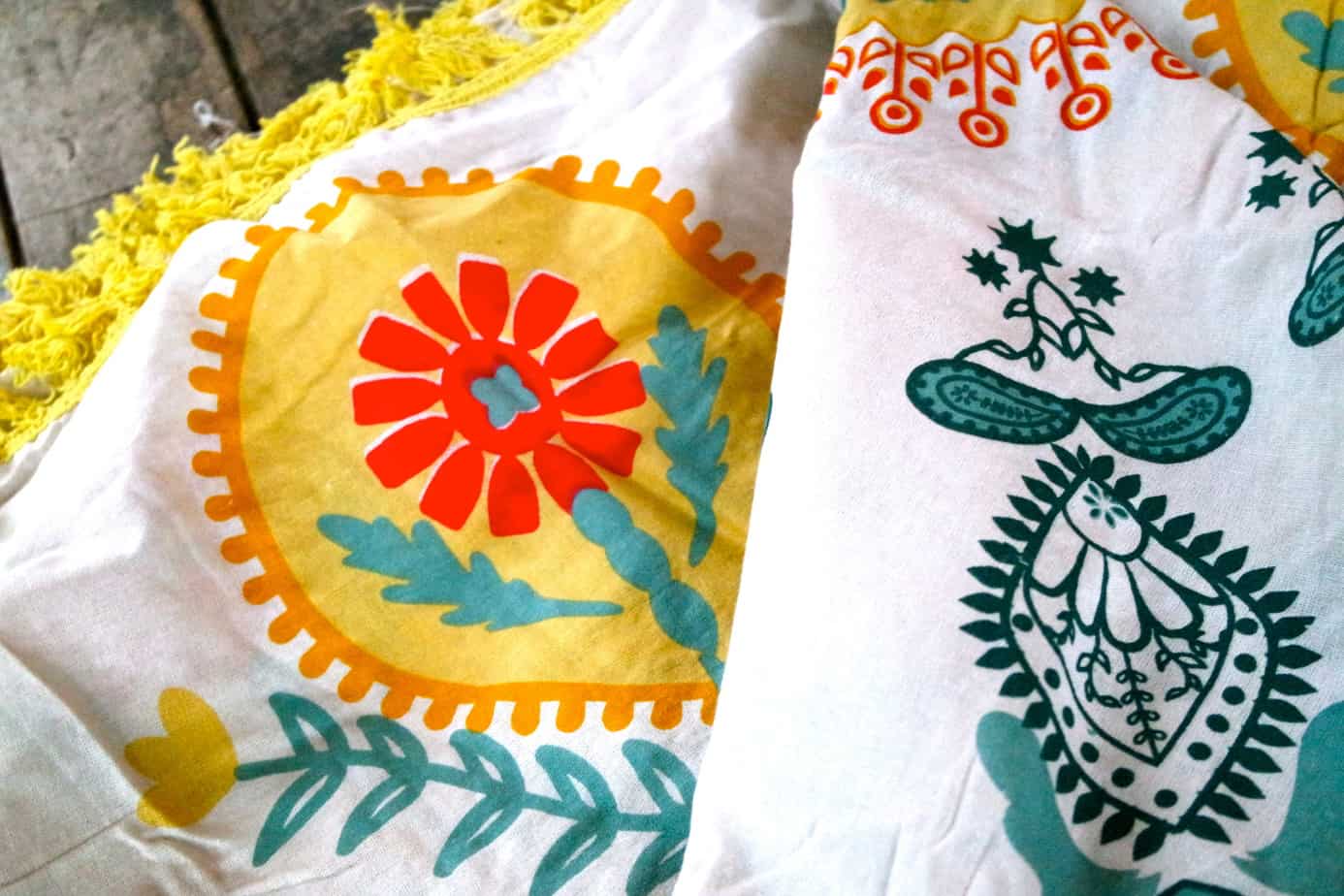 GYPSY 05 – Roundie ($50 retail)
Oh my goodness- this stunning round blanket is absolutely stunning. This is the perfect piece to put in your purse/bag when you are headed out to the park, playground, beach, contest or even a friends house. Sometimes you need a place to sit and this is the perfect piece for you. You can also throw it around your shoulders, use as a cover up or hang on a wall. I am in love with the pattern and fringe on the roundie that was chosen for me.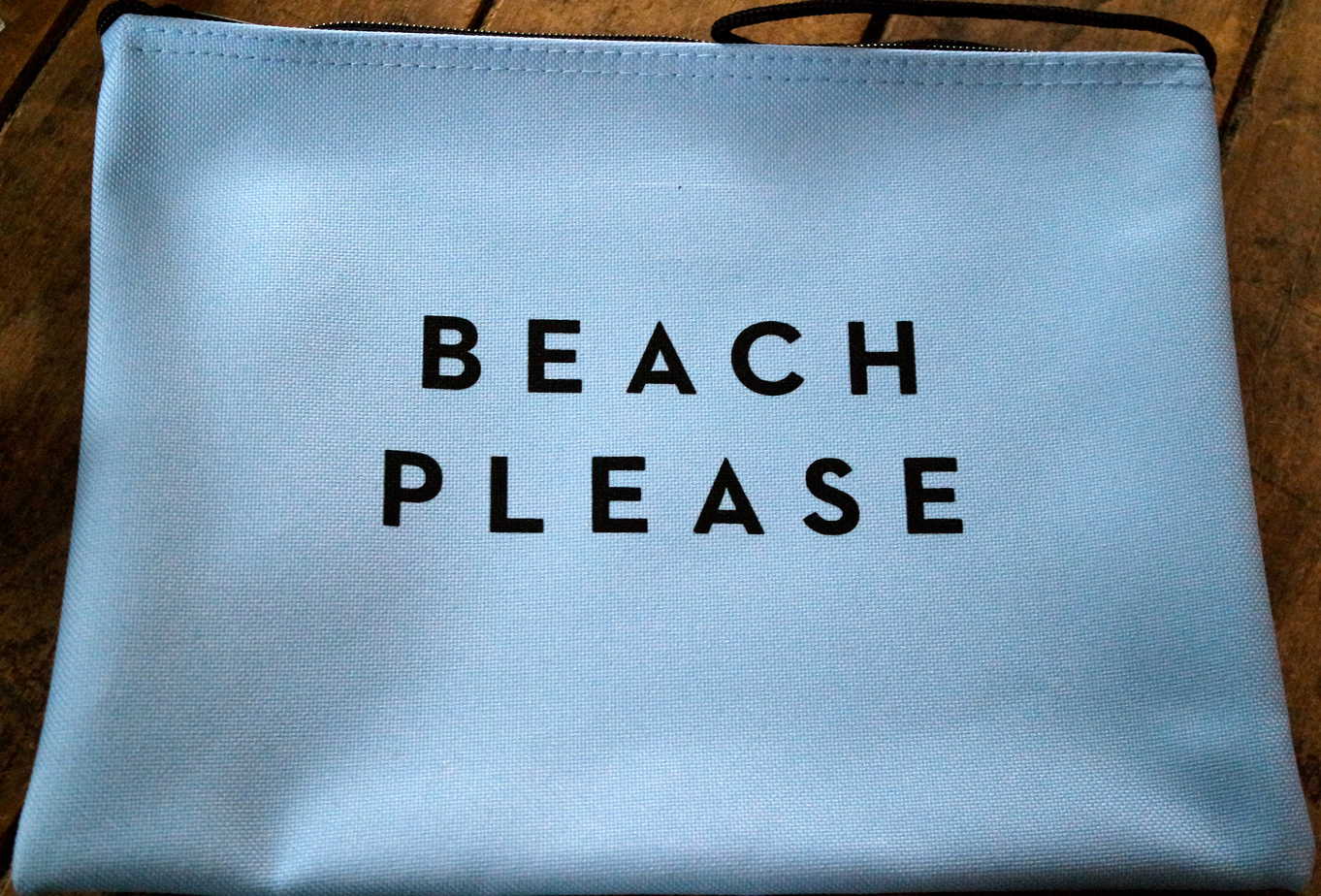 MILLY – Zip Pouch ($45 retail)
This wet bag is the perfect size for a swimsuit or two to be tossed in a beach bag. i received a blue pouch that says "Beach Please" – how did they know? I love the beach! Even though we live in the middle of the woods I love the beach and the ocean – it calls me…. wait a minute that was from Moana, right?! I love that you can keep your wet stuff separated from the rest of your valuables or even put your phone or digital reader in their, either way super cute bag!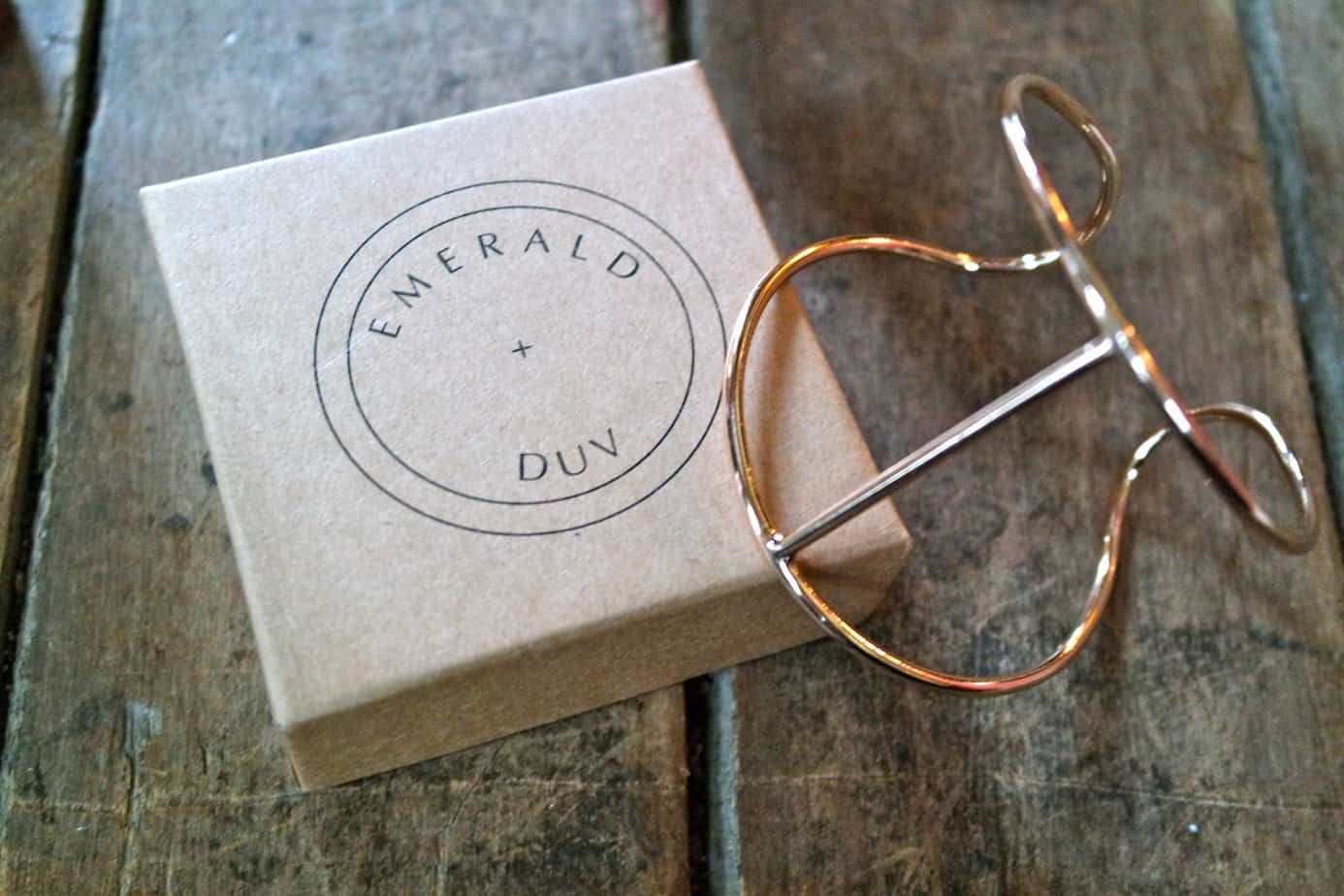 EMERALD DUV – "Joshua Tree" Cage Bracelet ($80 retail)
This was one of the jewelry items that their was two different offerings that went out in different boxes but this bracelet was perfect for me. I love the simple design, gold color and it gives you an immediate classic style by slipping it on. Perfectly on trend- pair with a simple gold necklace or stackable rings and you are all set for those sundresses that are coming!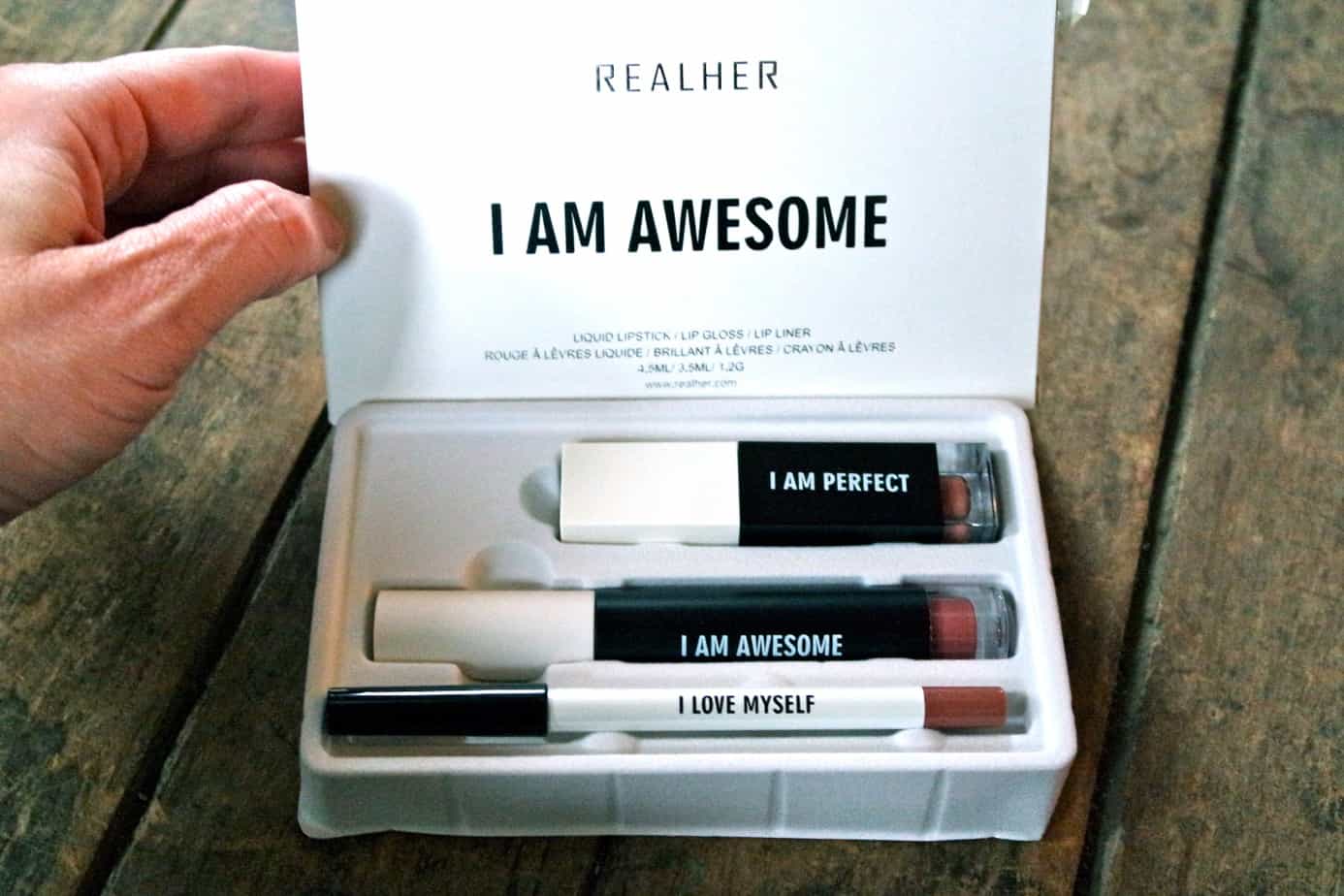 REALHER – Lip Kit in Deep Nude ($48 Retail)
Again another selection that you could have received a different color in your box and to be honest I would have chosen the neutral pink myself as I do not tend to wear lipstick or if I do it is almost sheer but I gave it a try and the texture and creaminess of the gloss and lipstick is amazing. But the I am more impressed about the positive quotes and how this dad created this beauty line for his daughter makes my heart melt. It emphasizes that you should start a women's day with affirmation. I tell my daughter every day when she wakes up that she is beautiful , kind and a good friend. When I get notes home from her teacher stating those exact things it makes my heart feel good. I will buy more of these products not just because of the quality ( and I want to see the neutral pink color) but because of the positive message they bring to all women. Rock on!

DEBORAH LIPPMANN – Nail Polish Set Blur Orchid/Like a Virgin ($19 retail)
SO I am no stranger to Deborah Lippmann nail polish. I am always drawn to the colors that she offers each season. I really loved the Blue Orchid color in this set – it is a cross between a blue and lavender and a great color to transition to spring/summer. There was a choice in this option as well and I am very happy with the color combination that was sent for me. I think I am going to try and use both at one time and do an accent nail or even  color blocking which is the new on trend style this summer.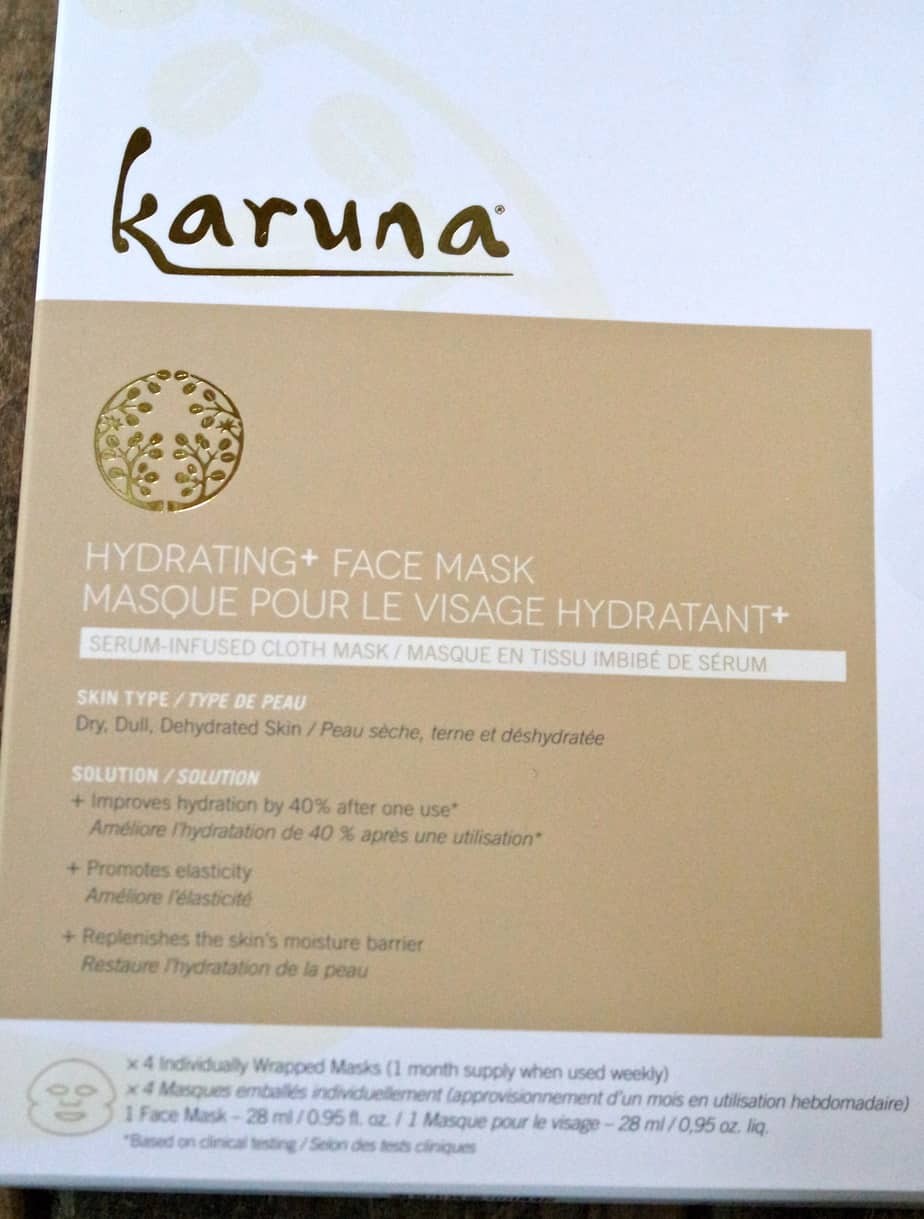 KARUNA – Hydrating Face Mask ($28 retail)
I don't know about you by skin turns into chalk during the winter months. I swear there are certain times during the winter months that I feel like my face could come off in one layer. I should take better care of my skin and have been trying so these masks are perfect. Each package comes with 4 sheet masks and you simply unwrap the mask and place on your face and peel the backing off. Allow the mask to stay on for at least 20 minutes and you will feel the nourishment returning to your skin. I was very happy with the results and the hydration that returned.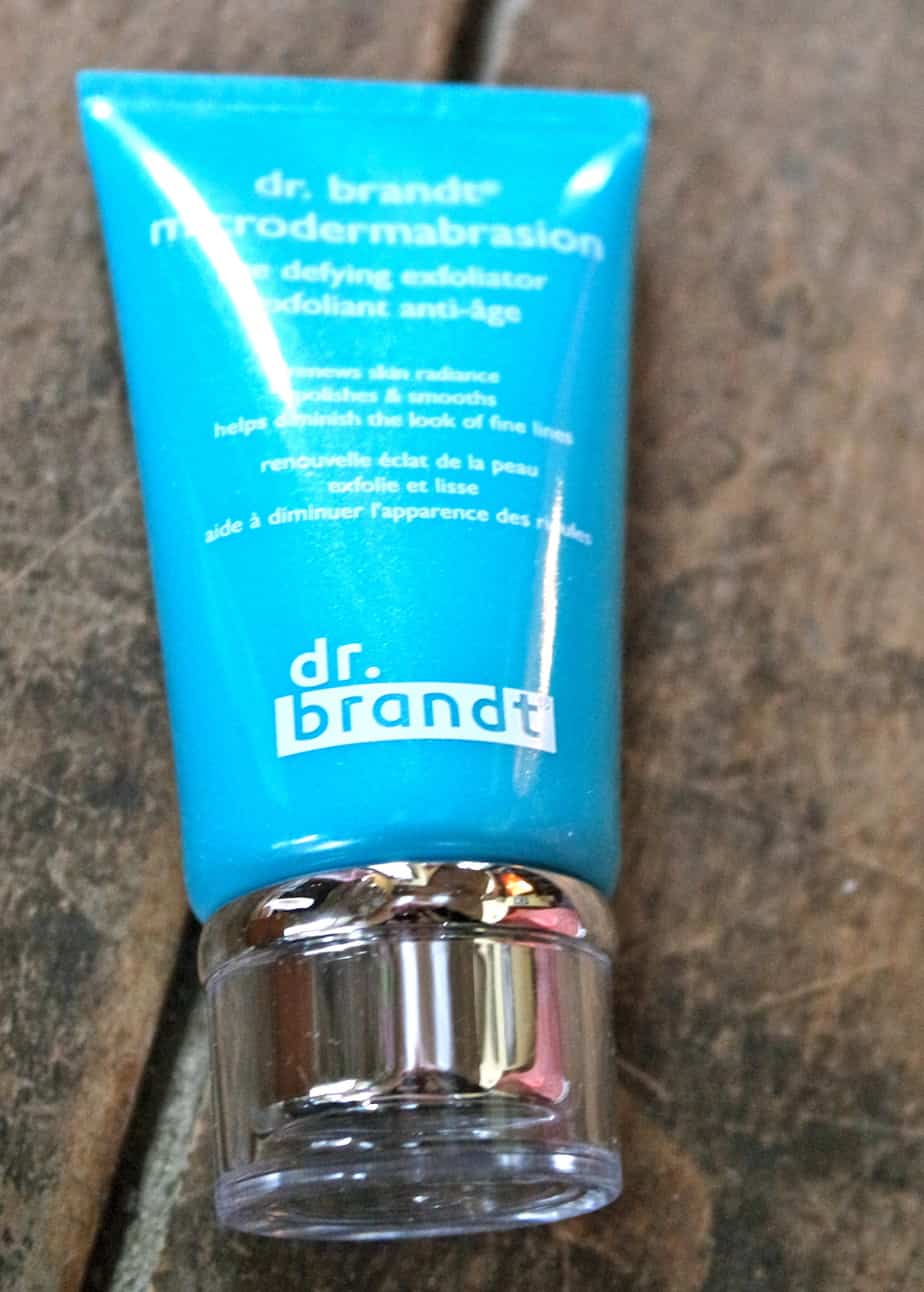 DR. BRANDT® – Microdermabrasion Age Defying Exfoliator ($79 retail)
Holy crap- this is the mother load! Remember how I said how dry my skin is (see above) this exfoliator is like a miracle, it is almost like it polishes your skin. Moisten your skin and gently massage the cream in circular motions for a few minutes and then rinse and follow with your favorite lotions. My skin looked radiant and glowing. Now I know this seems a bit pricey but you really only need a little bit and it says to use every 3 days or so, it will last a while. I think I am hooked – DR. BRANDT®  you have a new customer for life. (not kidding)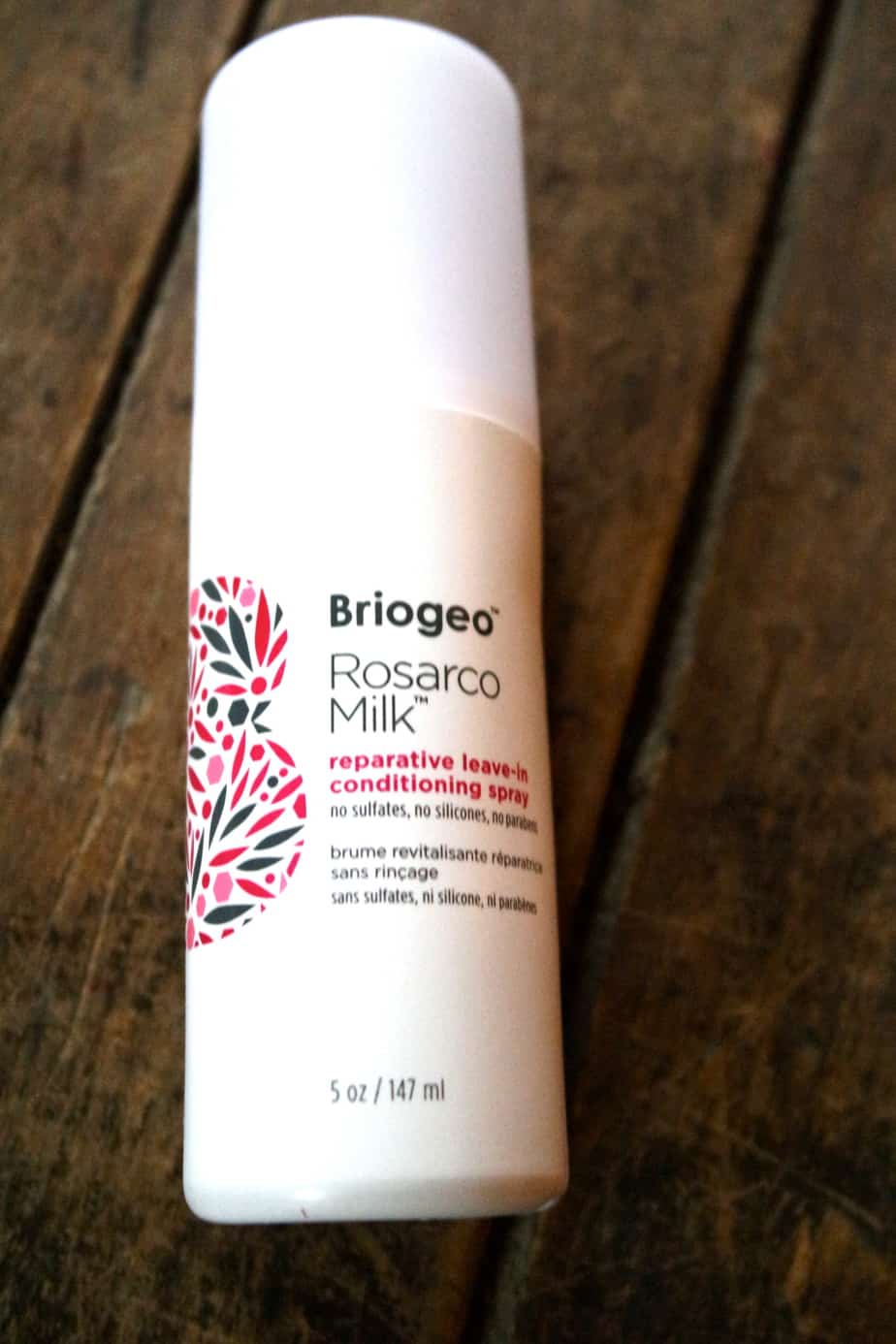 BRIOGEO – Rosarco Milk Reparative Leave-In Conditioner ($20 Retail)
My hair is dry too, I know so many problems! I try to deep condition as a rule 2-3 times per week but this is a leave-in conditioner spray that you use after the shower to improve your hair's softness. I am not one that usually goes the extra step with my hair ( well maybe when I have in the NBR extensions! but that is a complete different story!) This smells amazing and definitely left my hair softer.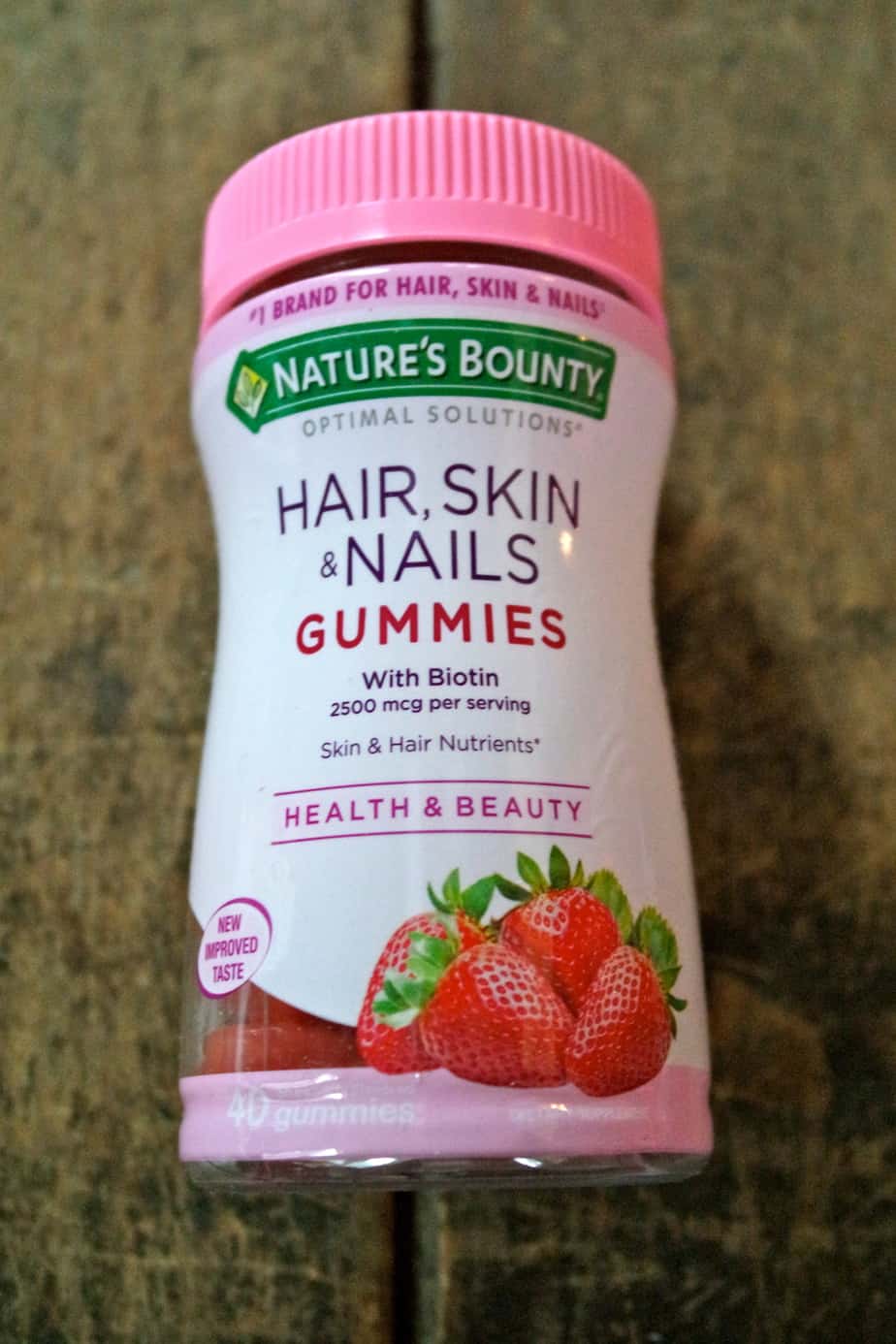 ADDED BONUS- NATURE'S BOUNTY – Hair Skin & Nail Gummies
These strawberry flavored gummies offer 2,500 mcg of Biotin (per 2 gummy serving) perfect to support lustrous hair and healthy nails and skin.
Get $10 off your first subscription to fabfitfun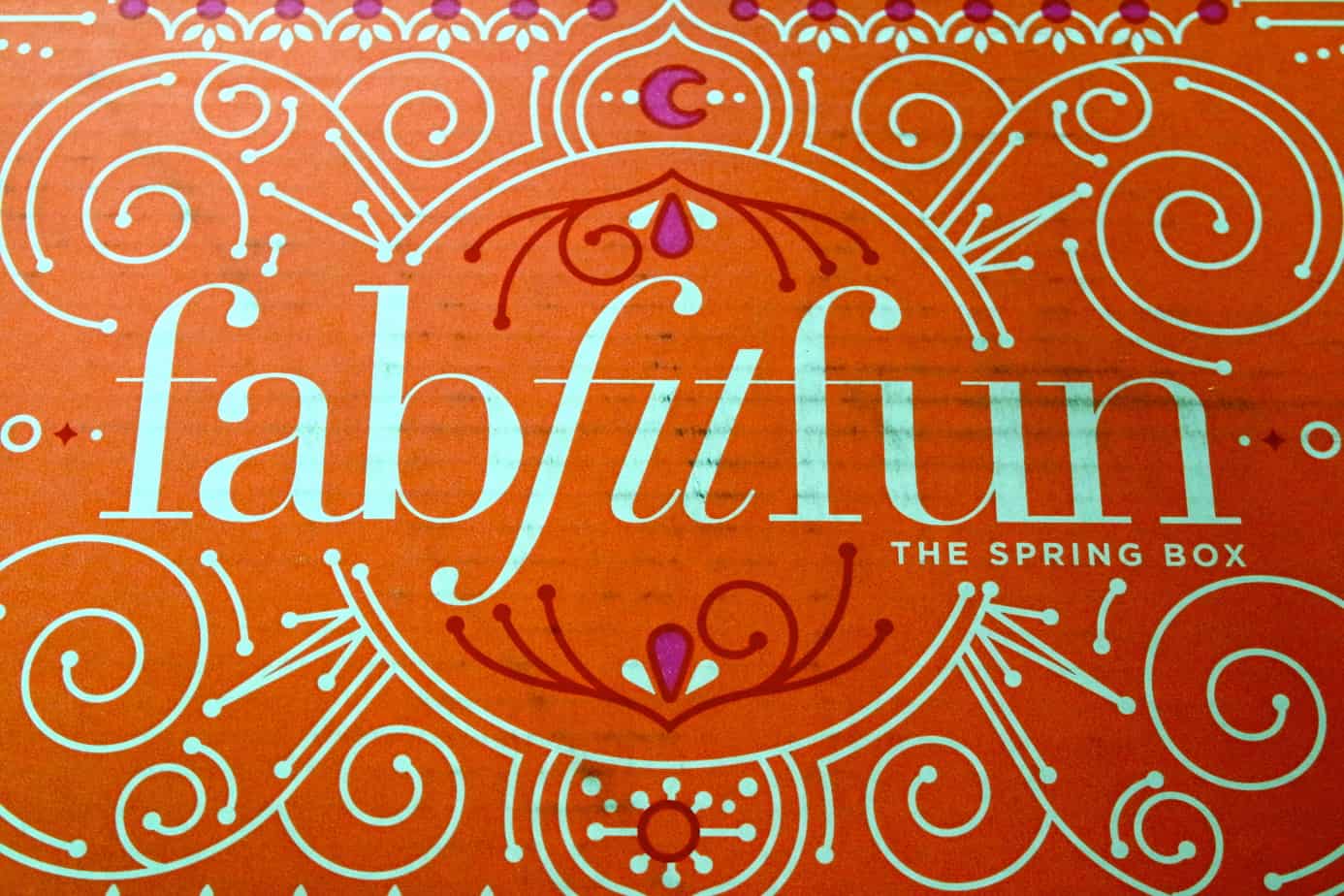 So what do you think about the fabfitfun Spring 2017 edition? I know I am hooked. There was so many different products that were included that I absolutely loved. Depending on some selections in the different boxes the value ranged from $369-$374. Not bad right? I really enjoy the subscription box service and look forward to see what is included in the next box. As I mentioned earlier I purchased this box myself- no compensation was offered on any level. When you first join you take a survey of your preferences so I think that is why they nailed this box for me. If you would like to try fabfitfun here is my referral link for $10 off your first box- this is the same for anyone who is a member of fabfitfun to offer a new user. They receive $10 off their first box and you get $15 off yours. A win-win – full disclosure. Again