As a full time working mom of three our mornings have been known to be pretty hectic. From packing lunches, getting clothes ready and ensuring we all have a healthy breakfast – it can get pretty hard to stay on track. Breakfast is the most important meal of the day; and trust me Moms- this goes for you too!
Morning Organization Tips
I have a few tips that have helped me streamline my mornings. I thought I would share them in case you are having some of the crazy morning that I used to have. I try to do each of these every day. I find that if I do not follow these tips my mornings just do not work and my whole day is thrown off.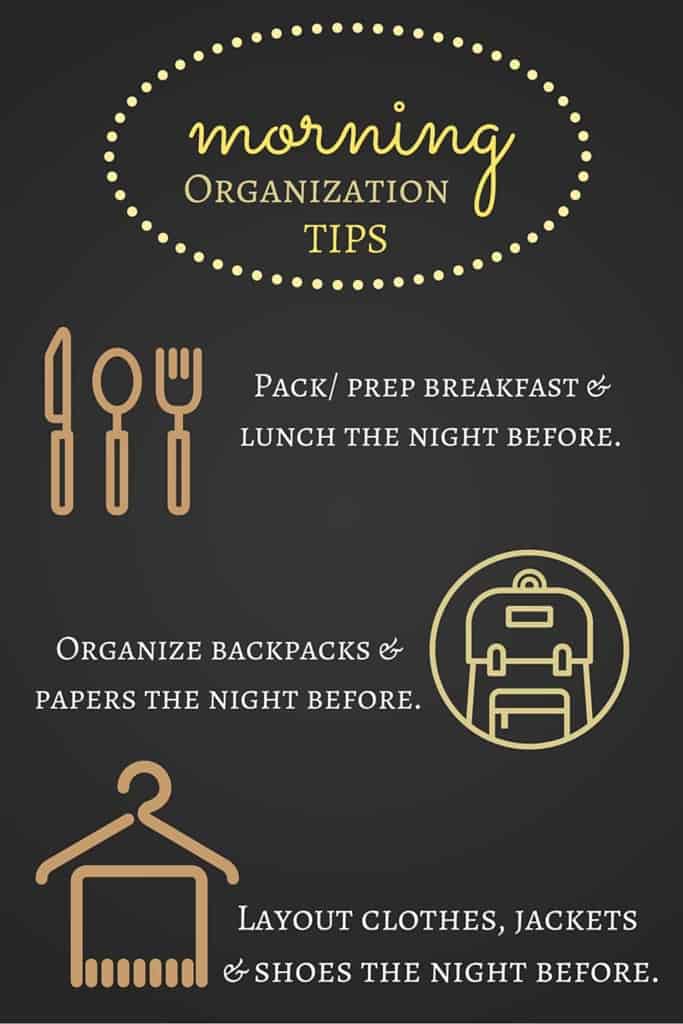 1- Set-up Breakfast the night before
I leave so early in the morning so I pack my breakfast the night before. I pack  a container of fruit and yogurt in my to-go-bag the night before. This way all I have to do is grab my cup of coffee and out the door I go. I prep fruit for the kids too and have the plates set on the table so this way we are ready to eat when we get up.
2- Lay-out clothes the night before
Everyone has their clothes picked out the night before and arranged in their bedrooms so that there are no morning struggles. Be sure to get coats, shoes, hats and gloves ready too. I am sure we have all been there looking for that lost mitten in the morning! For me, I make sure I have my jewelry set out too.
3- Book bags and lunch boxes
This is huge. The kid's backpacks are packed with their homework and whatever else they need the night before. This includes signed forms, homework, library books, gym clothes, etc. They are packed and left by the door so they just need to grab them on their way out. To that end the lunchboxes are packed as well and ready to go in the fridge.
Try my tips for streamlining your mornings, trust me you will not be disappointed. It really does make for a much more pleasant day and this is my morning win. What are your strategies for a morning routine? I would love to hear all about them and maybe incorporate them into my own morning routine.