Holy Moly! This fabulous giant cookie is so good – chocolate chip cookies stuffed with caramel pieces. This girl loves caramel from homemade soft and delicious chews to caramels covered with chocolate. I really can't get enough. These huge cookies are stuffed with a caramel piece.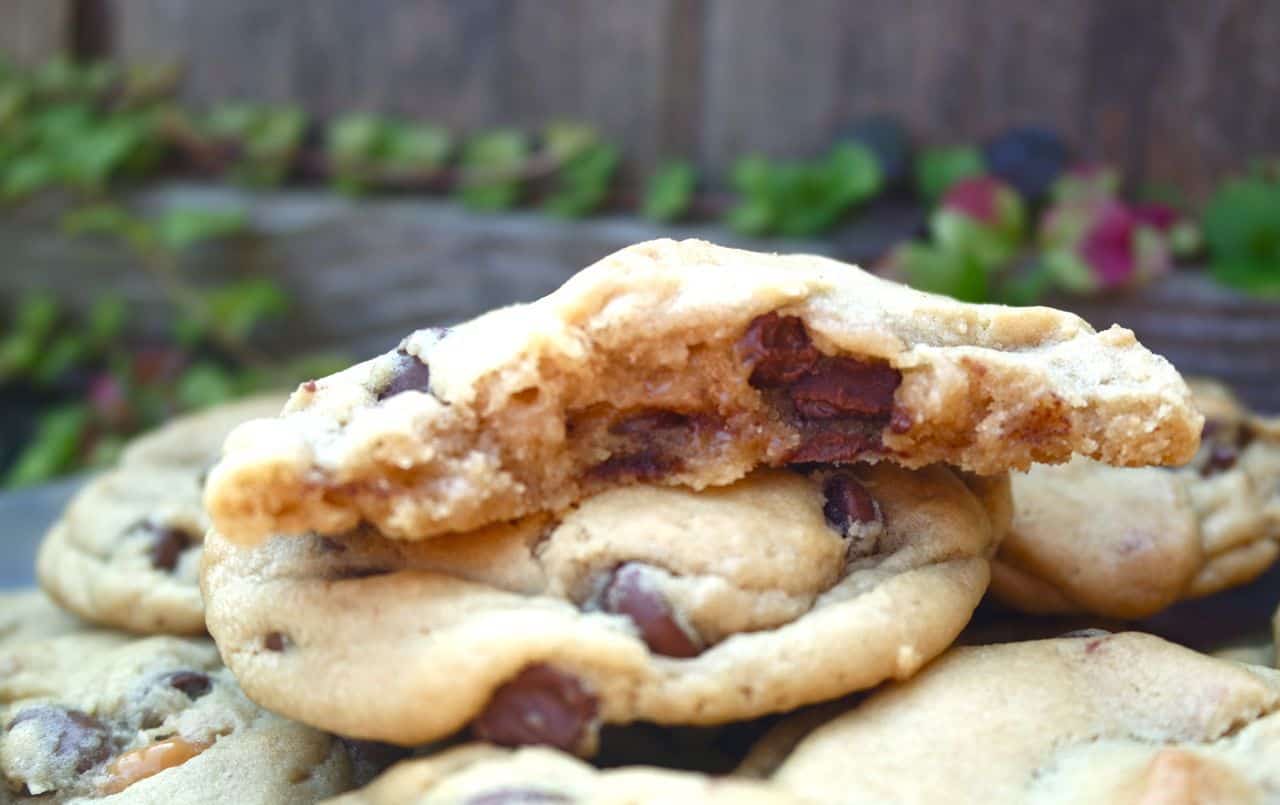 The key to making this cookie soft and chewy is to refrigerate the dough for at least 30 minutes to one hour. This way when you are baking the cookies they will be soft and chewy and delicious.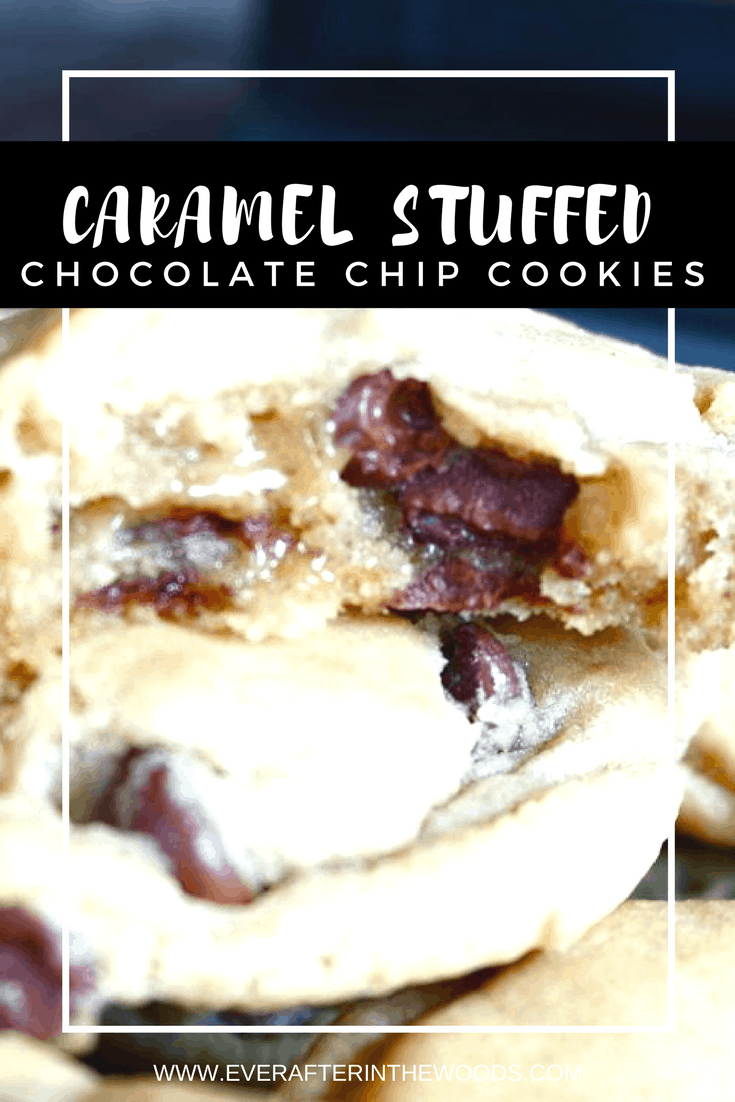 Chocolate Chip Cookies Stuffed with Caramel
INGREDIENTS
2 sticks unsalted butter, room temperature
1-1/2 cups light brown sugar
½ cup sugar
1 teaspoon baking powder
1 teaspoon baking soda
1 teaspoon salt
2 tsp vanilla extract
3 cups flour
2 eggs
2 cups milk chocolate chips
24 caramel pieces
DIRECTIONS
In an electric mixer with the paddle attachment, cream the butter and sugars until light and fluffy. (about 5 minutes)
Add the eggs, one at a time until combined.
Add the vanilla, flour, salt, baking soda, baking powder and beat until combined.
Add the chocolate chips and mix until combined.
Refrigerate dough for 30-60 minutes.
Take about 2 TBSP of refrigerated dough and mold it around 1 piece of caramel until a ball forms. Repeat with the rest of the dough. Should make 24 large cookies.
Place the balls on a baking sheet with a silicon mat. And refrigerate for 30 minutes.
Preheat oven to 375.
Bake for 15-20 minutes until the tops are light brown. The middles will be slightly soft.
Cool on the mats and then remove after completely cooled.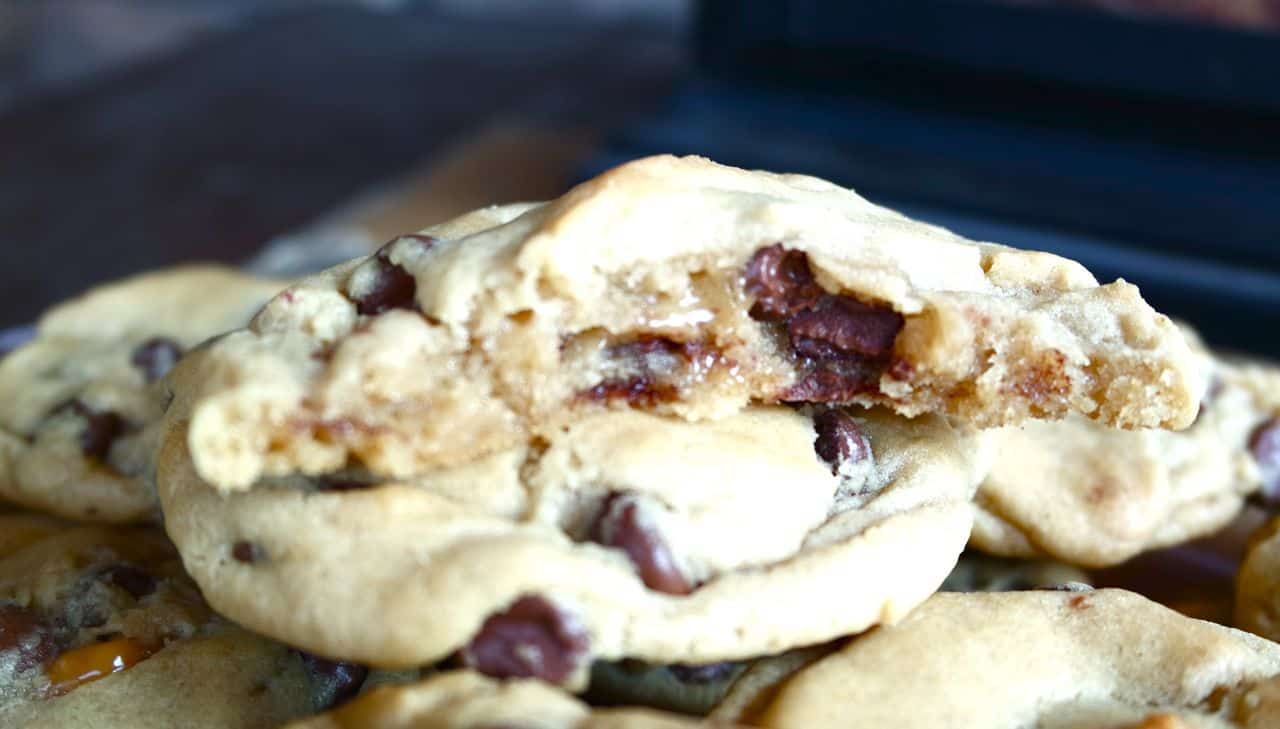 Oh boy- I know it is so hard to wait to bake cookies after you mix up the dough but I promise it will be worth it! The texture and the form of the cookie holds up so much better after it has been refrigerated. Especially for these large cookies.
This is a must for the fall season- perfect for lunch box snacks, after school treats and play dates or even a bake sale at school. Yum!