This is a sponsored blog post; while the views expressed here were genuinely mine, consideration was paid to me by Bays English Muffins to review this product.
There is nothing better than Bays English muffins for breakfast. Wait! Yes, there is. Bays English muffins for dessert are spectacular.
Beyond Breakfast with Bays English Muffins
This Chocolate Chunk Cheesecake Spread with Bays English Muffins is the ultimate in sweet goodness. The creaminess of this spread paired with the crunch of a perfectly toasted English muffin is delightful because Bays English Muffins are delicious at any time of the day.
We still love ours in the morning for breakfast and a pizza version for lunch but knowing that there is a dessert option to pair with these tasty treats is perfection because Bays elevates any meal occasion and remember English muffins can be used for more than just breakfast at home.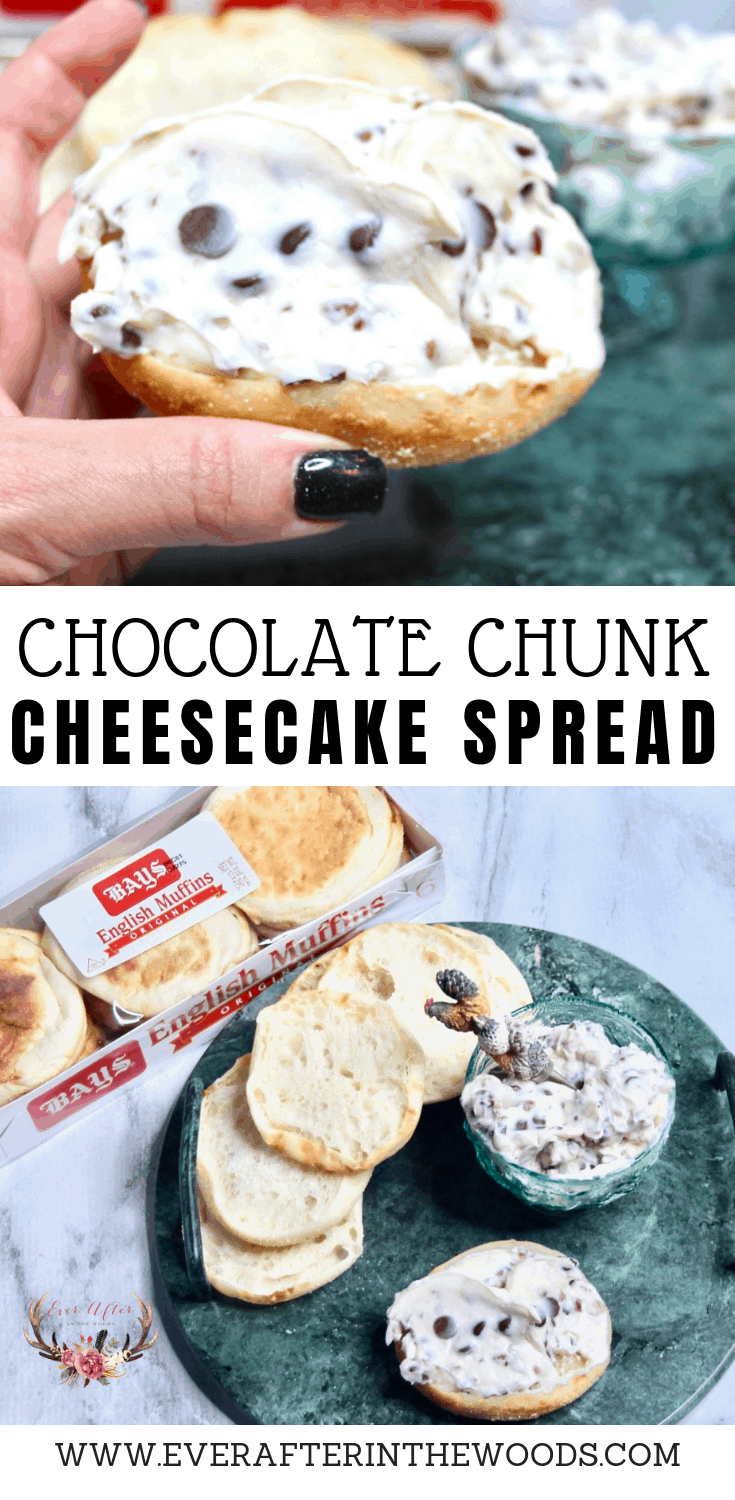 This recipe is so easy to prepare, just let your electric mixer do all the work for you.
We omitted the dried cherries in this recipe when we made it at home, but you can easily substitute whatever flavor combinations of fruit, nuts and chocolate to your spread that you like.
Chocolate Chunk Cheesecake Spread
Recipe courtesy of Bays Chefs
INGREDIENTS
1 pkg. (8 oz.) cream cheese, softened
1/4 cup powdered sugar 
1/2 teaspoon vanilla extract
1/3 cup dark chocolate chunks or chips
1/4 cup chopped pecans
1/4 cup dried cherries
6 BAYS English Muffins, any variety, split
Ground cinnamon
INSTRUCTIONS
Beat cream cheese, sugar, and vanilla in medium bowl until well blended. Stir in chocolate, pecans, and cherries.
Toast English muffins. Spread cream cheese mixture evenly over warm muffin halves. Top with few dashes of cinnamon.
Substitute: Prepare using Neufchatel Cheese for cream cheese.
Serving Suggestion: Top with sliced strawberries.
Tip: Refrigerate in air-tight container for up to 3 days.
SERVES:
6
Such an easy recipe to prepare and I love having this cheesecake spread in a container in the refrigerator right next to our package of Bays English Muffins. This is also an easy dessert spread to make ahead of time. If you are having company over. Nothing beats a dessert that can be made in advance. Simply toast the Bays English Muffins before serving and you will be all set for holidays, parties and more.
The possibilities with Bays English Muffins are endless from recipes for breakfast, lunch and dinner to snacks and desserts there is something for everybody to enjoy. After 80 years of family tradition sticking to the original recipe you can enjoy this product any time of the day or night.
Bays English Muffins are available from retailers nationwide and are located in the dairy case, carefully chilled to perfection. Pick up your favorite variety from Original, Sourdough, Multi-Grain and Cinnamon Raisin at your local grocer today and give a new recipe or two a try.