Disclosure: The PEEPS & COMPANY® products, information, and additional gift pack have been provided by PEEPS & COMPANY®.
Easter is on its way and a little early this year! For me Easter is a reminder of Spring, flowers blooming, playing outside and of course PEEPS® . I remember as a child always getting PEEPS®  in my Easter basket and I have made sure that I have carried on the tradition of giving my children PEEPS®  in their baskets as well.
We received a lovely gift box of all sorts of PEEPS®  goodness and I wanted to make something special from all the great treats for my children to enjoy. I made a super easy DIY PEEPS®  Easter basket using the candy and just a single piece of cardboard for the bottom.
DIY PEEPS®  EASTER BASKET
First, hot glue the edges of 4 sleeves of PEEPS®  together at the edges.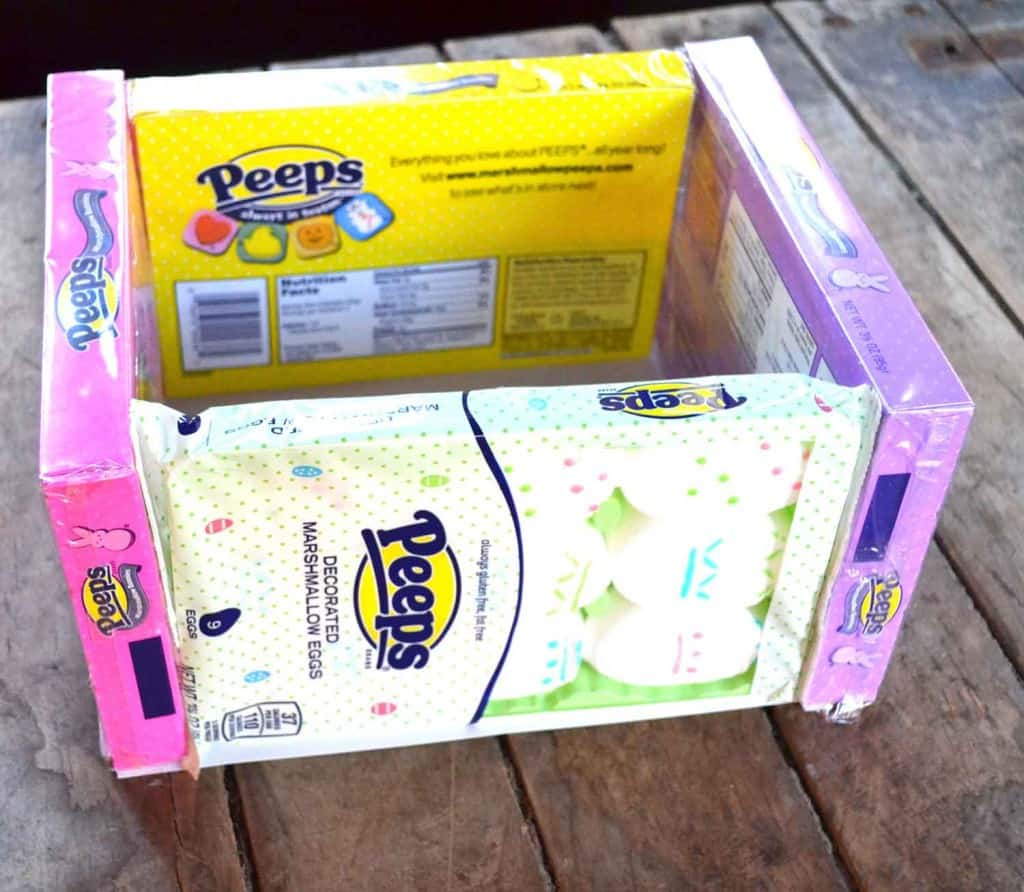 Next hot glue a piece of thin cardboard to the bottom of the PEEPS that you have previously attached.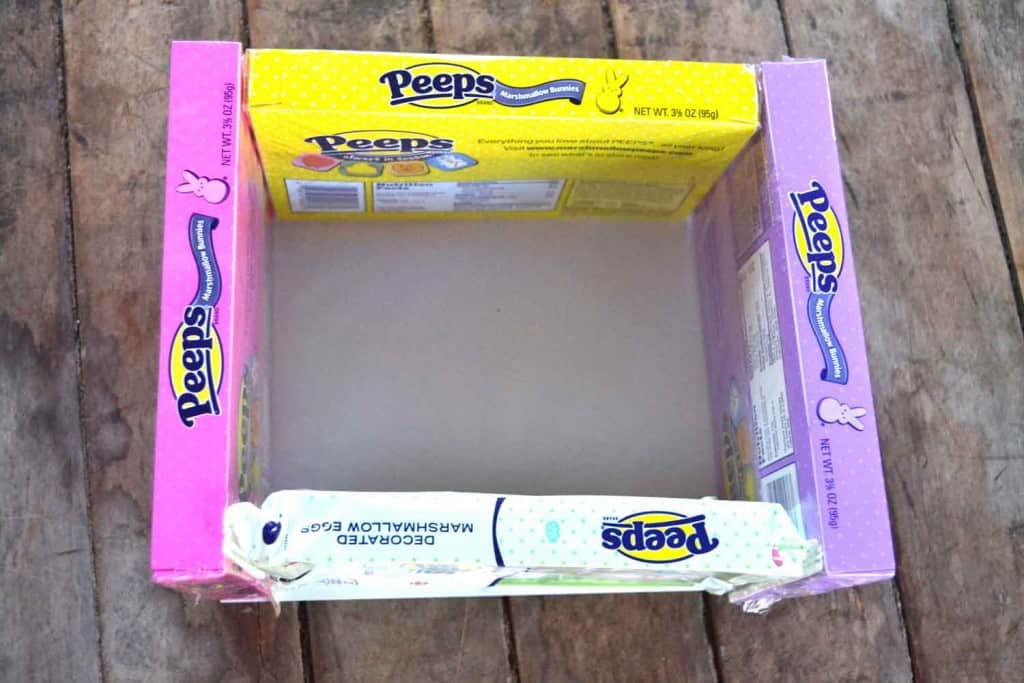 Add grass, and fill with all of your goodies.
Super easy and looks delicious too! We like to keep our Easter baskets pretty simple, usually filling with bubbles, sand toys, books and of course candy. Two of our children have birthdays that are so close to Easter as well so it can get a little overwhelming, especially for our littlest.
Here is a closer look of what is in my PEEPS®  basket:
PEEPS & COMPANY® 2016 Easter Offerings Information
5-inch PEEPS® Plush: Spread the joy of PEEPS® when you give this plush PEEPS® chick as a gift to those of any age (assortment of colors).
PEEPS® earbuds: If you need a sweet bit of time to yourself, let your favorite yellow PEEPS Chick take you away with your favorite music through these PEEPS earbuds. Get a dose of stress relief, in stereo, every time you put them on and crank up the tunes!
PEEPS® luggage tag: From candy to cute accessory, these PEEPS® luggage tags add a pop of color and whimsy to your gear (assortment of colors).
PEEPS® Orange Delight Flavored Marshmallow Dipped in Orange Fudge:These three Chicks are orange delight flavored and dipped in orange fudge to enhance the flavor. Share them with your friends or keep them for yourself!
PEEPS® Marshmallow Chicks: The five and 15 count packages of the iconic PEEPS® Chicks are available in classic Easter colors including yellow, pink, blue, lavender, green, and orange Chicks! The 10 count package of Chicks is available in all of the classic Easter colors as well as white.
PEEPS® Marshmallow Bunnies: The four count bunnies come in classic yellow, pink and blue colors. The 12 count bunnies come in classic colors as well as lavender, white, green and orange. The 16 count are packaged in classic colors plus lavender and green.
PEEPS® Decorated Eggs: Nine white eggs iced with pastel colors in 3 unique designs, these eggs are great for recipes, crafts and immediate consumption.
PEEPS® Party Cake Flavored Marshmallow Chicks: Ten delicious vanilla cake flavored marshmallow chicks sprinkled with fun rainbow confetti.
PEEPS® Sour Watermelon Flavored Marshmallow Chicks: Sweet and sour flavors collide to create a burst of watermelon in these ten green chicks with a blush pink center.
PEEPS® Chocolate Dipped Mousse Flavored Marshmallow Chicks: Three delectable chocolate mousse-flavored Chicks dipped in either creamy milk or dark chocolate.
PEEPS® Chocolate Covered Marshmallow Chicks: Individually wrapped marshmallow chicks covered in either milk or dark chocolate.
PEEPS® Rainbow Pop: Four chicks in colors yellow, green, pink and blue marshmallow on a stick- it's like a colorful PEEPS® lollipop.
MIKE AND IKE® Easter Treats: Bring chewy, fruity goodness this Easter season with a 10 oz. gift bag of MIKE AND IKE® Easter Treats flavors. Filled with grape, pineapple-banana, strawberry, lemon-lime, and cherry-flavored MIKE AND IKE® candies – and all made with real fruit juice – this gift will put a spring in anybody's step as the bright new season gets underway.
MIKE AND IKE® Jellybeans: The Assorted Fruits MIKE AND IKE® JELLY BEANS are a fan favorite.
HOT TAMALES® Jellybeans:  Celebrate Easter with our cinnamon-flavored jelly beans (14 oz. package)
What a delightful assortment of candy and gifts for all your Easter needs! As a special offering for my readers I have a  discount code valid for 20% off your next purchase on the PEEPS website, no minimum required, from February 15 through April 15, 2016. Discount code: EASTERTREATS
Hurry and get your Easter treats now because it will be here before you know it!