Disney Christmas Cupcakes
Mickey Christmas Cupcakes
Disney Inspired Christmas Cupcakes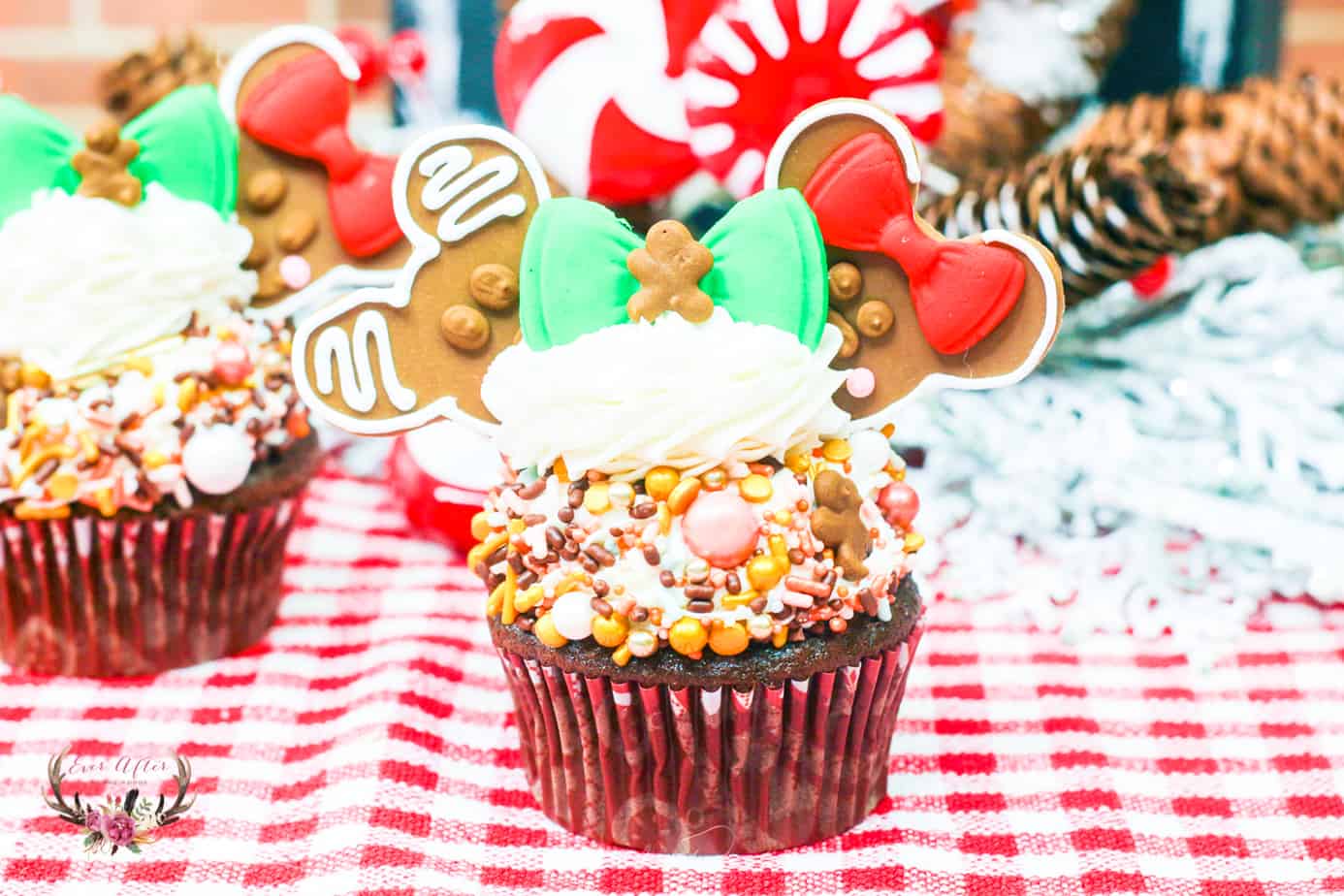 Disney plus Christmas equals pure magic! These cupcakes are purely magical for all the Disney fans in your life. If you can't make it to Disney, bring the magic of Disney home to you.
These cupcakes a with Mickey Inspired decorations are just what your kids need for a holly, jolly good time.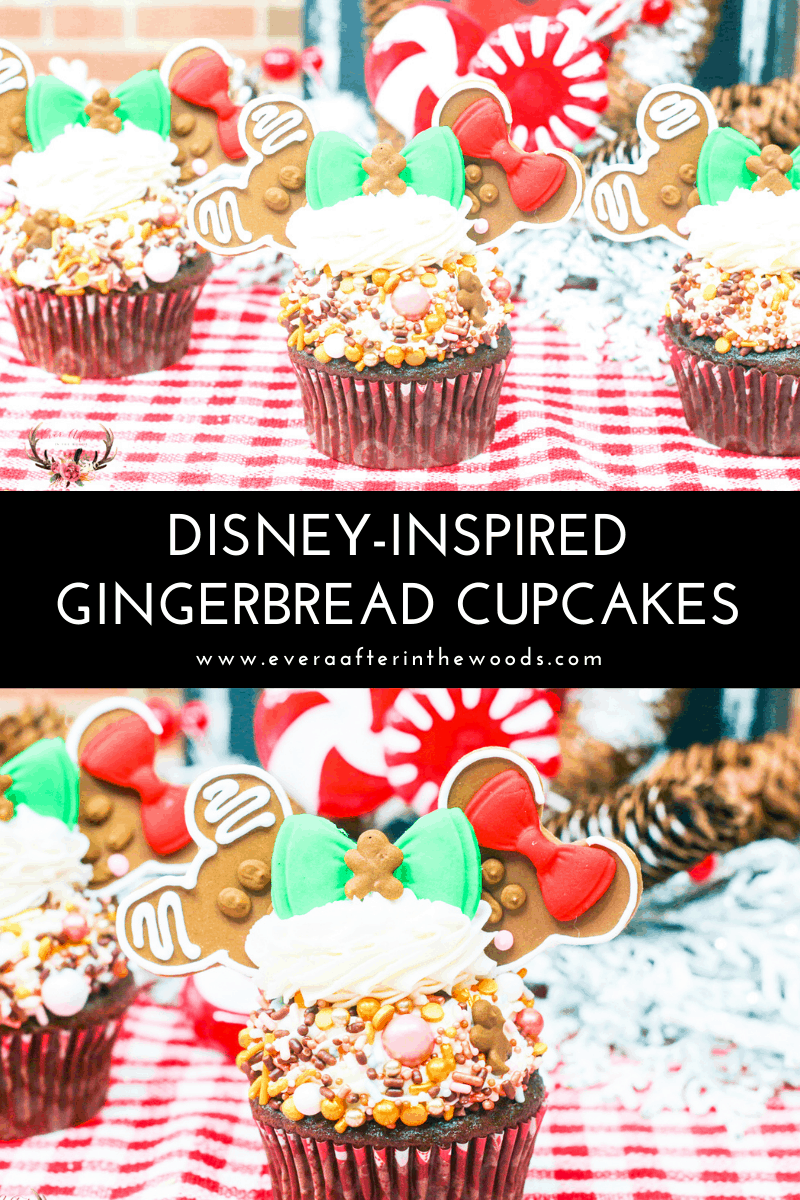 Disney Christmas Cupcakes
Makes 18 cupcakes
Fondant Pieces
1 – Mickey Mouse fondant cutters
1 package of Wilton Red Fondant
1 package of Wilton Green Fondant
1 package of Wilton brown fondant
1 rolling pin
1 cookie sheet with silicon mat
1 wilton bow fondant mold
1 white cookie icing bottle with small round tip
1 pink cookie icing bottle with small round tip
1 brown cookie icing bottle with small round tip
1 package of mini gingerbread man royal icing transfers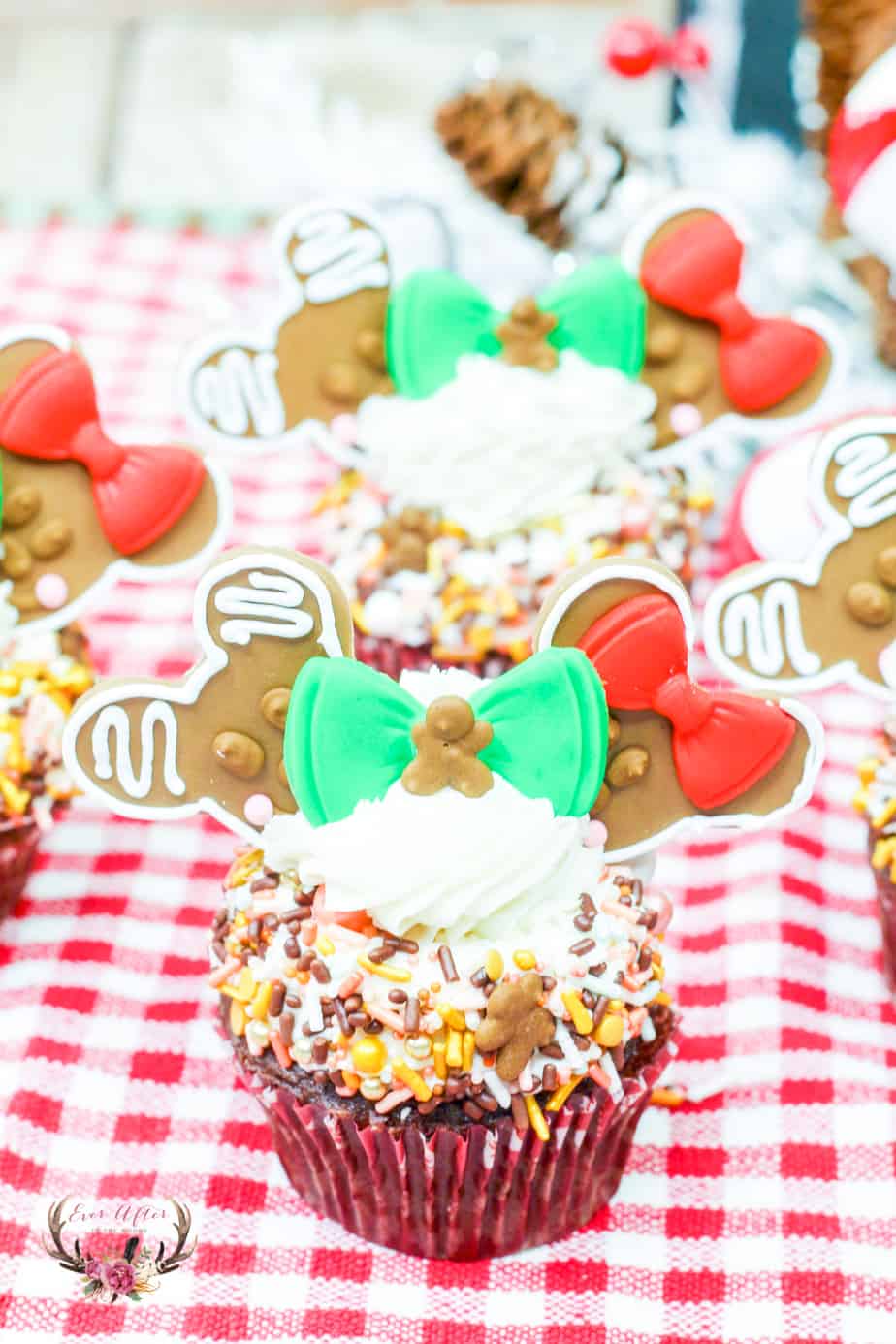 Directions
Sprinkle some cornstarch onto the cutting board
Remove the brown fondant from the package and knead onto the cutting board to make the fondant soft and workable
Sprinkle some more cornstarch onto the cutting board and roll the fondant into ¼ inch thick
Using the mickey fondant cutter, cut out 36 mickey heads
Place them onto the cookie sheet
Dust the fondant mold using the cornstarch
Pinch off ½ tsp of fondant and mold into the bigger size bow
Pinch off ¼ tsp red fondant and mold into the smaller size bow
Repeat steps until you have 18 bows in each size made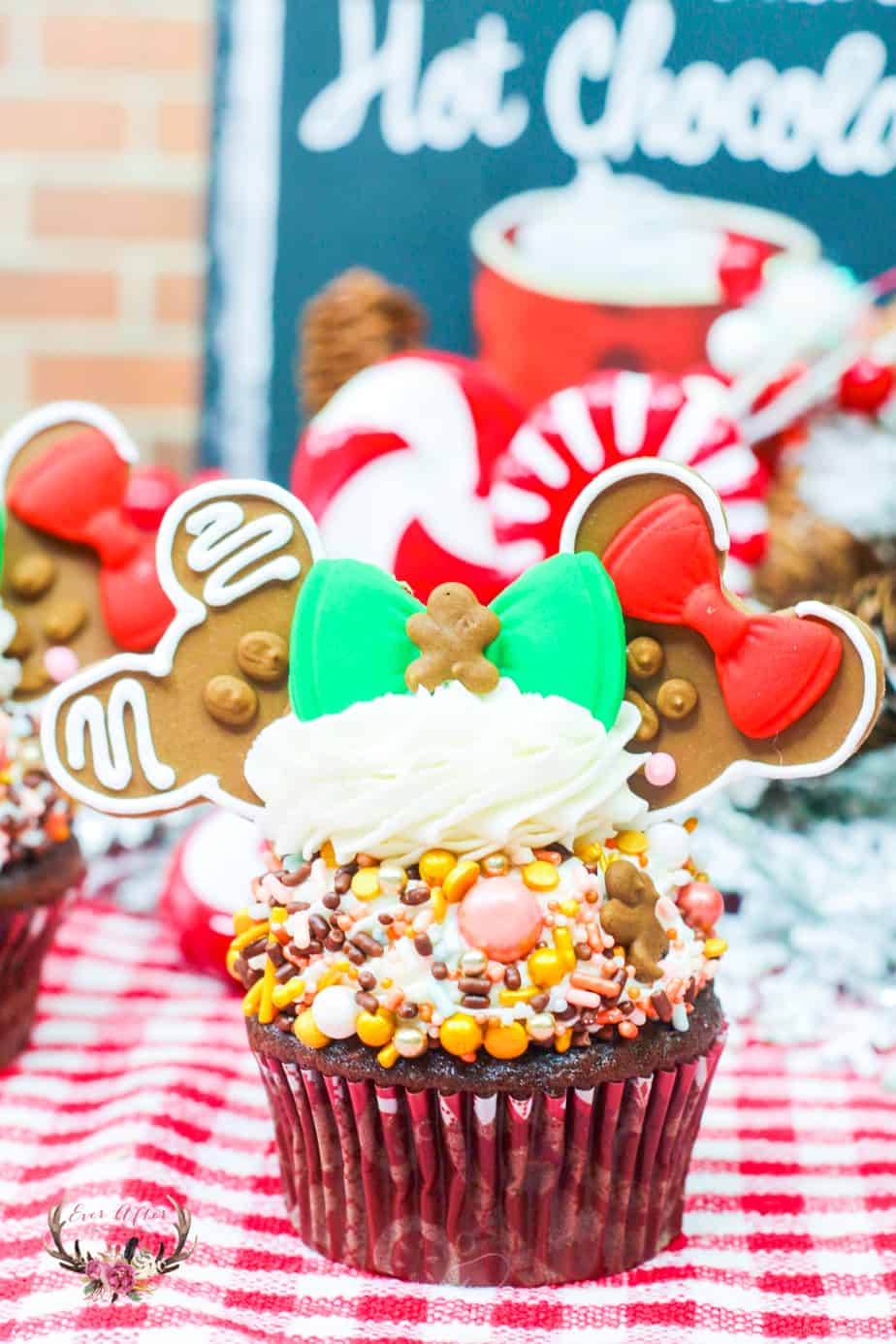 Next day
Using the white icing, pipe a white outline around the shape of the mickey fondant piece
Pipe squiggly lines inside the ears
Using the brown icing, pipe smalls and eyes
Using the pink icing, pipe two pink dots for the cheeks
Place a red bow in the middle of half of the mickey heads to create Minnie
Pipe a small dollop of icing into the middle of the green bows
Place a gingerbread royal icing transfer onto the icing
Allow to dry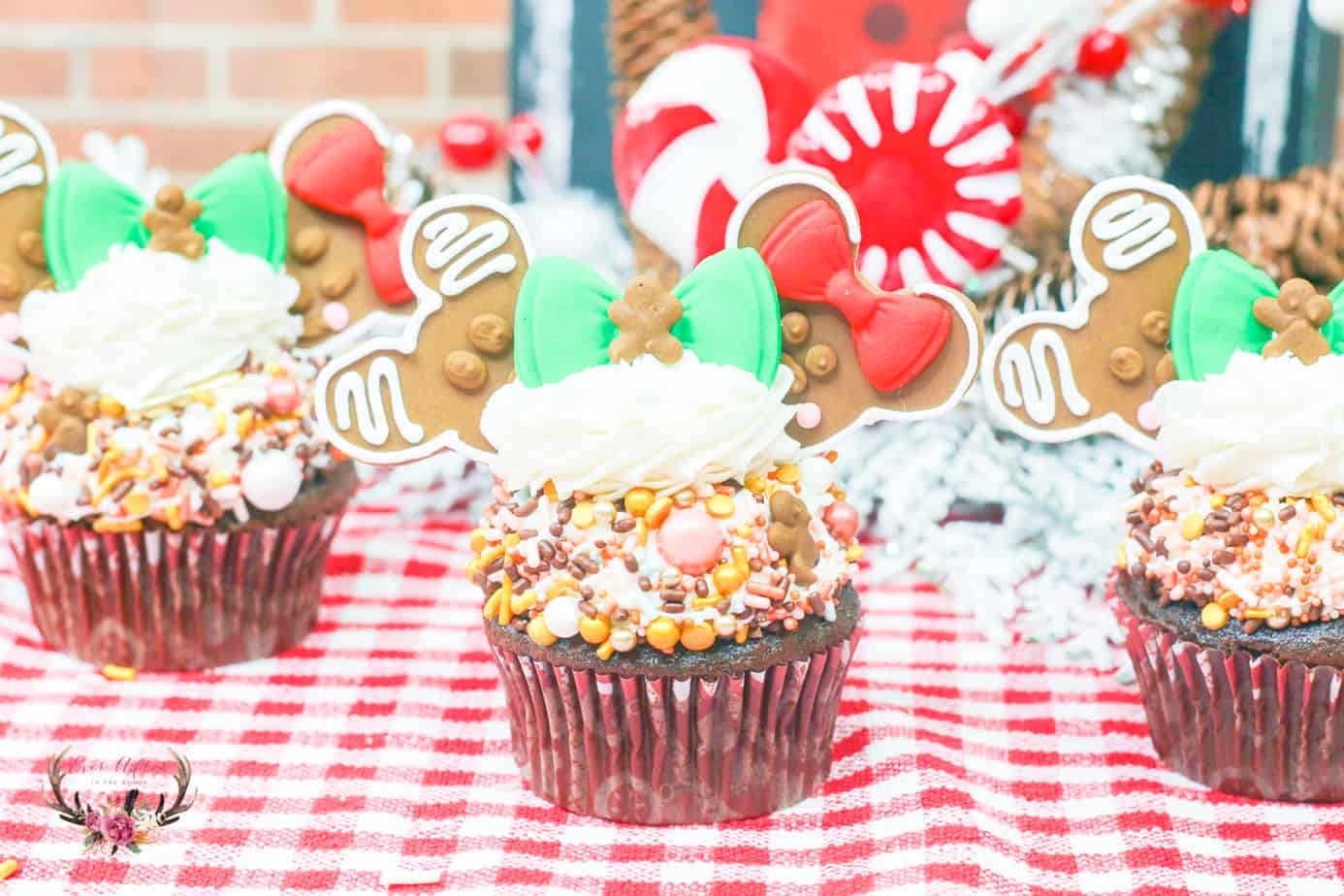 Chocolate Cupcake
1 box of chocolate cake mix
1 ¼ C of whole milk
½ C unsalted sweet cream butter, softened
3 large eggs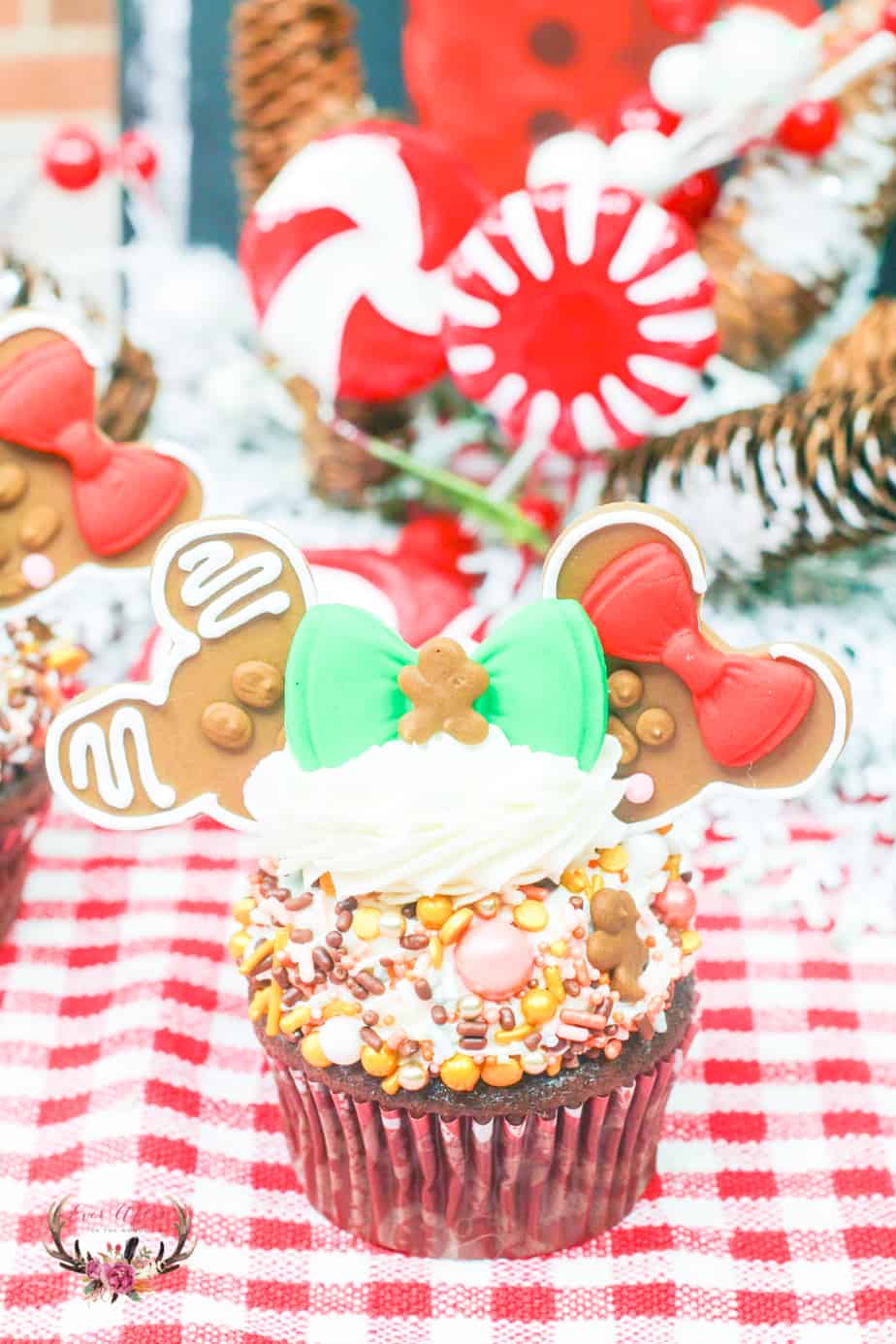 Vanilla frosting
Use your favorite canned frosting or make your own.
1 package of christmas sprinkles of your liking
1 large piping bag with a star tip
Directions
Preheat the oven to 350 degrees and line a cupcake pan with liners
Using a large bowl, beat together the cake mix, milk, butter and eggs until combined and smooth
Fill the cupcake liners ¾ way full
Bake in the oven for 21 minutes
Allow to cool completely
Frosting directions
Scoop the frosting into the piping bag
Using the frosting, pipe two rings of frosting around the edge
In a medium bowl, Pour your sprinkles into the bow
Dip the frosting into the sprinkle mixture
Using the piping bag, pipe a dollop of frosting into the middle
Place a green bow in the middle of the frosting dollop
Place a Mickey ear on one side of the bow and a Minnie on the other side
Enjoy!