Smoothie Bowl with Almond Milk
What are smoothie bowls?
Make smoothie bowls at home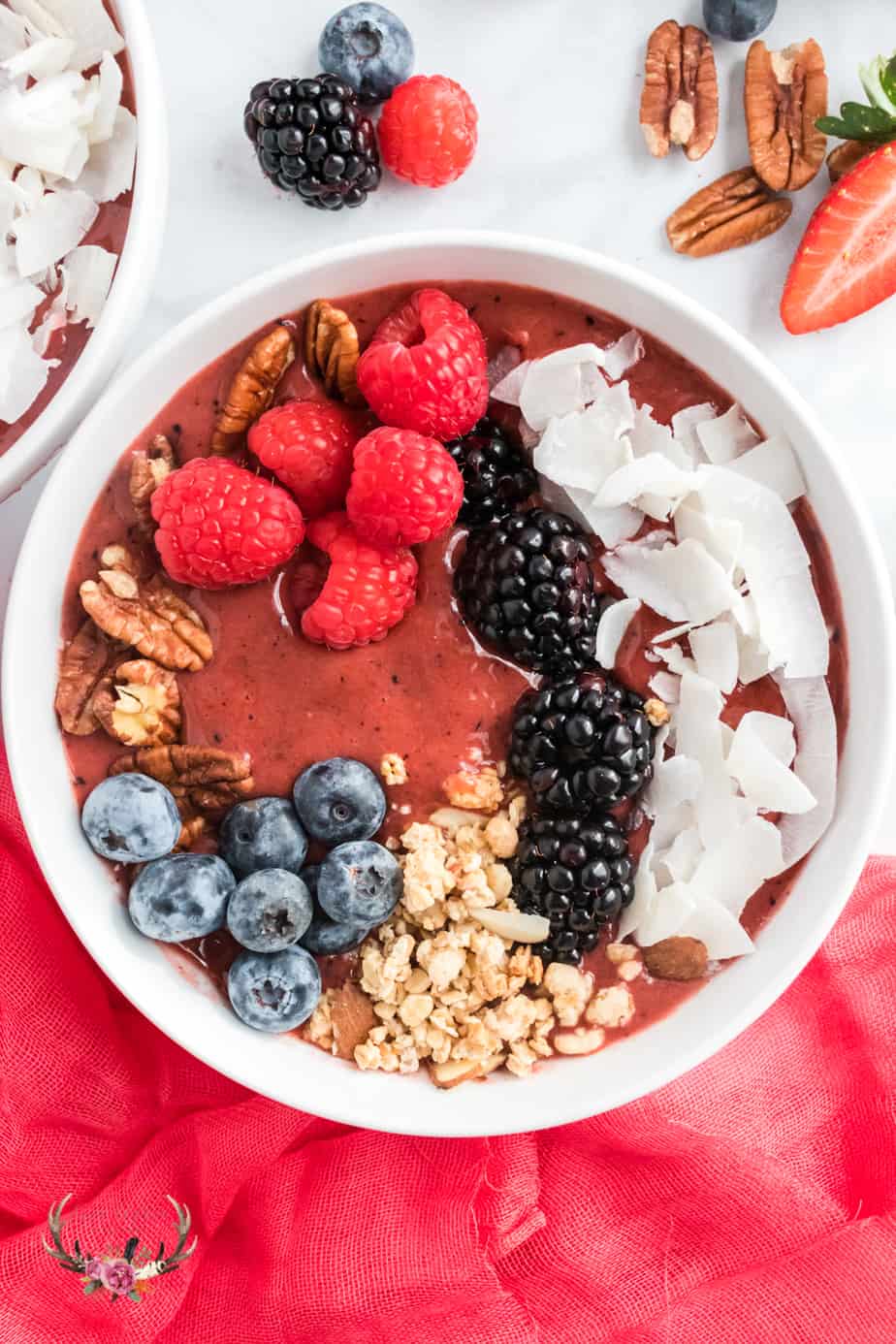 Smoothie Bowls are all the rage right now! They are a lovely breakfast idea that leaves you feeling full and content. Add lots of fresh fruits, nuts, and seeds to give it a crunch with every bite.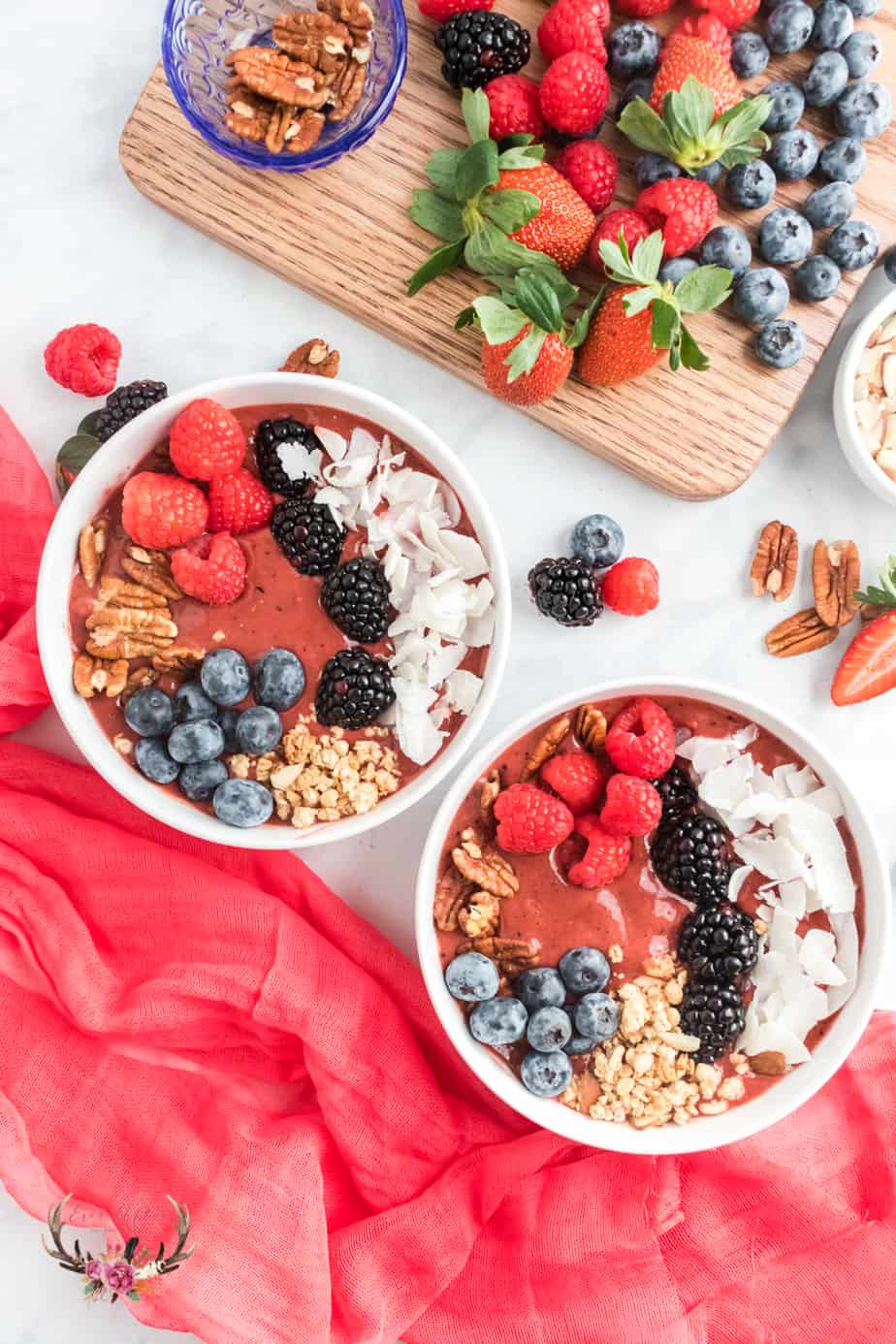 You may be wondering what precisely a smoothie bowl is, but don't worry, I am going to fill you in! It's a delicious breakfast that is filled with wholesome ingredients and is packed with lots of nutrients. They are known for using frozen fruit and are typically dairy-free. I used almond milk to keep this dairy-free, but you could also substitute it for whole milk, coconut milk, cashew milk, or any other milk alternative. As a matter of fact, you could even use yogurt or orange juice as well. Isn't it amazing that you can have such a wide variety?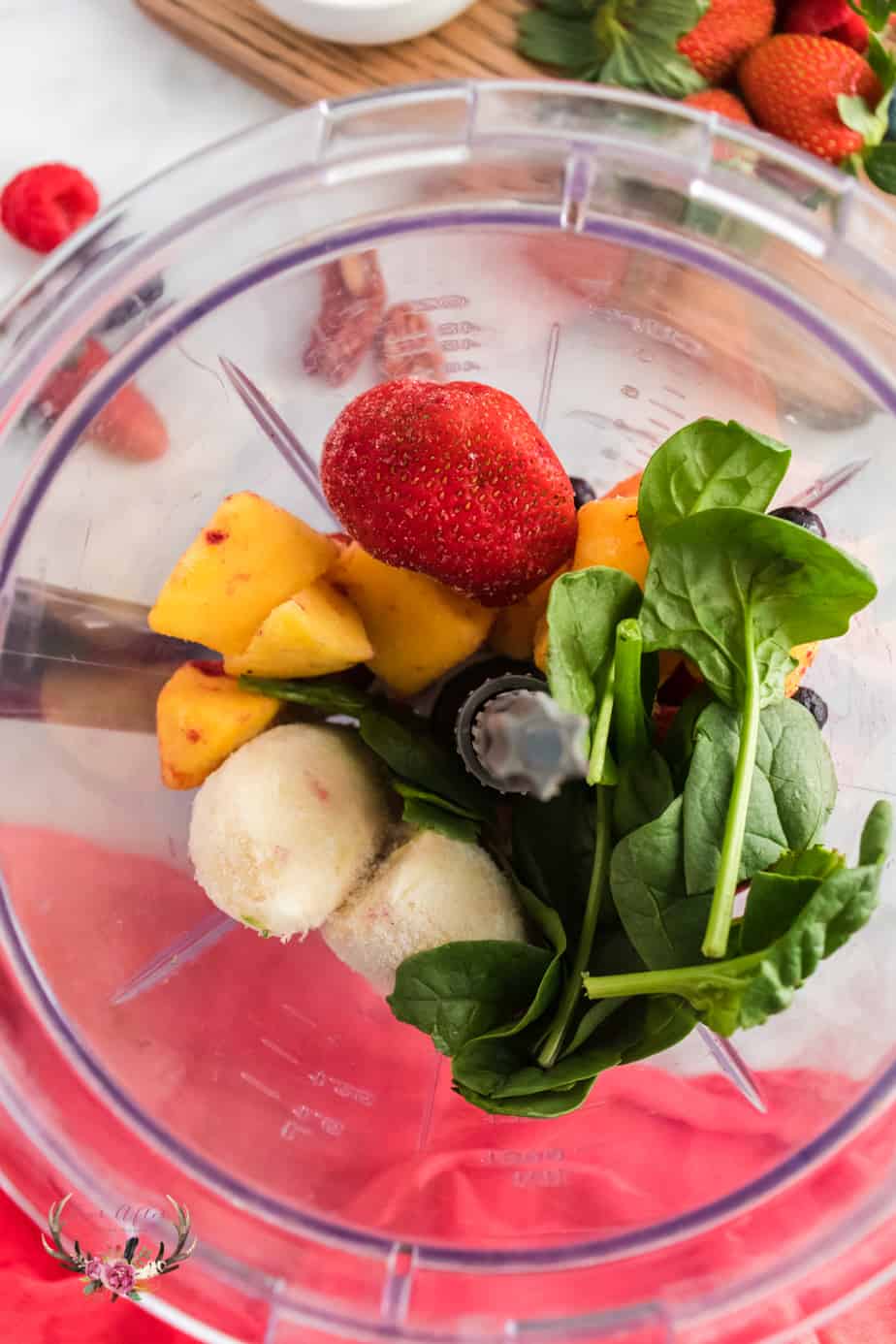 Why Eat Smoothie Bowls?
Because they are the BOMB! You are hit with a ton of flavor, and it's sure to keep you filled up until your next meal. That is always important! Plus, did I mention that kids will eat them? Imagine not having to fight your kiddos to eat a healthy breakfast. WINNING!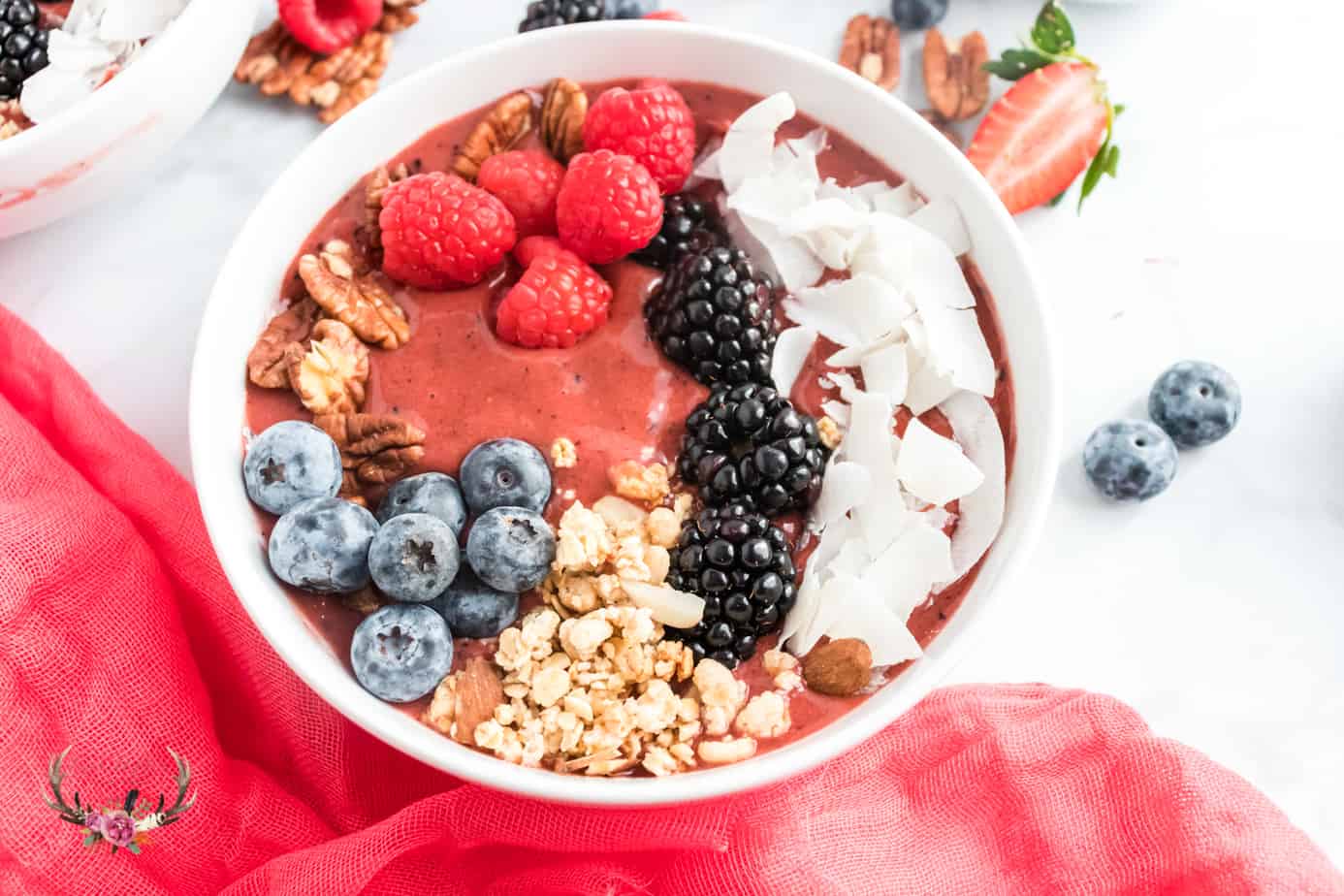 In addition to all the other good stuff I mentioned, smoothie bowls are typically made with NO refined sugar! It's naturally sweetened from the fruit and a little bit of maple syrup. Yay!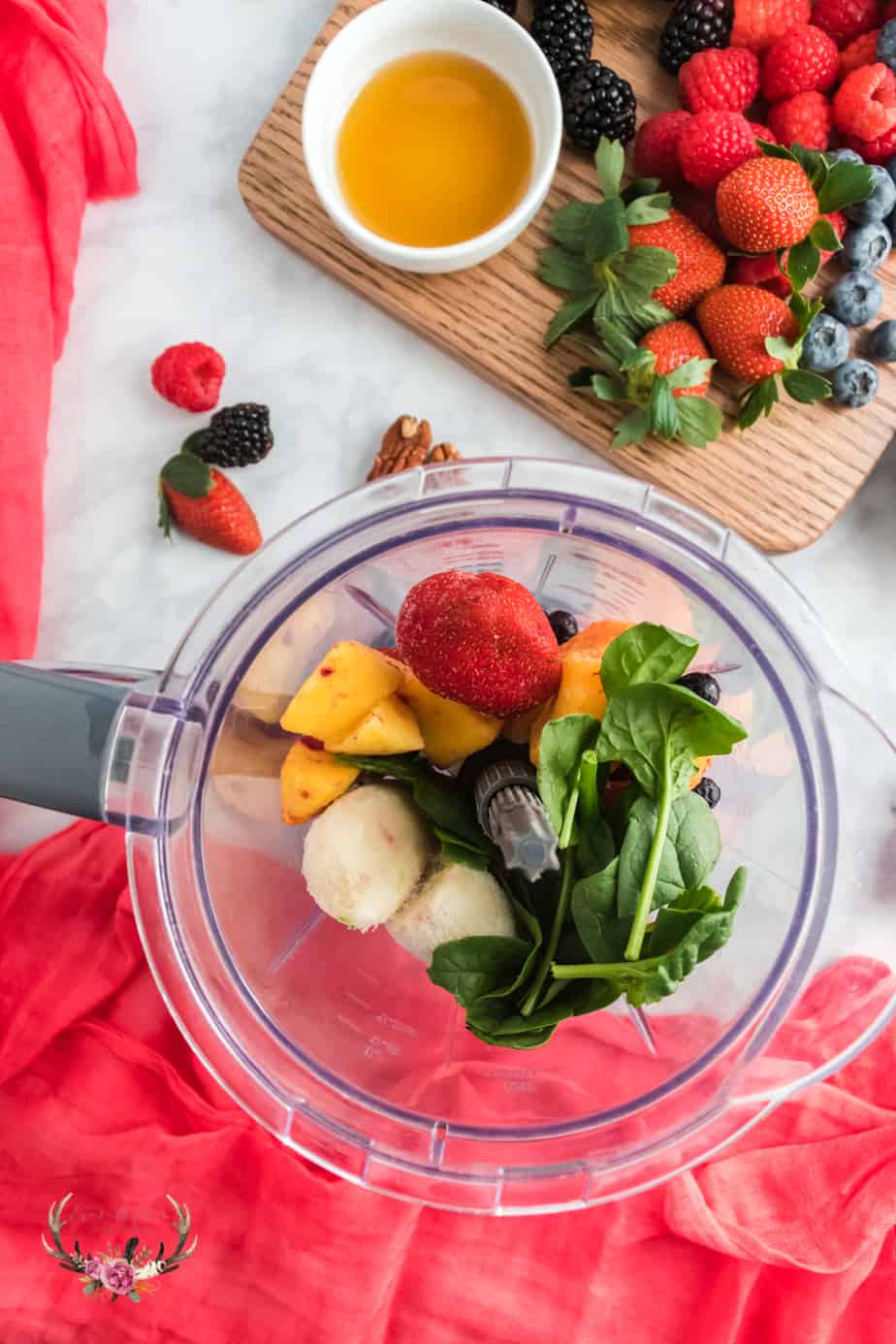 Do You Really Need To Use Frozen Fruit?
Yep! Frozen fruit is the key ingredient because that's what keeps this smoothie bowl recipe so creamy. If you use fresh fruit, it will be mushy and not stand up to the toppings being added. Trust me; you don't want all that gorgeous fruit and other toppings to sink to the bottom because then it loses its beauty.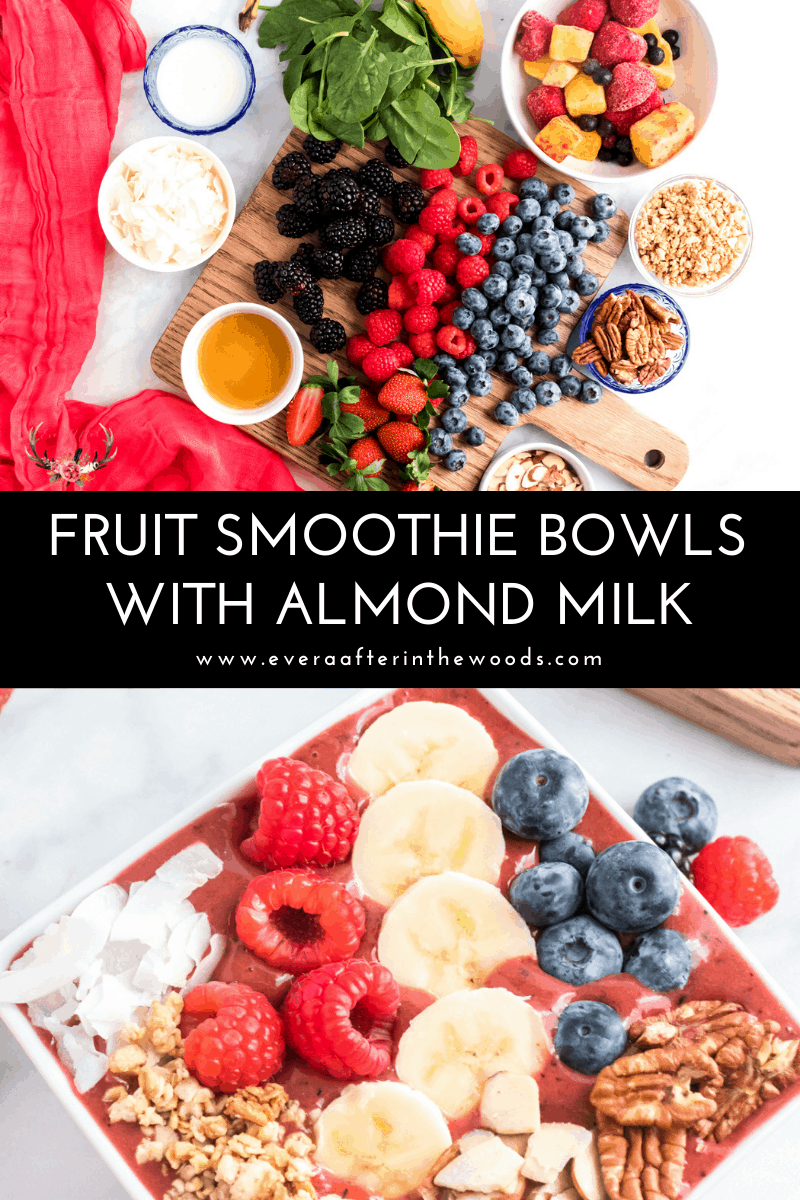 Smoothie Bowls with Almond Milk
Yield – 1-2 smoothie bowls
Ingredients
1 cup frozen fruit (any variety)
1 medium frozen banana
¼ cup almond milk
2 teaspoon maple syrup
1 teaspoon vanilla extract
¼ cup spinach leaves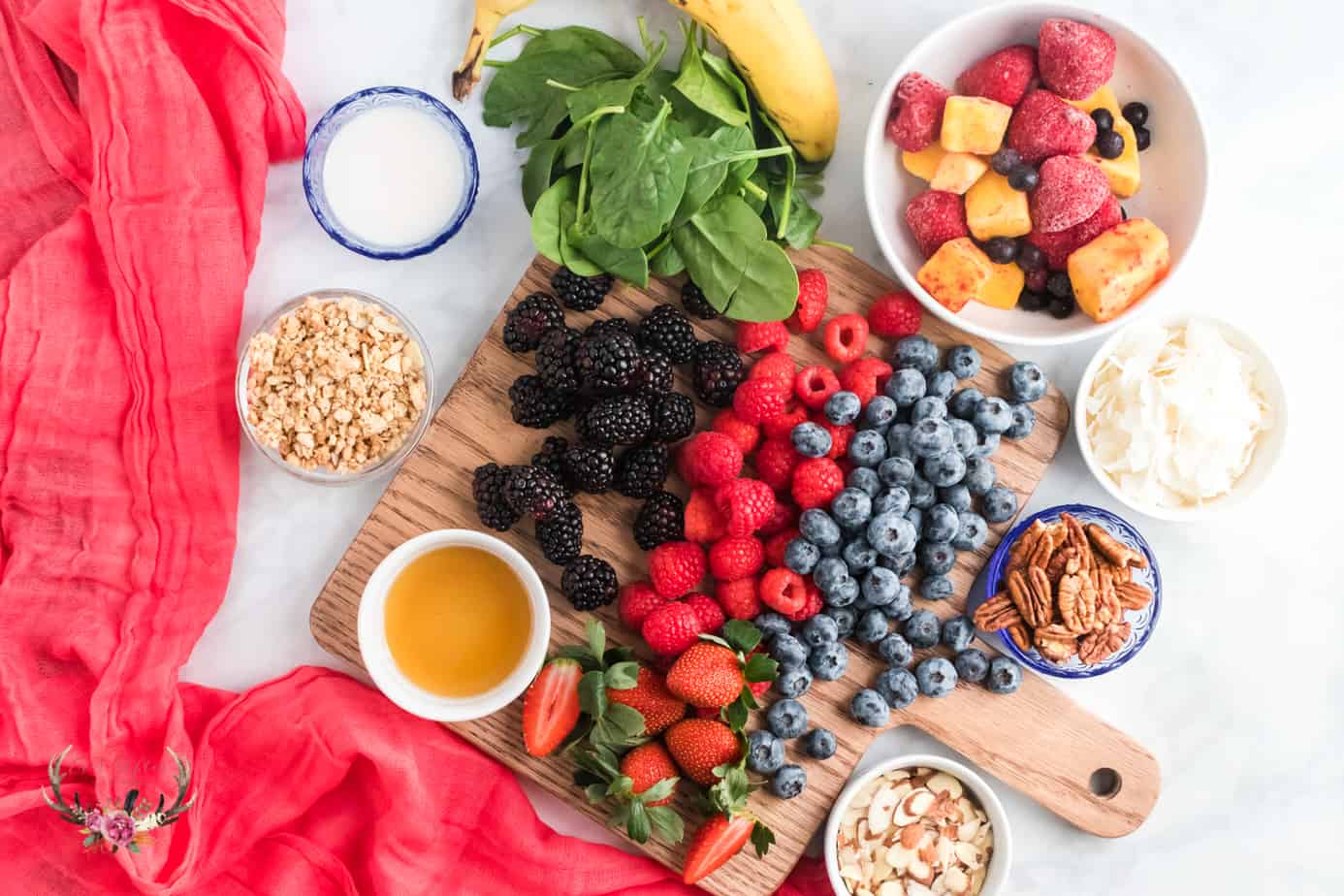 Topping Ideas
Coconut
Granola
Pecans
Almonds
Walnuts
Hazelnuts
Raspberries
Strawberries
Blueberries
Blackberries
Chocolate Chips
Bananas
Mango Slices
Nut butter
Chia Seeds
Sunflower Seeds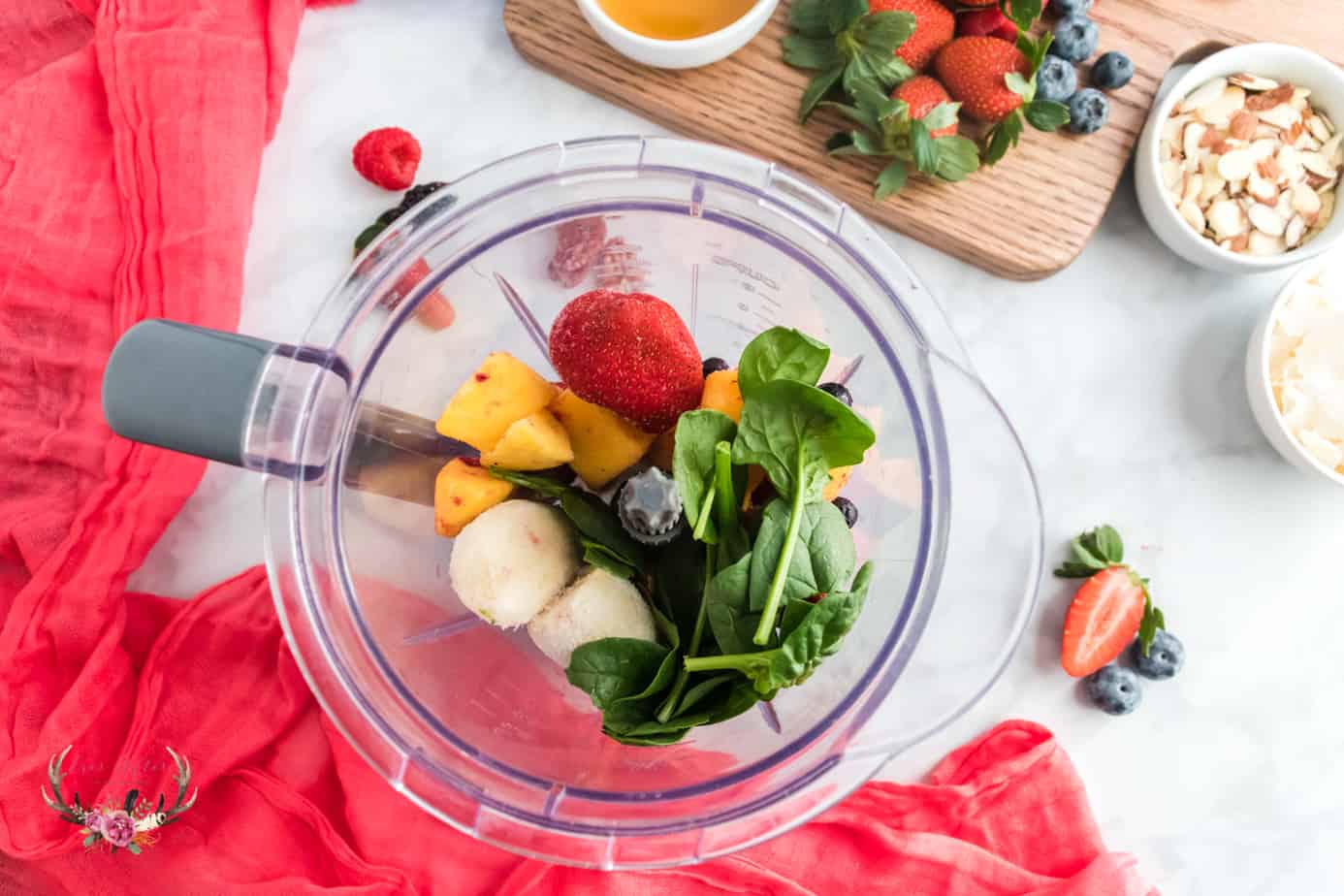 Directions
Combine the frozen banana, spinach leaves, and fruit in a high-quality blender. Once the fruit has broken up some, add in the almond milk, maple syrup, and vanilla to smooth it out. Once it's smooth and creamy, pour it into a bowl and add your favorite toppings.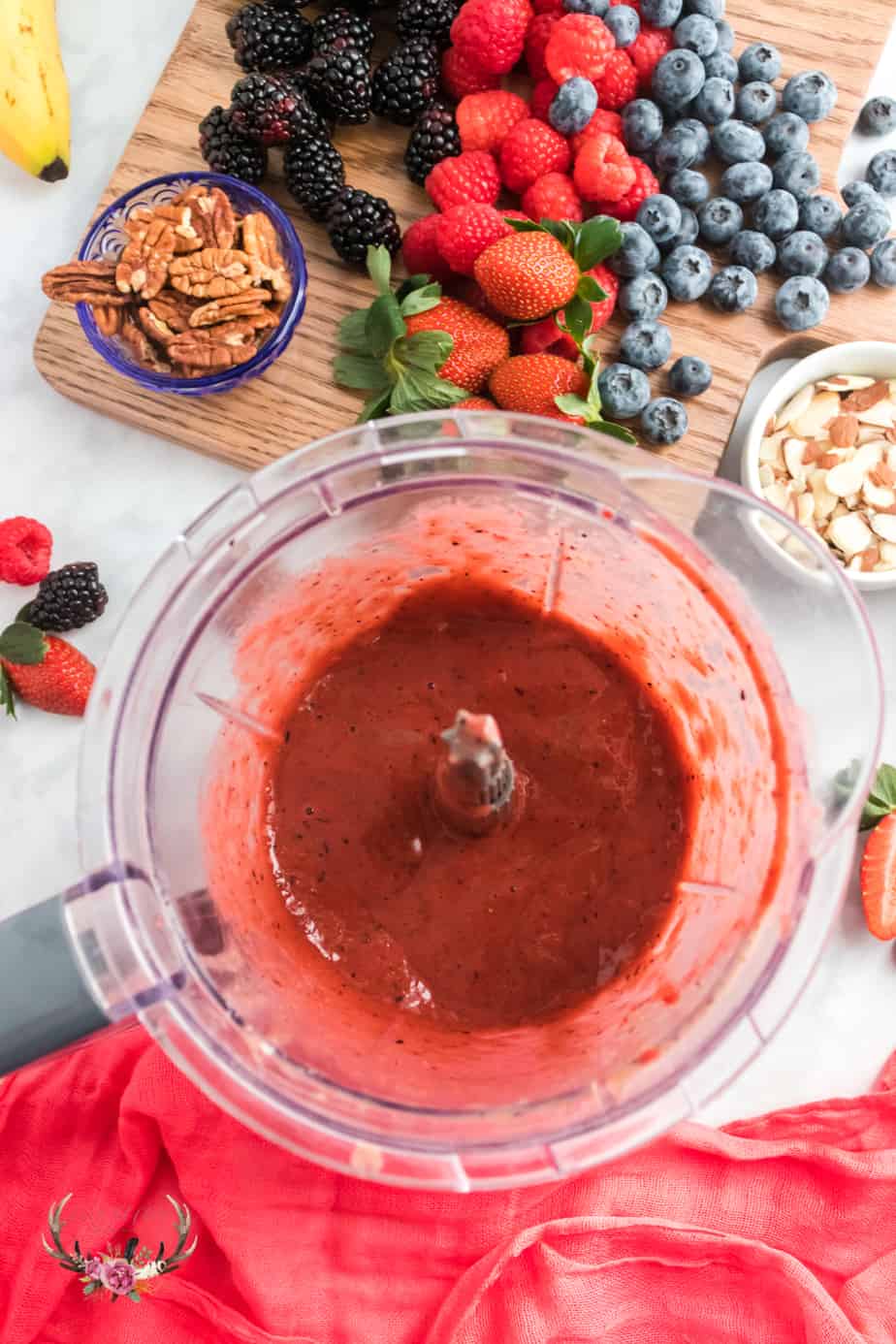 What's The Difference Between A Smoothie And A Smoothie Bowl?
A smoothie is meant to drink, and a smoothie bowl is meant to be eaten with a spoon. It's as simple as that! Normally, smoothie bowls are going to be thicker than a traditional smoothie drink. I like mine to be a little softer, but not so soft I would need a straw to enjoy all that goodness.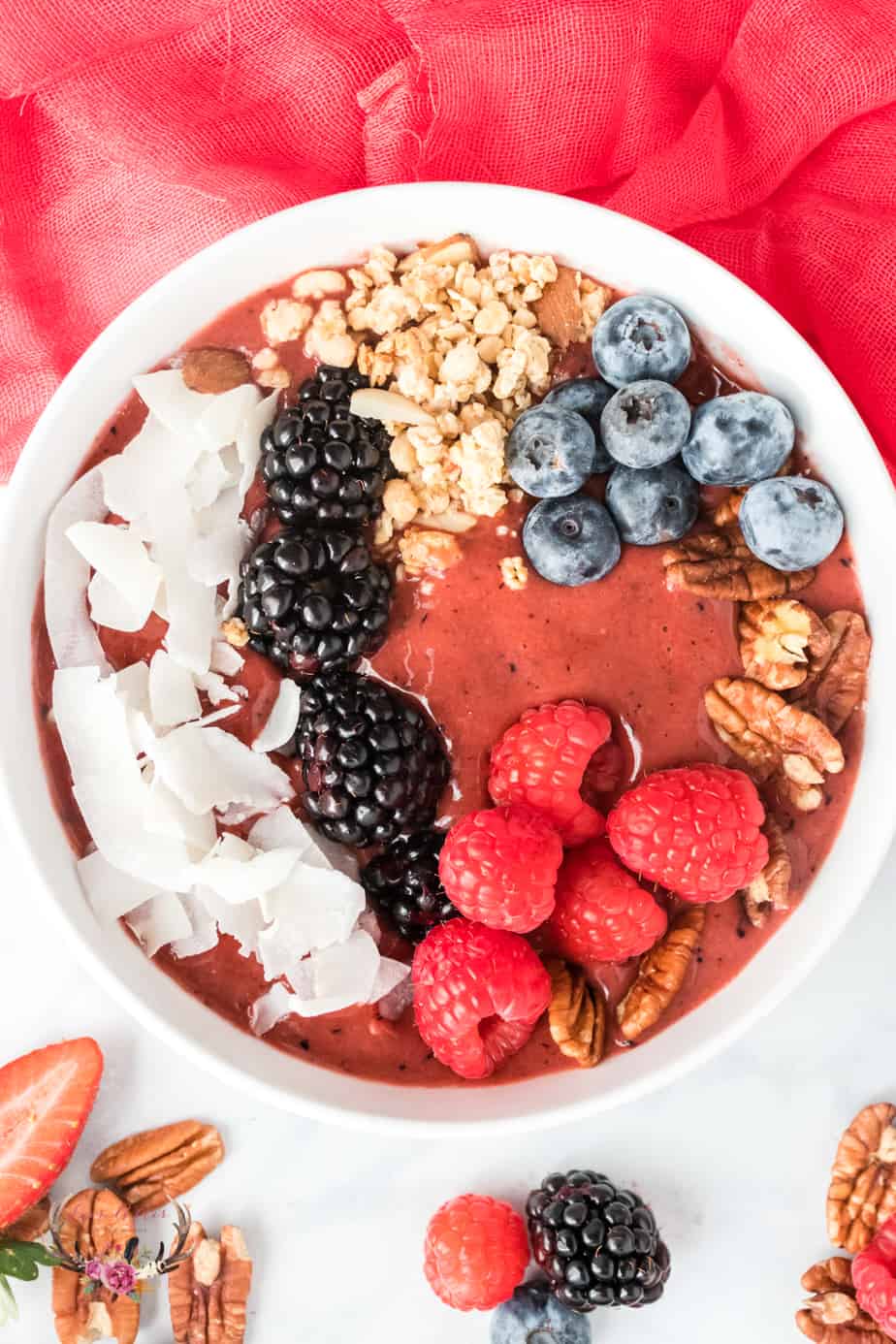 Most regular smoothies don't have much for toppings either. That's what makes this fruit smoothie bowl stand out. No matter which way you prefer this breakfast idea, it's going to be healthy and give you lots of nutrients to face the day.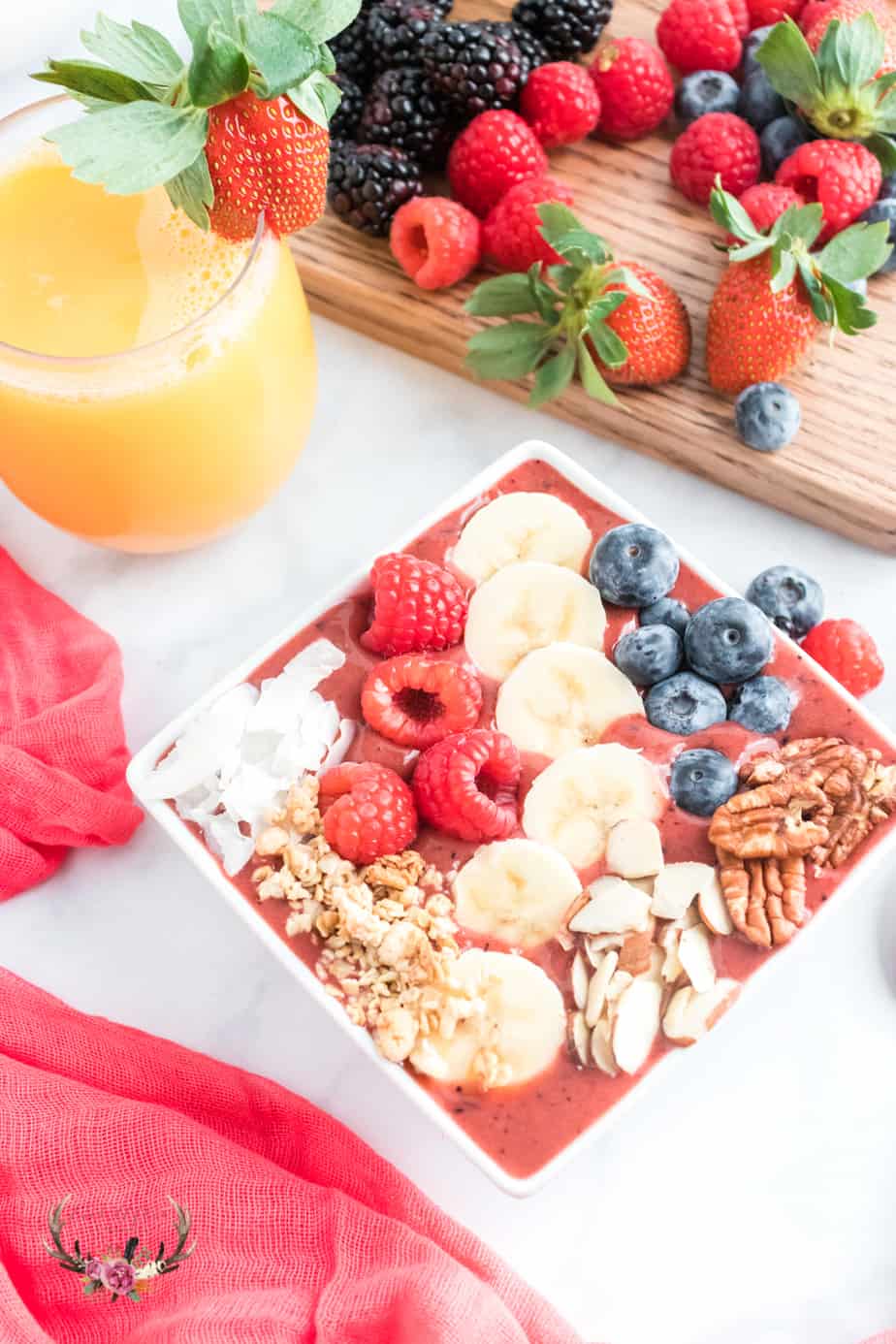 Smoothie Bowl Variations
You are going to love how much you can adjust this recipe to fit your needs. I wanted to break down a few ideas to consider trying out.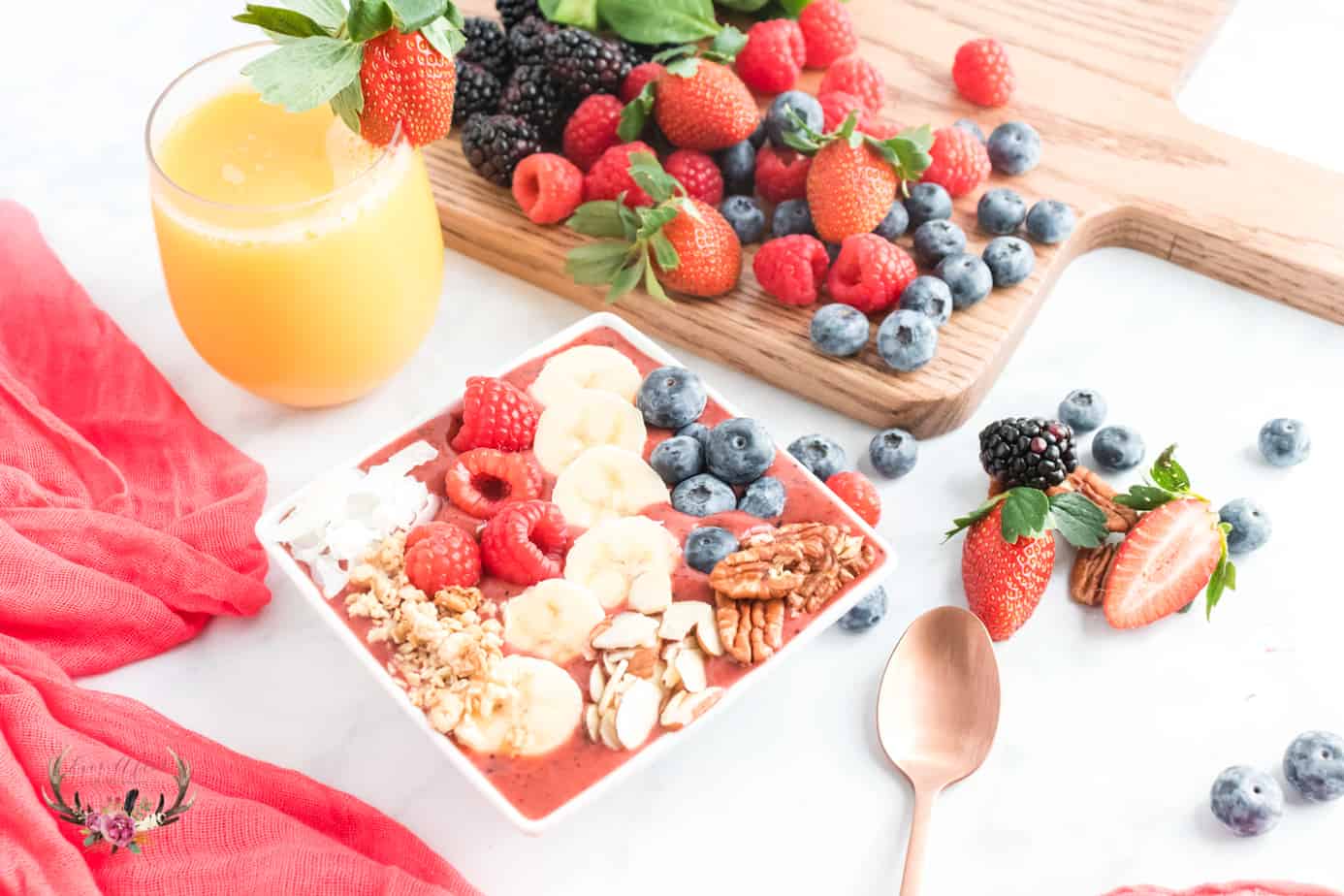 Honey – If you would rather skip the maple syrup, go ahead and swap it for honey. You don't need a ton to give the bowl a little hint of sweetness.
Skip the Spinach – Does the idea of adding spinach to your smoothie bowl gross you out? No problem! Skip it completely. I will tell you, though, it does add nutrients and doesn't change the flavor at all.
Go Wild With The Fruit – Seriously! Add any kind of frozen fruit you want. I went for a combination of blueberries, strawberries, mango, raspberries, and bananas, but the options are endless.
Oats – If you need to increase your fiber, adding oats is a great way to do it. I recommend blending them in a food processor until they are like dust. Then mix them in with the frozen fruit. It adds another element of texture that is incredible.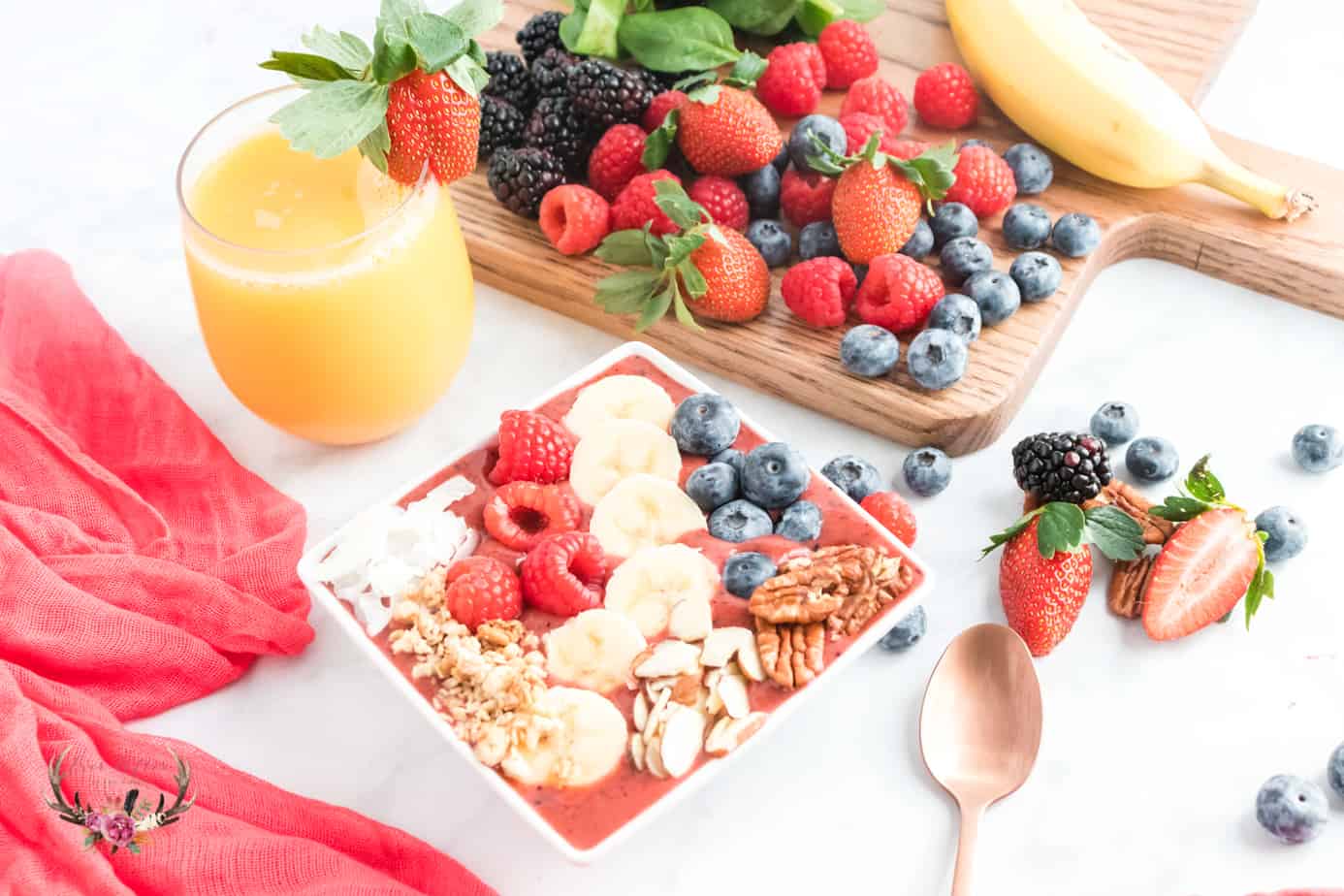 Storage
I bet you didn't realize you could actually save the leftovers! Yep, it's true! To save them, you simply need to remove the toppings, except for the fruit. Then pour the smoothie into an airtight container and keep it refrigerated for up to two days. It will separate as it sits in the fridge, so I recommend giving it a good stir before adding toppings and devouring.