I received free products in order to host a #DisneyKids Preschool Playdate. The opinions here are my own.
We were so excited to be invited to receive our invitation to host our very own Disney Kids Play Date this year. My daughter is in pre-school and as you can imagine we are in love with all things Disney- when I saw all things I mean everything from Jake and the Neverland Pirates, The Lion Guard, Moana, Sofia the First, Tinkerbell and of course the Grand Marshalls of it all Mickey and Minnie!
So what to plan, who to invite, what to serve – oh my goodness we could not control ourselves. The fact that it all came packaged in an American Tourister Sofia the First rolling luggage case was huge. My daughter could not wait to use this luggage! So adorable.
Invitations
We decided to have a fairy theme for our Disney Kids Playdate and had to make an invitation. We received a HP Card and Invitation Kit in our goodie bag. I designed my own invitations but I love that you can use the HP Cards App to print on-the-go cards even from your mobile device. If you download the HP Photo Creations software you can design invitations and more here as well- including Disney! The kit comes with 25 sheets of 5×7 paper and envelopes retailing for $9.99.
Food
We decided to create a fairy cookie from sugar wafers that were easy and delicious to make. You can read more about these cookies here. Aren't they beautiful?
No party would be complete without a party themed drink. We created a Fairy Dewdrops. This drink is simply a lemon-lime soda filled with maraschino cherry juice and topped with a few extra cherries. So cute and delicious.
I love serving their drinks in glasses found at the Dollar Spot at Target, Tulle and a mini magic wand! Didn't they come out adorable?
Plus popcorn! Pop Secret was included in our magic bag and we served this at our Disney Kids Preschool Playdate because who does not like popcorn? I love that you know exactly what you are getting when you pop Pop Secret- 100 Calorie Pop Butter- 100 calories of delicious popcorn. The girls loved it!
And cupcakes too! Toadstool cupcakes to be exact. Aren't these awesome! Make your favorite cupcakes and ice. Dip in red sprinkles or sanding sugar. Cut out white fondant circles and place on top. I love these! Perfect addition for a fairy party.
Activities
We decided to make fairy gardens at our party and the girls were so excited that not only was this an activity for them to do but they can take it home for them as well. We used this adorable GNOME GARDEN SET from Oriental Trading that they sent to us for our play date. We added WHITE GRAVEL and MOSS also from Oriental Trading to make these adorable little homes for our fairies. It was almost like Tinkerbell was watching over us! The girls had such a great time making these fairy gardens.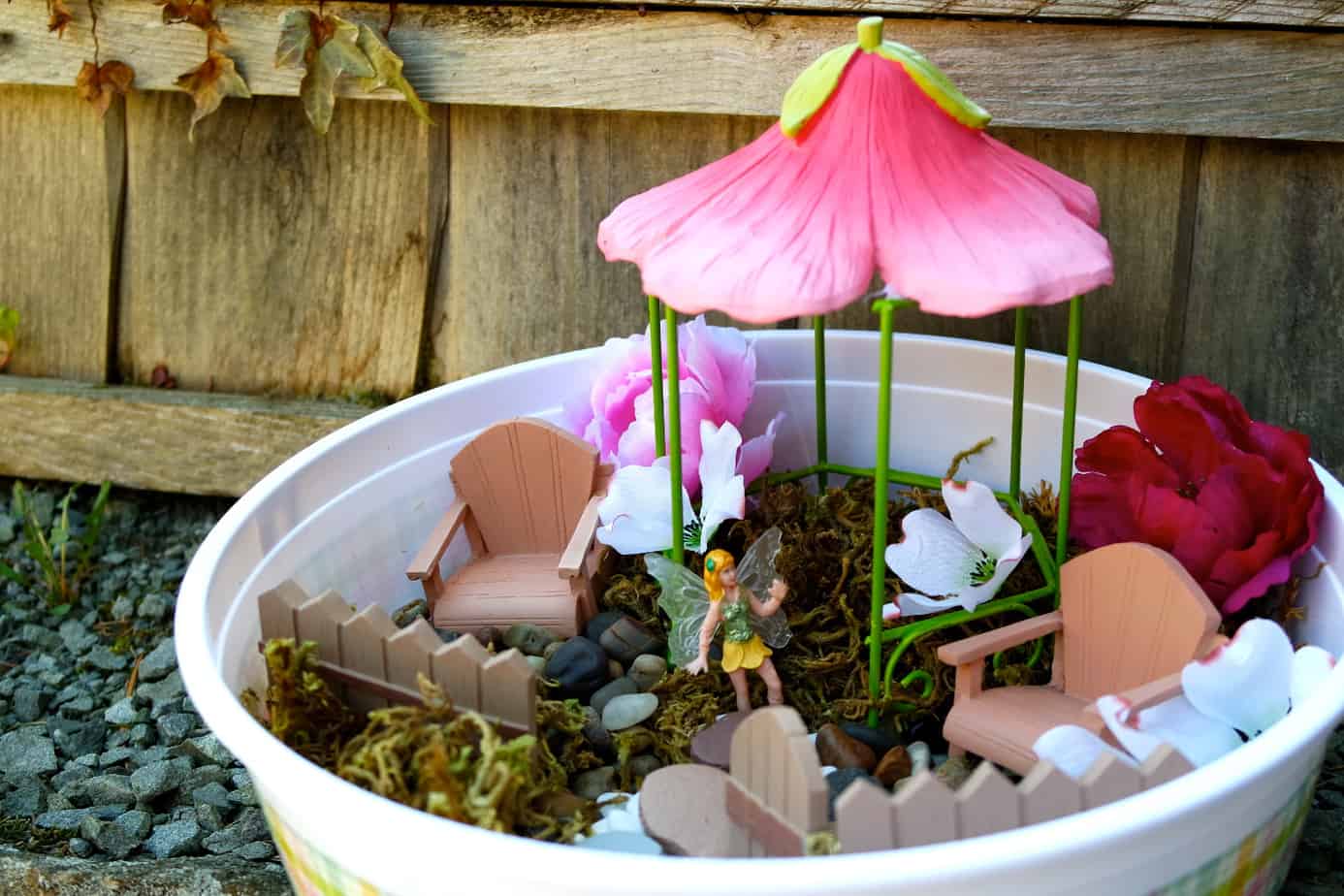 So easy and fun to do! The girls had a blast – we made our fairy homes for inside using, moss and stones, dried flowers and more! But you can easily make these outdoors in a planter with potting soil and real flowers too. Thanks so much to Oriental Trading for this awesome project- see more here. Clean up was a breeze with the Soft Soap hand wash plus lotion that was sent .
Next we made and used our Fab Fortune Tellers that were sent to us with all of our favorite characters. The girls loved using their fortune tellers and one of them even said she was going to bring hers on the plane because she was leaving for Disney Parks the next week- lucky girl!
Goody Bags
Everybody went home with a pack of HP Social Media Snapshots paper to create awesome 4×5 prints that have a re-sticking back. These packs of paper are perfect to print your Instagram and Facebook memories and come in a pack of 25 for $9.99. They also left with their Fairy Gardens, a jar of Pixie Dust, and their drink cups with magic wands. I think they all had a truly magical experience.
Our Disney Kids Preschool Playdate was a big hit! We can't wait to plan our next Disney adventure. For more information on planning your trip to Disney visit http://www.DisneyWorld.com/LittleOnes or http://www.disneyparks.disney.go.com/blog Be sure to follow @DisneyParks and @DisneyMoms on Twitter to keep up with all of the exciting and fun happenings that are happening at Disney.
I hope you enjoyed following along with our Disney Kids Preschool Play Date Fairy Party. We had so much fun hosting and the girls had a blast now I think we are all ready and excited for a trip to Disney!