The tomatoes were provided courtesy of the Consorzio di Tutela del Pomodoro San Marzano dell'Agro Sarnese-Nocerino DOP and ANICAV. All opinions are my own and yours may vary.
Why I 🖤
Pomodoro San Marzano dell'Agro Sarnese-Nocerino Tomatoes DOP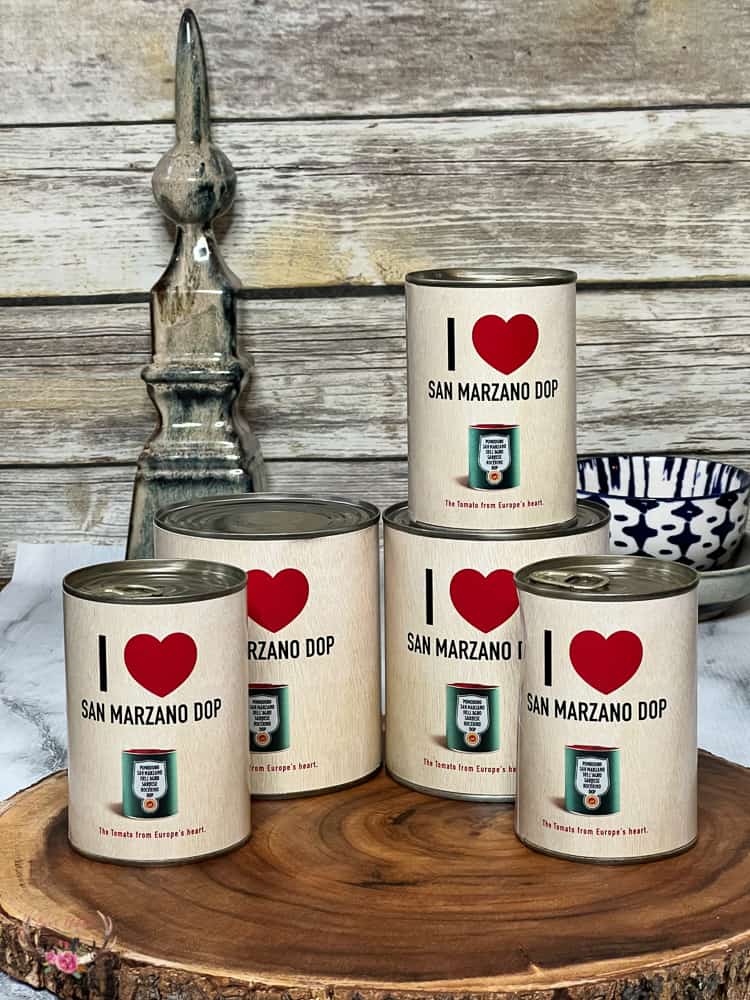 San Marzano tomatoes DOP are one of my absolute favorite tomato varieties and I've never met someone who didn't love them as well. If you haven't had the pleasure of trying these Pomodoro San Marzano dell'Agro Sarnese-Nocerino DOP tomatoes, you're missing out on what I think makes the perfect tomato flavor. Let me explain why I love San Marzano tomatoes DOP and all their delicious qualities!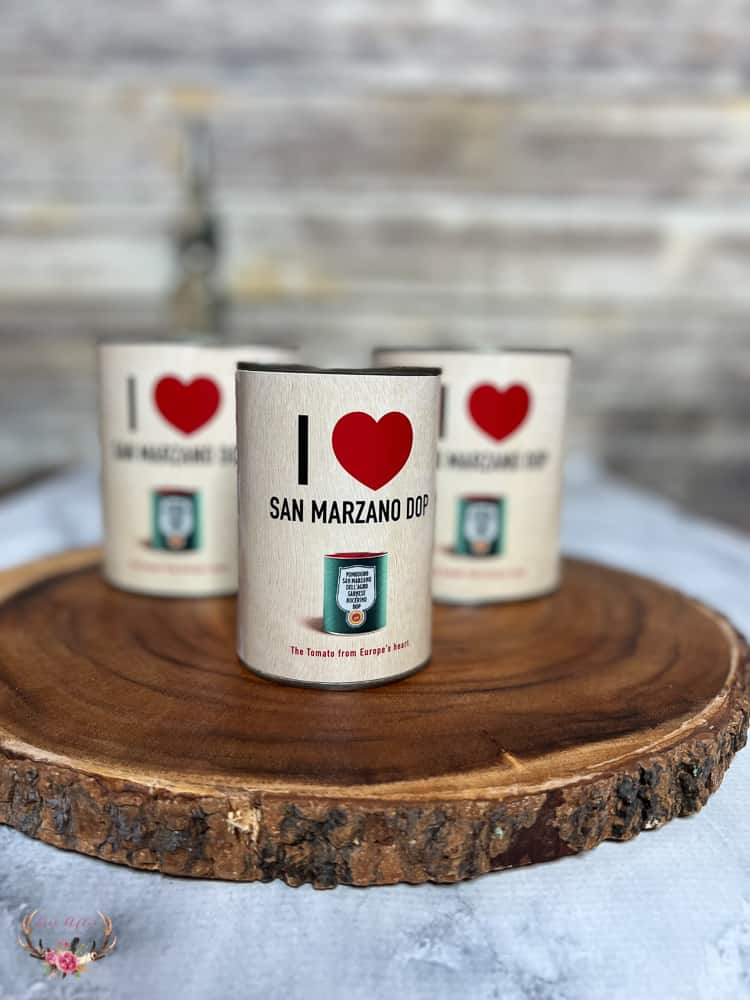 The History
In 1699, a European priest transplanted seedlings from Mount Vesuvius to his home in Naples. The descendants of those plants are still considered among Italy's best tomatoes and produce what many consider to be the finest canned tomato products in Italy and around world. The San Marzano tomato originates from a small town near Naples called San Marzano sul Sarno, which is one of Italy's largest producers of tomatoes for both canning and fresh consumption.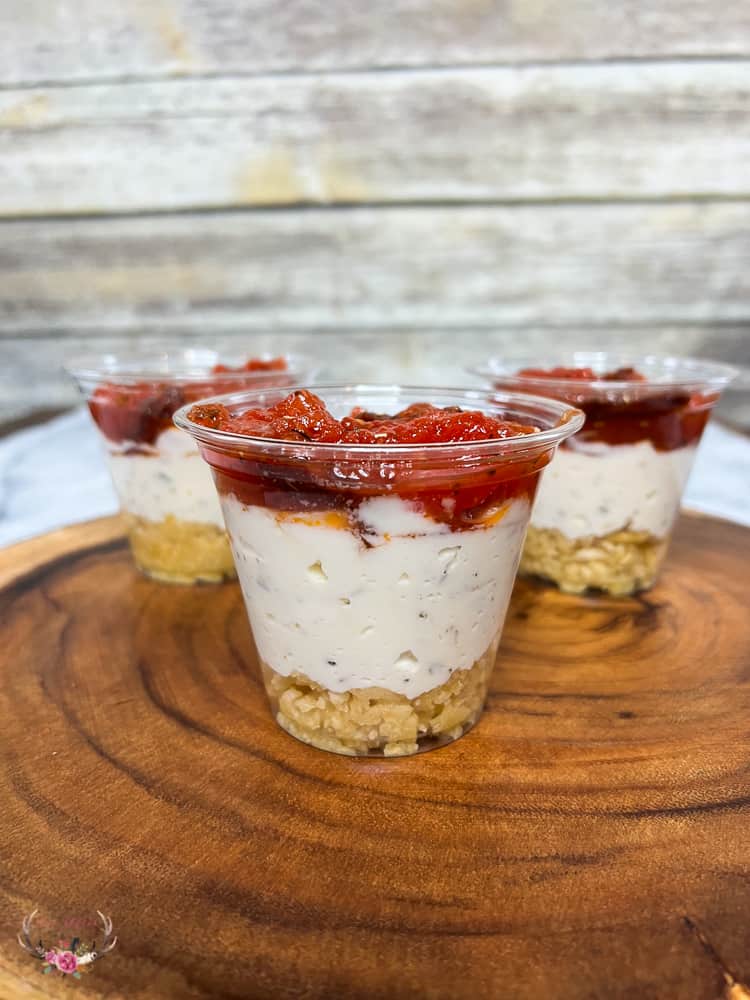 San Marzano dell'Agro Sarnese-Nocerino DOP tomatoes are not a brand, but a type of tomato grown and picked exclusively for the can, cultivated in the 41 towns situated within the vol-canicrich production area of Agro Sarnese-Nocerino near Naples, Italy. It is important to note that they are the ONLY cans that can use the DOP label which has two quality seals on them. These tomatoes are a whole food in a can, salt free, without preservatives, and are always a burst of summer freshness.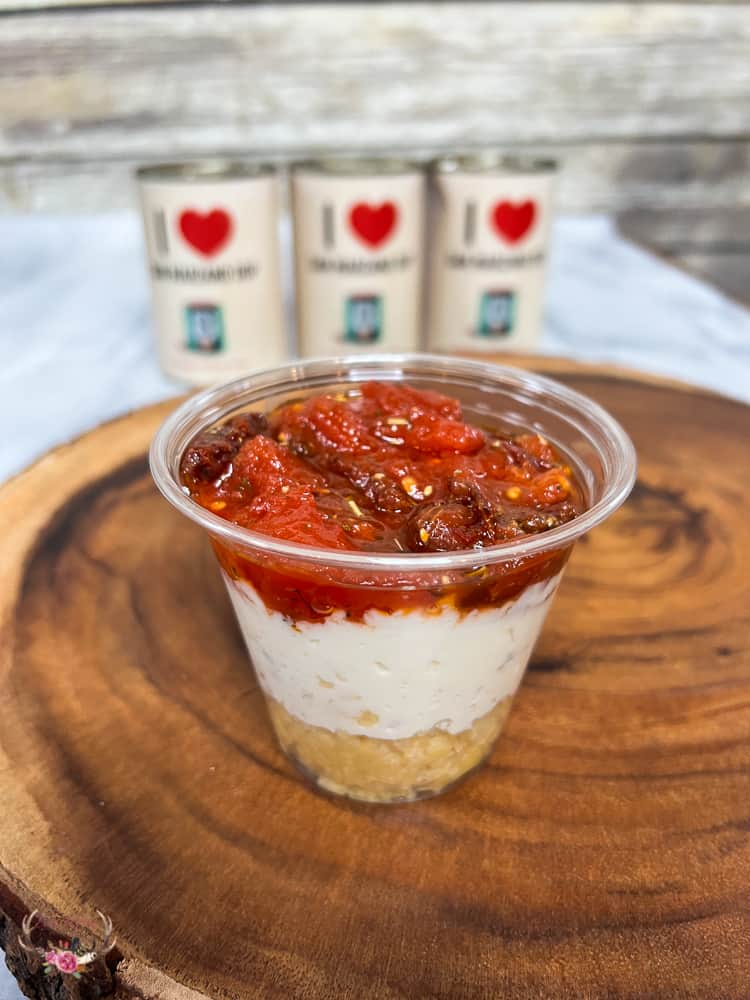 **Please note the labels shown here CANNOT be found in the store as they were created for this campaign.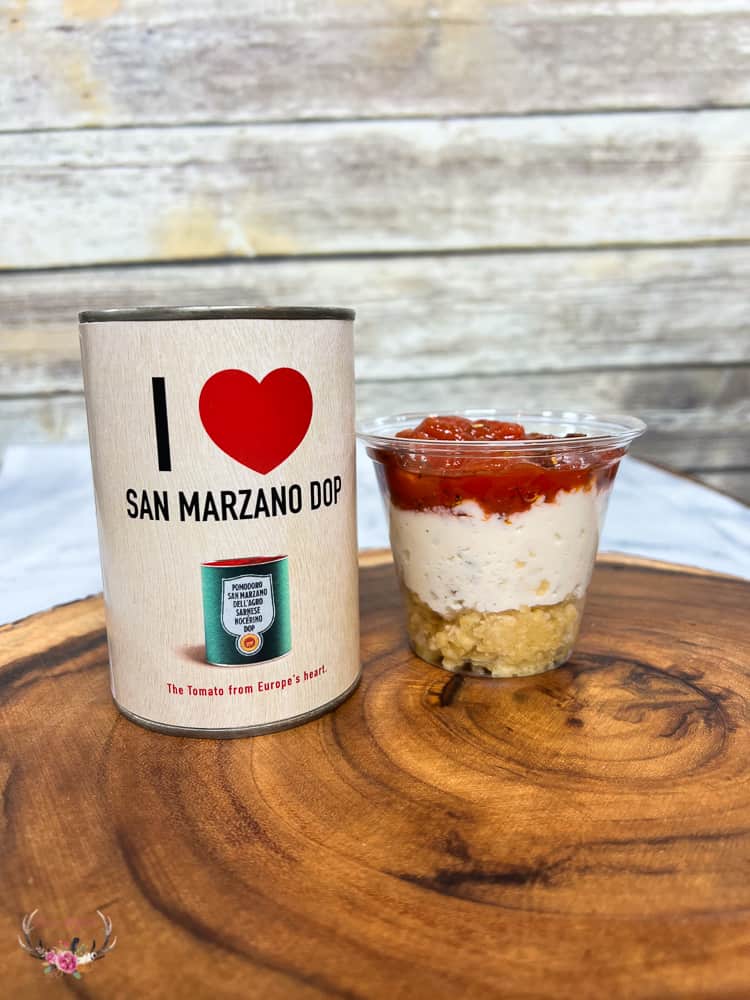 POMODORO SAN MARZANO DELL'AGRO SERNESE-NOCERINO DOP STANDARDS
In order for a can of tomatoes to be stamped with the DOP label, it must follow particular guidelines. By choosing a PDO-labeled product such as DOP San Marzano Tomatoes, you know you're getting the highest quality, traditionally produced, authentic product. Real DOP San Marzano tomatoes must be the correct strain, grown traditionally, grown in the approved region, harvested by hand, and packed peeled.
San Marzano strain tomatoes with specific characteristics including bright red color, elongated oblong shape, and balance of intense fresh, sweet, and tart flavors.
Grown in open-air rather than a greenhouse. The tomatoes are harvested between July and September.
The farming and canning process must both take place in one of the 41 towns in the province of Salerno (Agro Sarnese-Nocerino), the province of Naples, and the province of Avellino.
Traditional hand-picked harvesting and proper canning methods.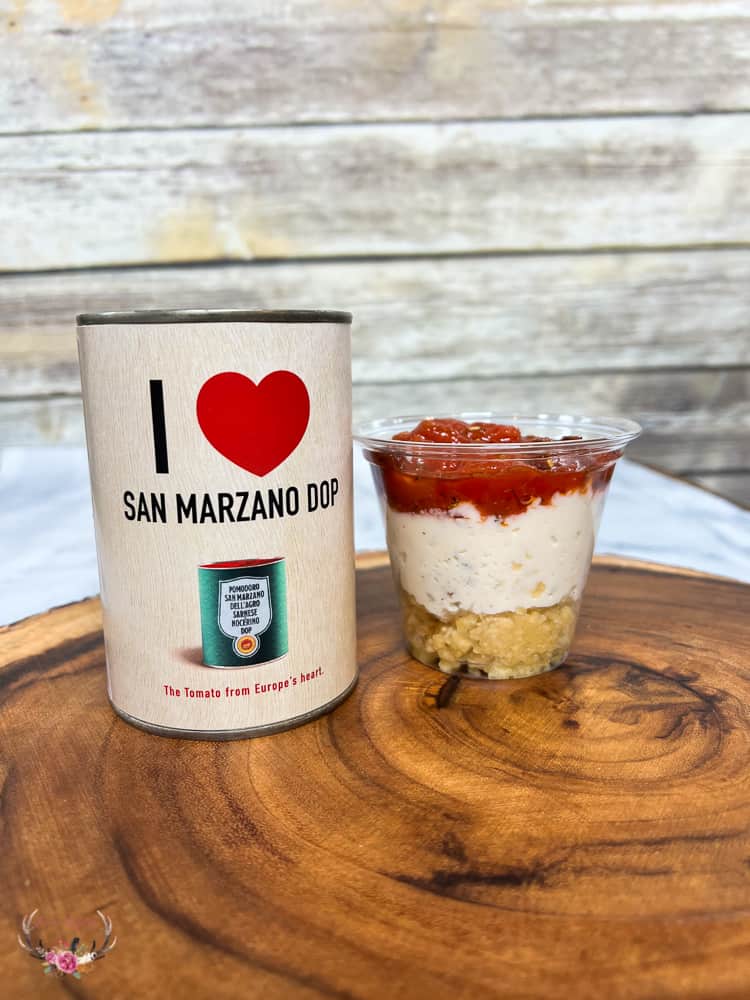 RECIPE CONTEST
One of my readers will win a Pomodoro San Marzano dell'Agro Sarnese-Nocerino DOP gift pack consisting of 5 cans (3 large and 2 small) of these top-quality canned tomatoes!
Send in your favorite recipes (photos are encouraged) using only Pomodoro San Marzano dell'Agro Sarnese – Noceri-no DOP in their creations. A winner will be chosen by the end of May.
Please send your recipes to jenn_inthewoods@aol.com

Click here for more recipes using these delicious San Marzano DOP tomatoes.

Tomato Ricotta Cheesecake
*** recipe adapted and courtesy of San Marzano dell'Agro Sarnese-Nocerino Tomatoes DOP
Ingredients
For the crust-
9 oz crackers
1 stick unsalted butter, melted
For the filling
12 oz ricotta
pinch of Italian herbs
Salt and Pepper to taste
For the topping
5 oz San Marzano dell'Agro Sarnese-Nocerino Tomatoes DOP

5 oz sun dried tomatoes
few drops of hot sauce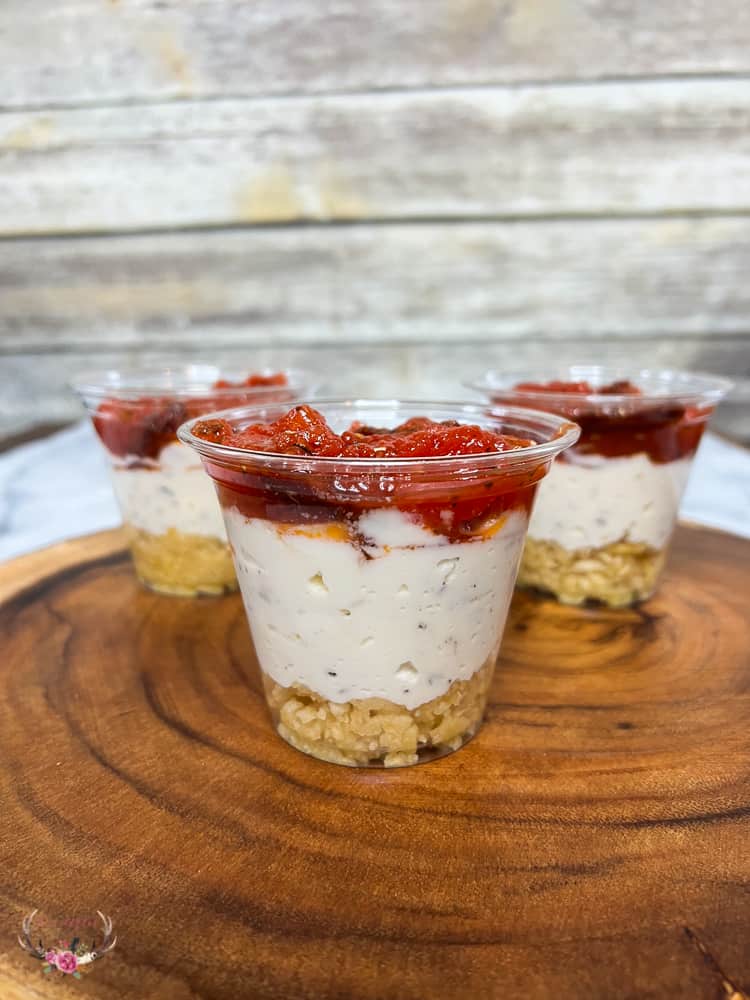 Directions
Pulse the crackers in the food processor.
Add the melted butter and pulse again until the mixture is smooth.
Spread the mixture in 4 glasses to form a layer of about ½ inch.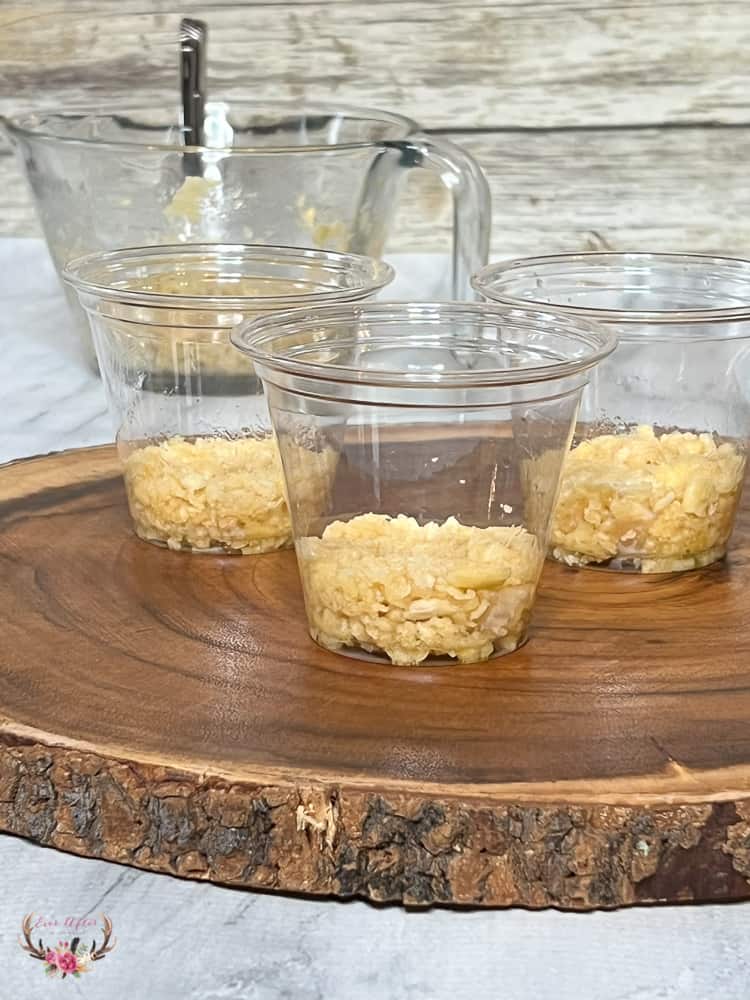 Press down and leave in the refrigerator.
In a bowl, mix the ricotta with the seasoning with salt and pepper.
Spread the mixture on the cracker crust, smooth and put back in the refrigerator.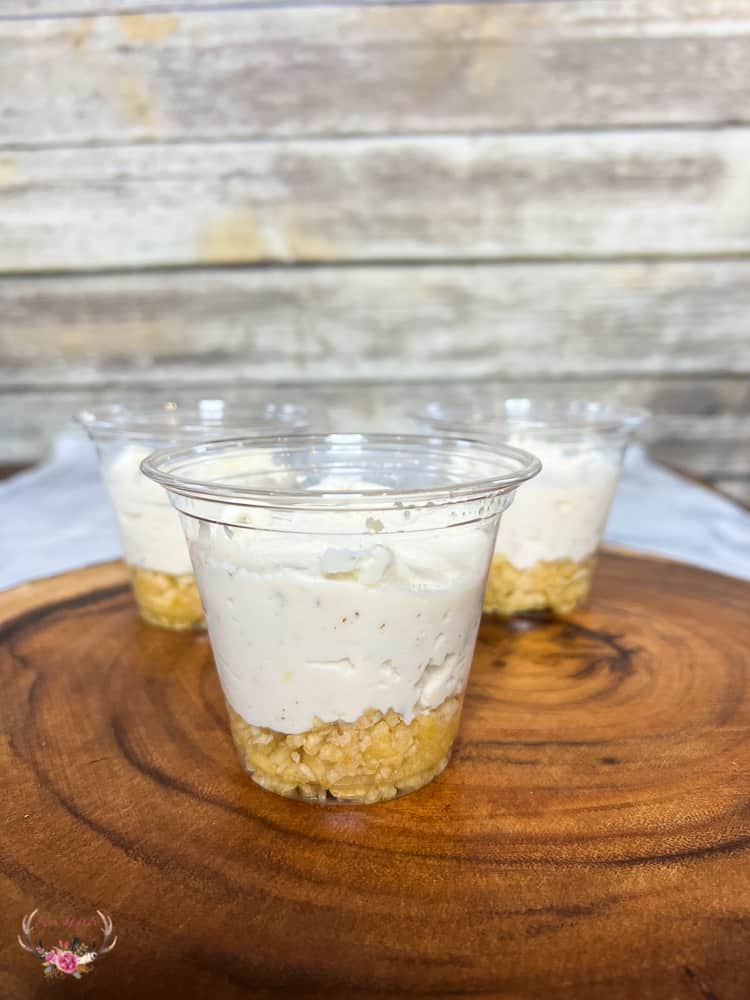 Blend the sun-dried tomatoes and a little olive oil if needed to make a smooth paste.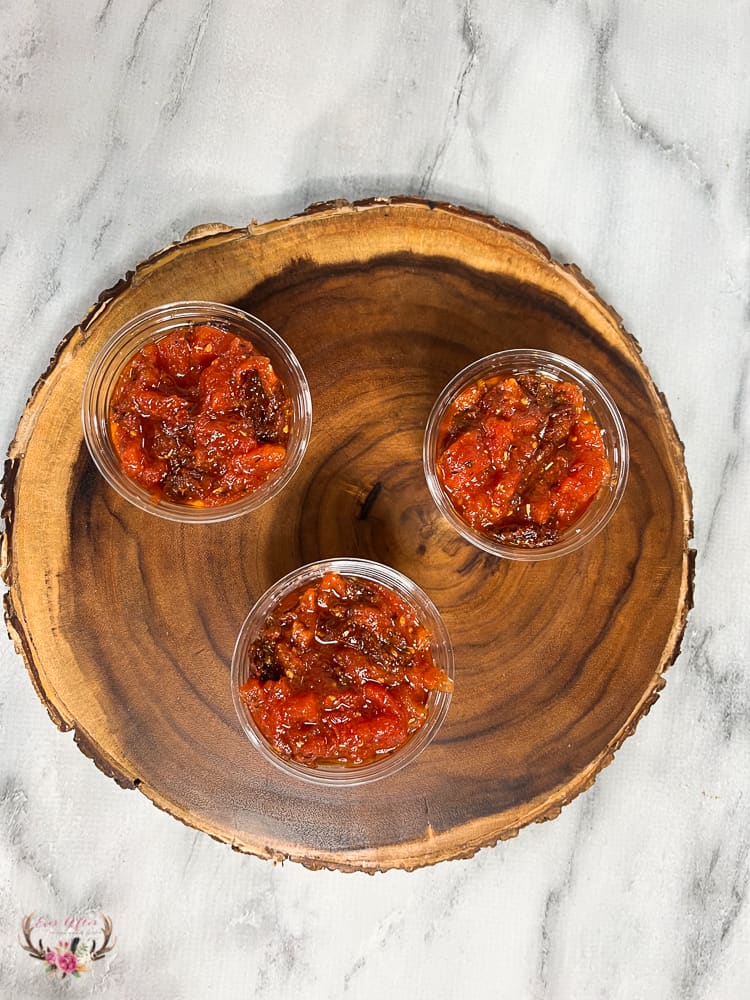 In the meantime, dice the San Marzano DOP tomatoes and toss them briefly in a skillet
with a little olive oil and add to the prepared tomato paste.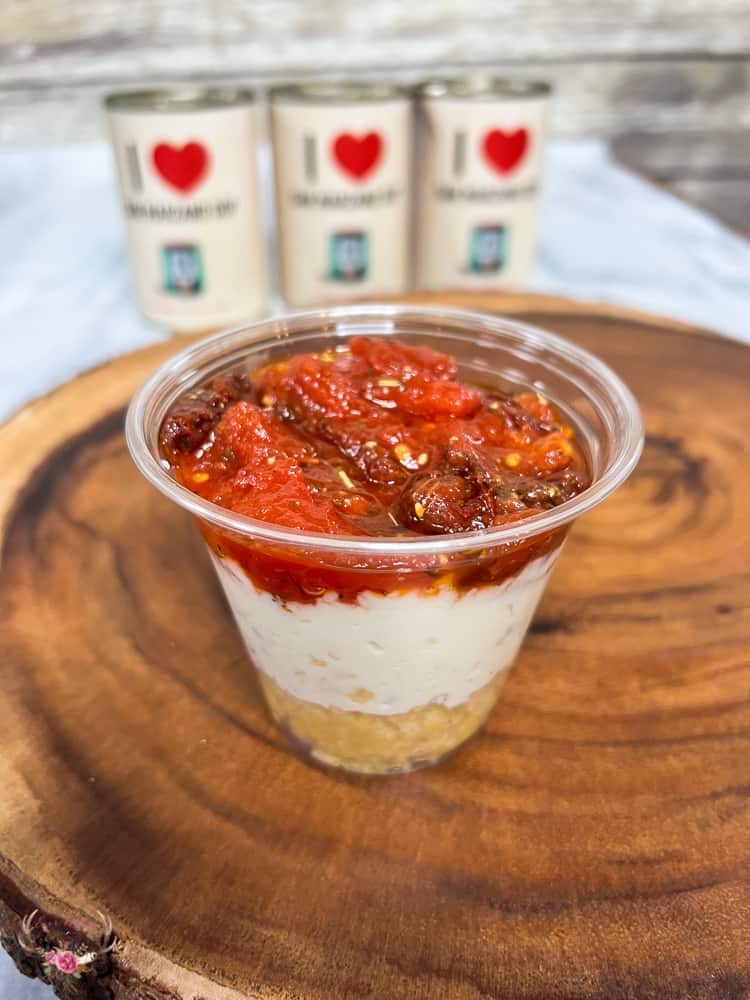 Spread the mixture on the cheesecake filling in the glasses.
Enjoy!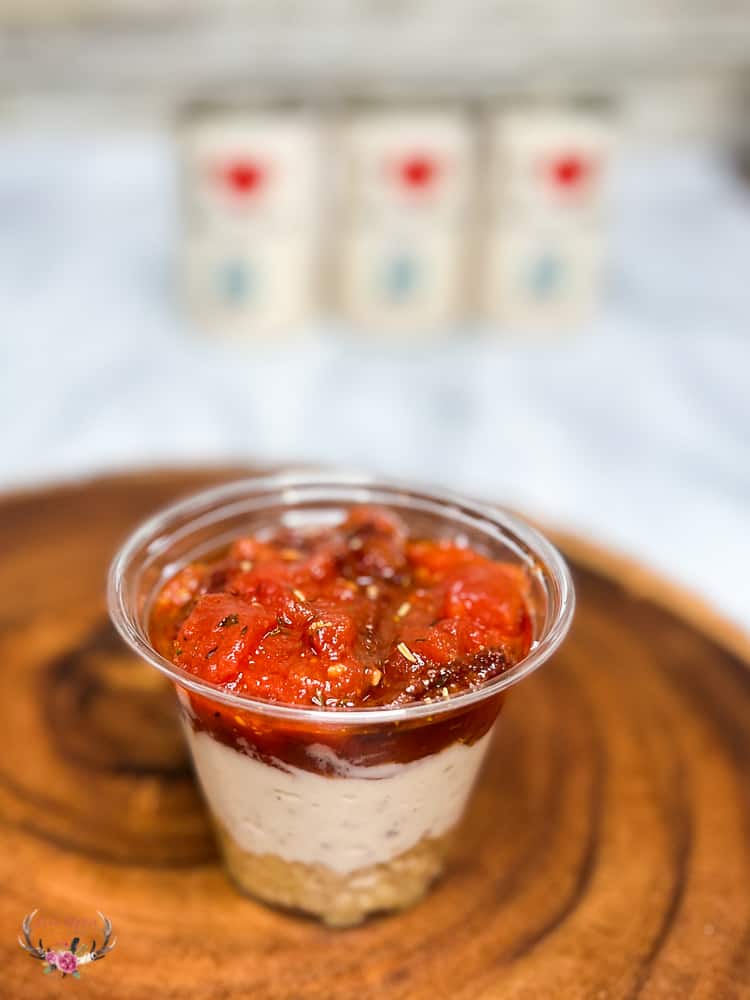 My love of all things Italian stems from my grandparents! I remember cooking with my Grandma every week when she was making sauce and so many other delicacies. Learn more here