Lemon Biscotti
Easy Lemon Biscotti with Glaze
Lemon Almond Biscotti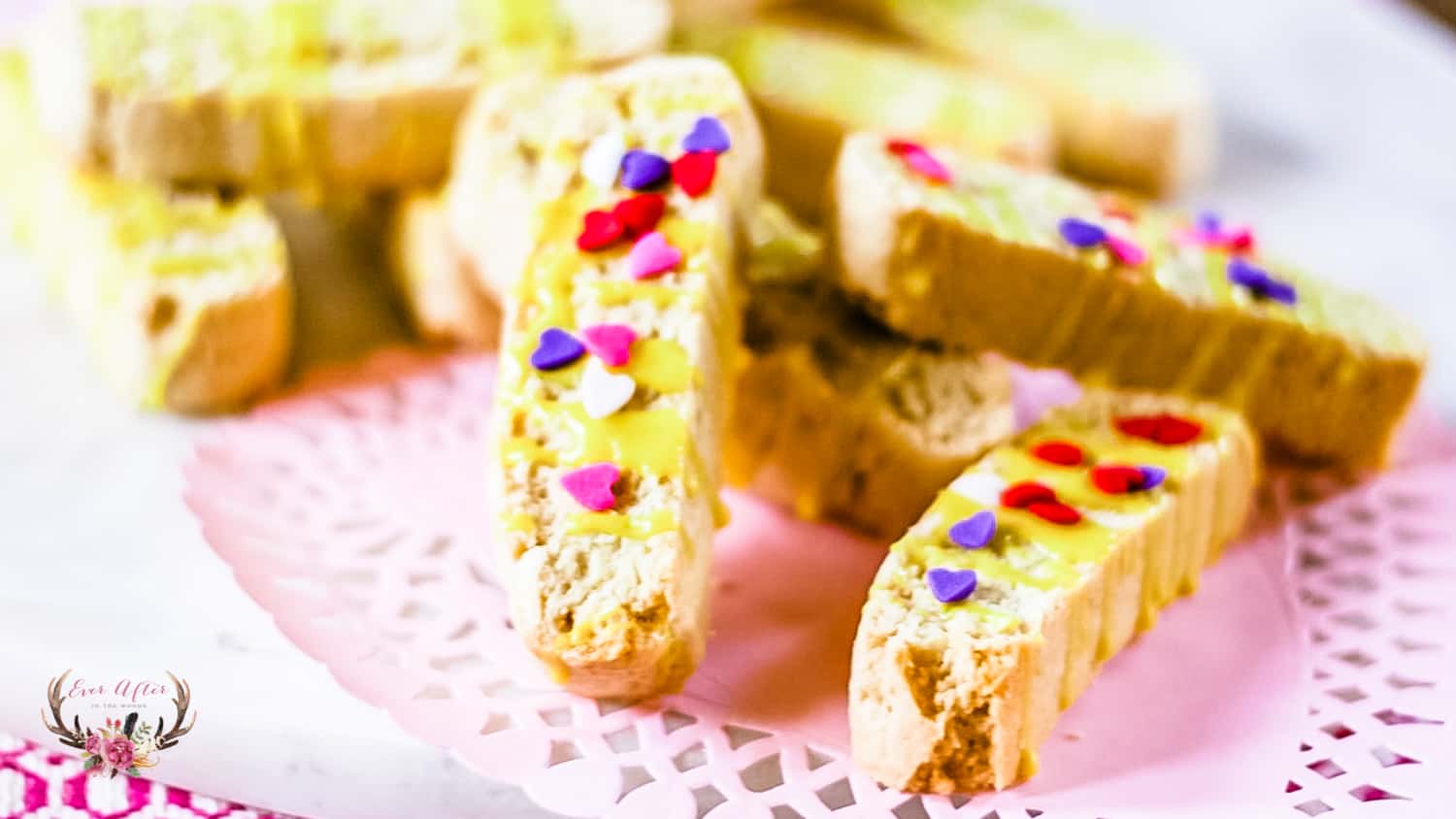 Huge fan of dunking my cookies in an afternoon cup of coffee. There is nothing better than these lemon biscotti that has just a bit of zing to go with the sweet cookie taste.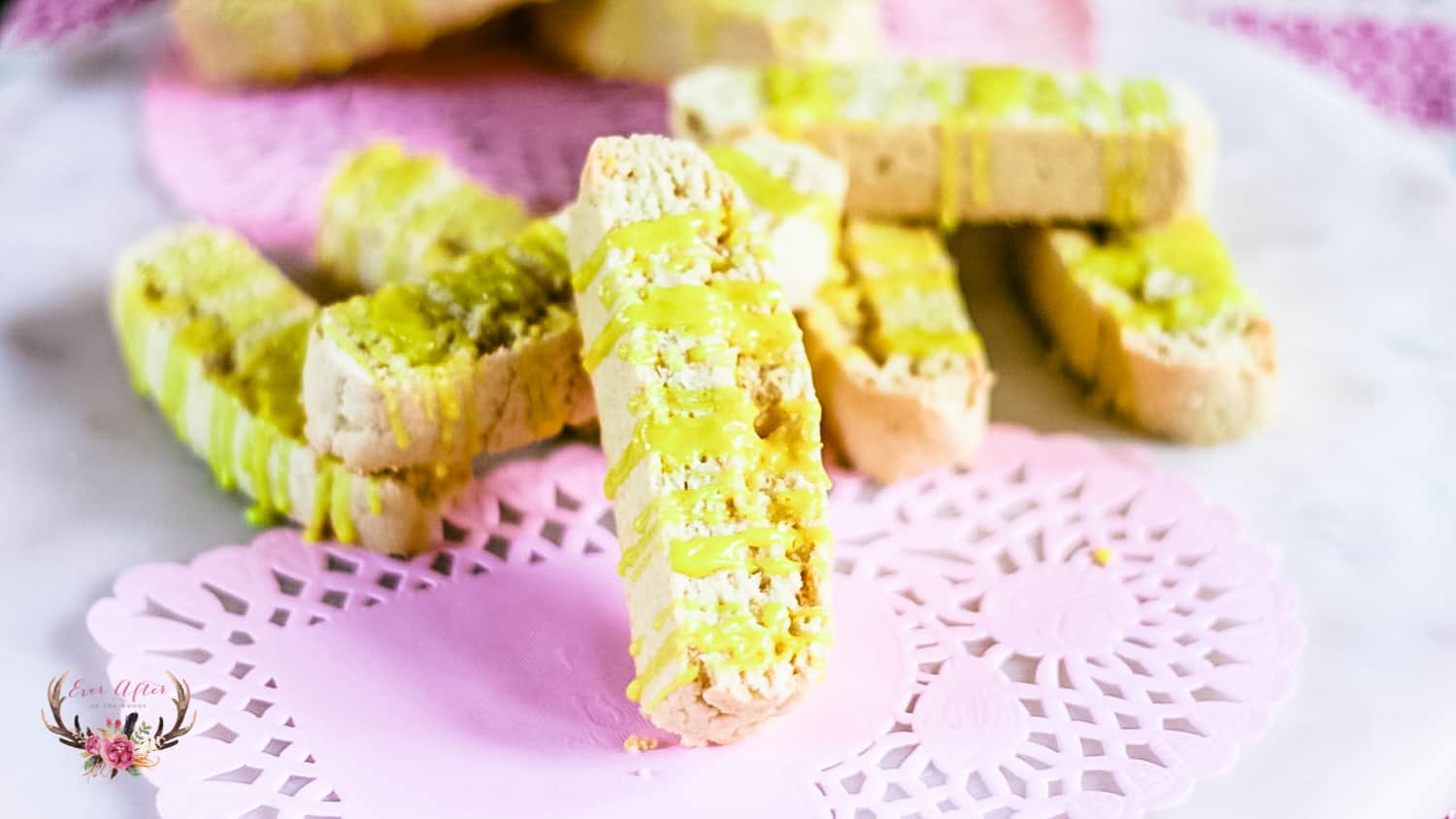 Can you freeze lemon biscotti?
Yes, you can freeze biscotti. Just be sure to freeze these tasty cookies prior to drizzling them with glaze.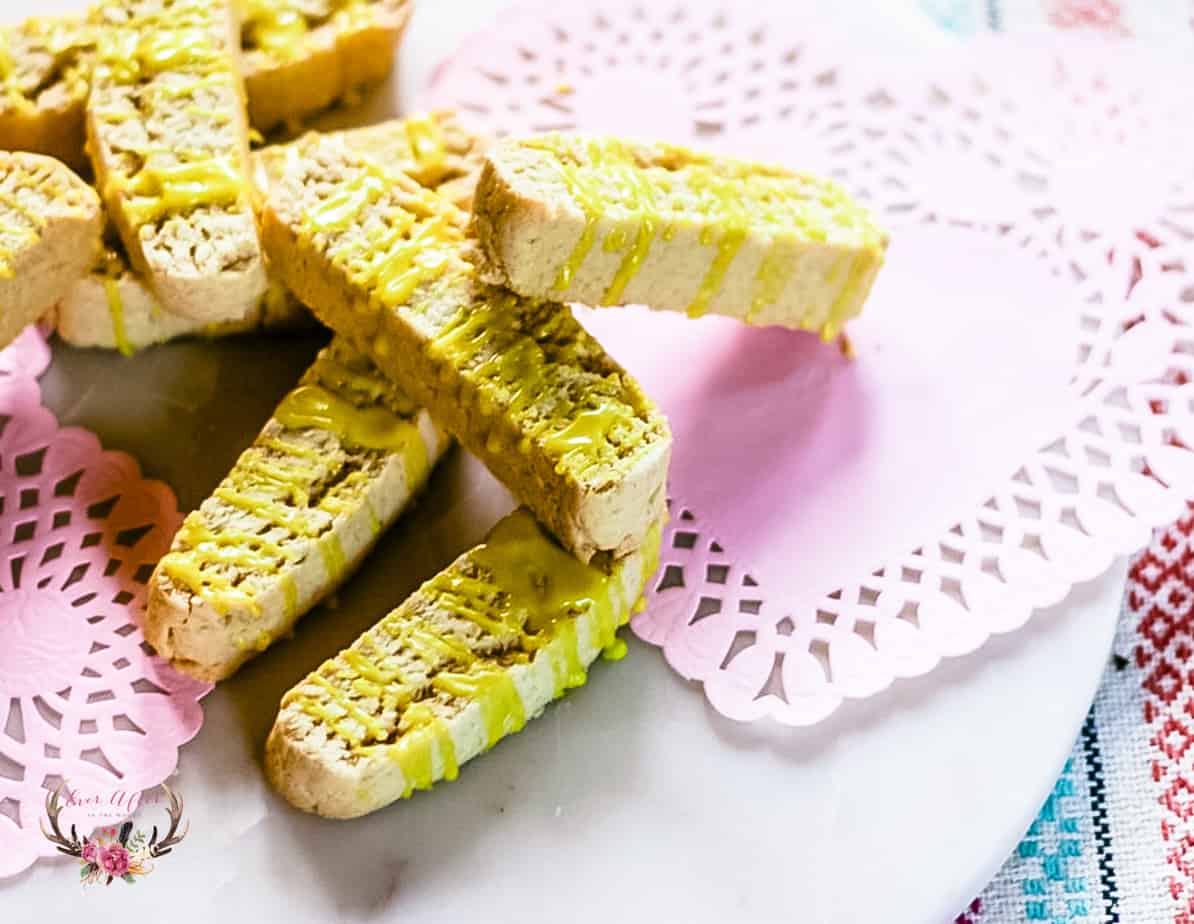 We have been making Italian biscotti for such a long time and love all the different variations. This recipe for lemon biscotti is so easy to make that you will be sure to have a batch on hand.

Lemon Biscotti
INGREDIENTS
6 TBSP butter, room temperature
2/3 cups sugar
Grated rind of 1 lemon
1 tsp lemon extract
3 TBSP lemon juice
2 eggs
2 cups flour
1/2 tsp salt
1 tsp baking powder
Glaze
½ cup confectioner's sugar
3 tsp. milk
1 drop of yellow food coloring
Sprinkles (if desired for a holiday feel)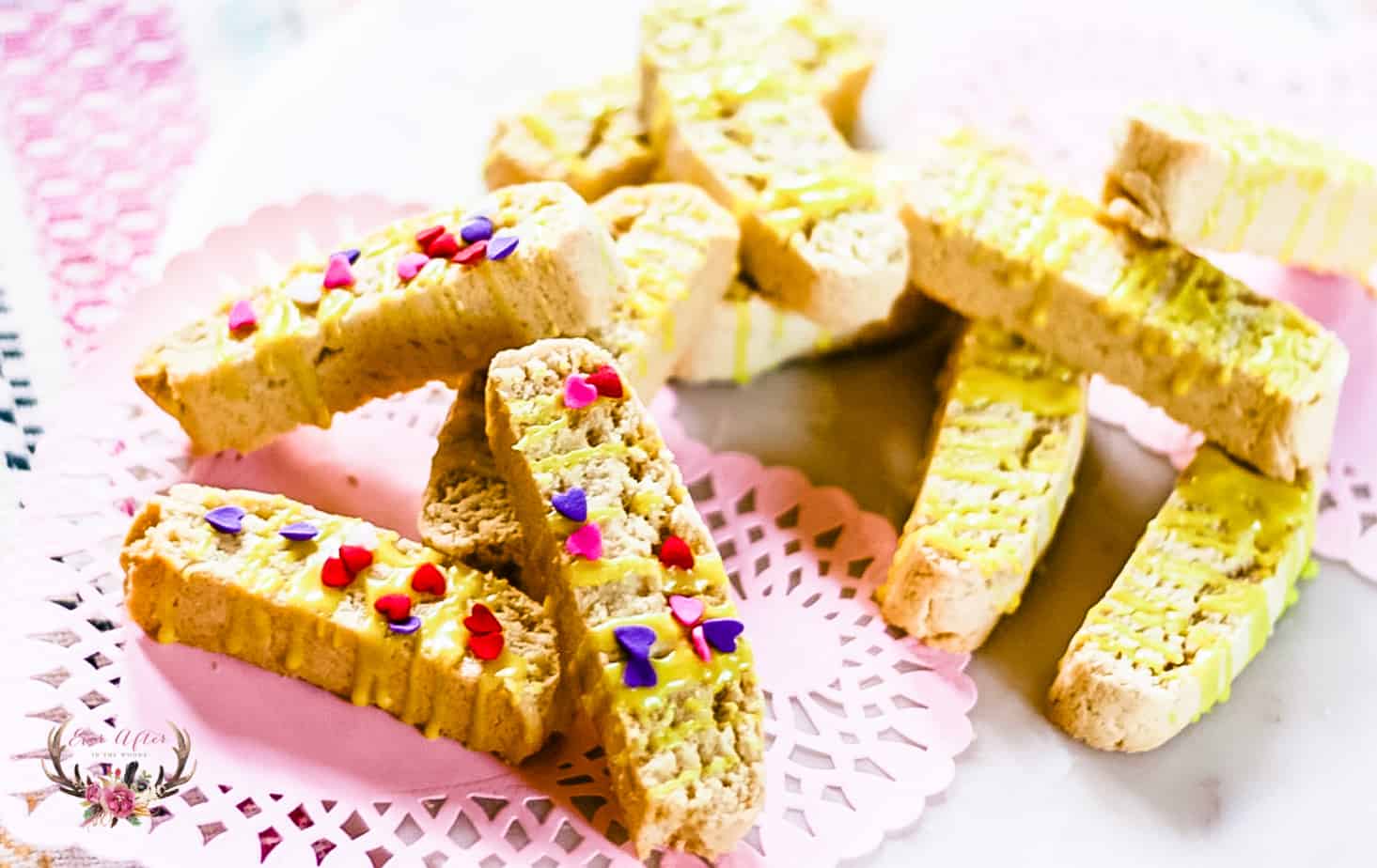 Directions
Preheat oven to 350. Place a silicon mat on a baking sheet and set aside.
Using an electric mixer with the paddle attachment, cream the butter and sugar until light and fluffy.
Beat the salt, lemon zest, lemon extract and baking powder until well combined.
Add in the eggs and the lemon juice, mix well. The batter may appear to be curdled at this point.
Add in the flour and combine.
Shape the dough into a long log.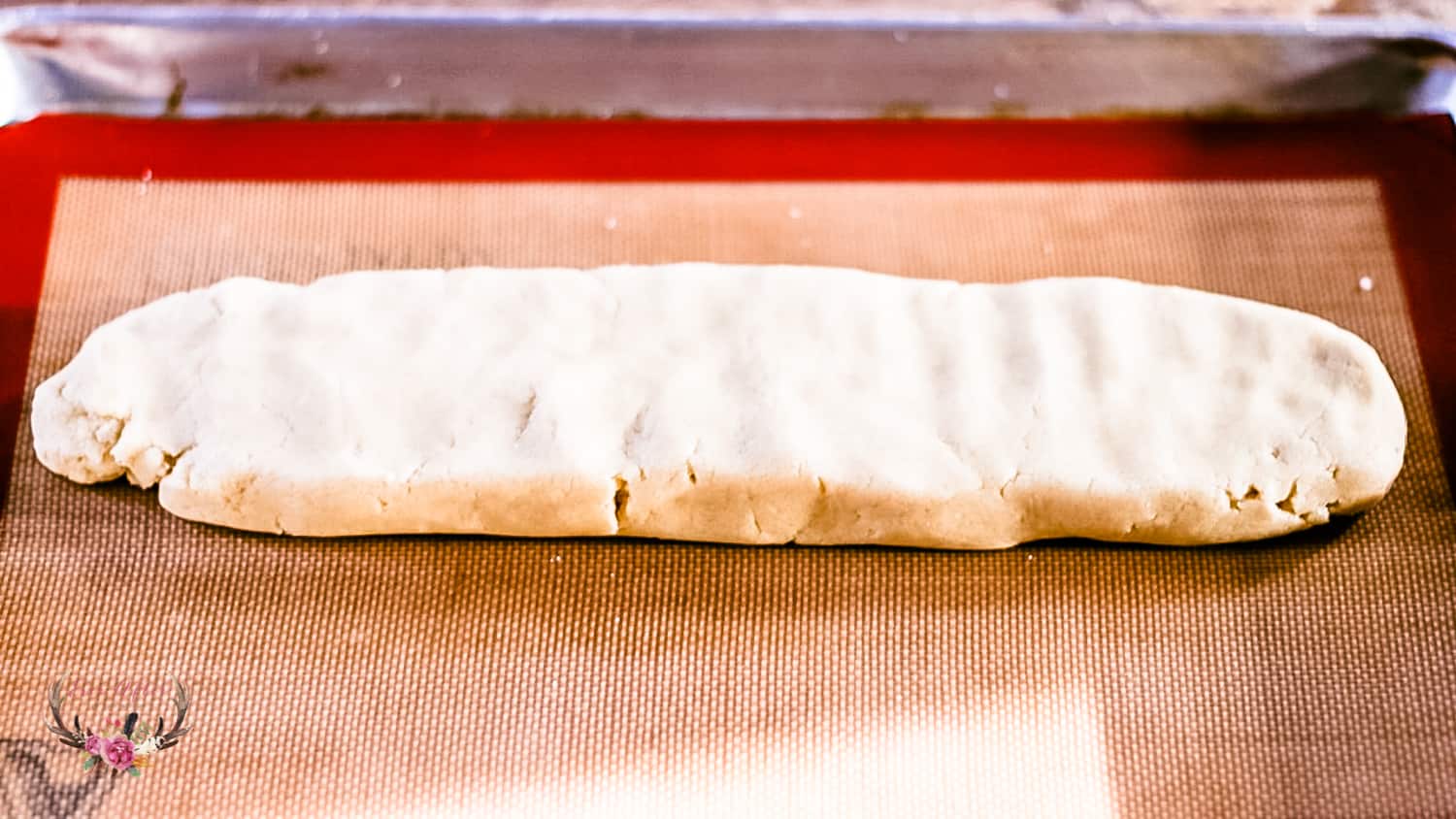 Bake for 25 minutes. Remove from oven and allow to cool for 25 minutes.
Next, slice the biscotti log into ½ inch pieces.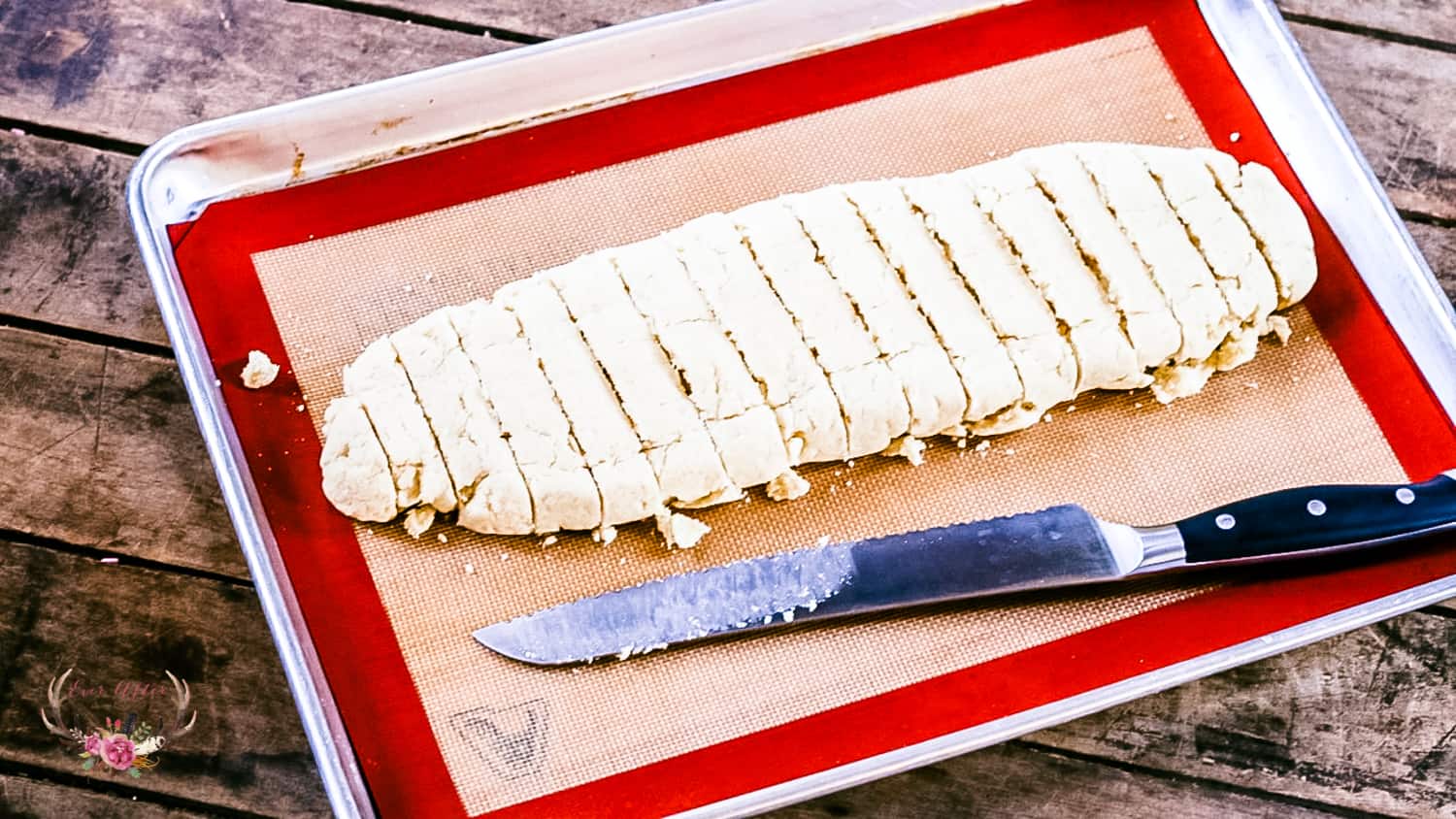 Set each biscotti on the pan on its side.
Lower the oven temperature to 325 and bake for 30 minutes.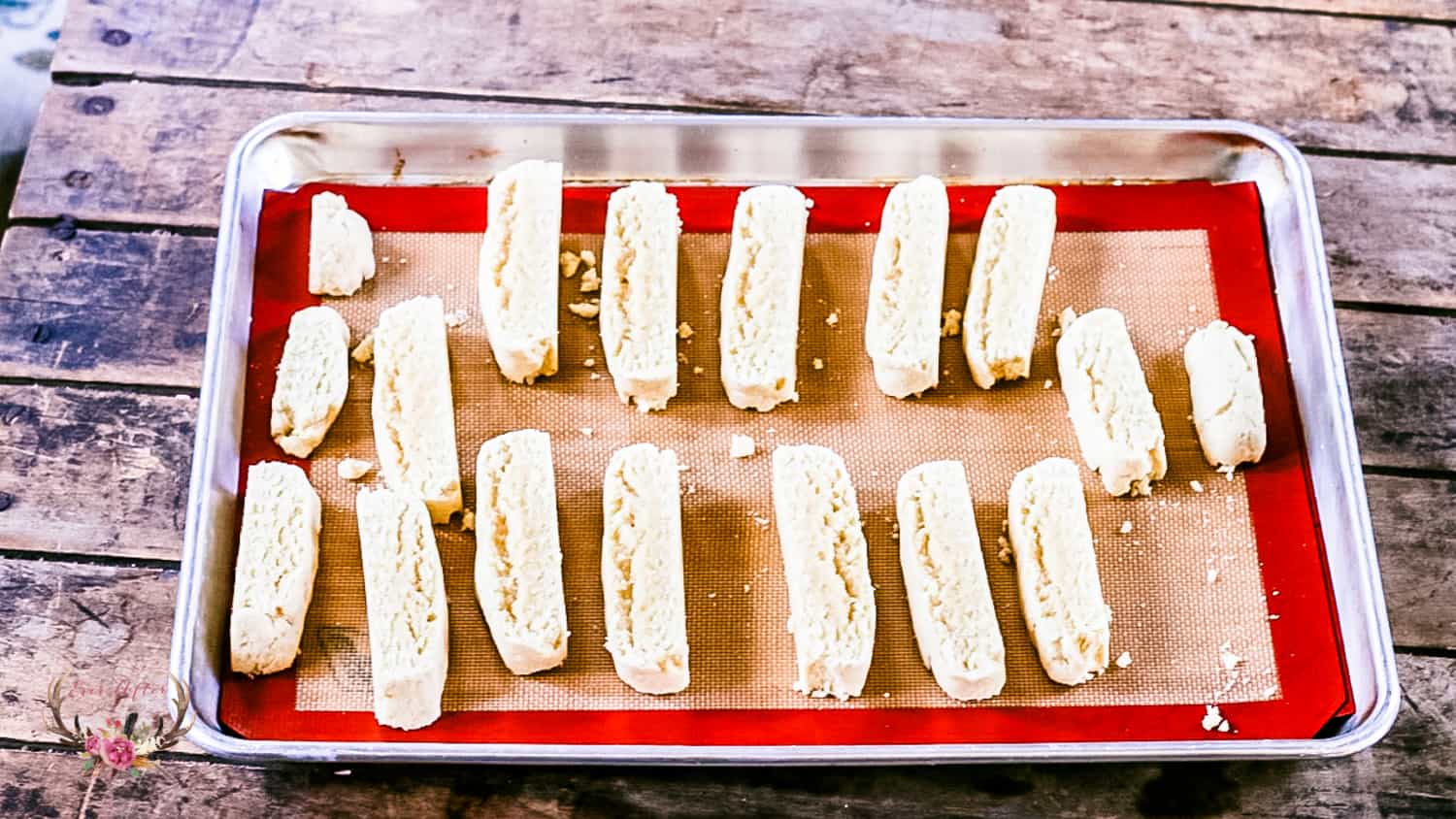 Let cool completely.
Make glaze and drizzle on top of the cooled cookies. Add sprinkles if desired.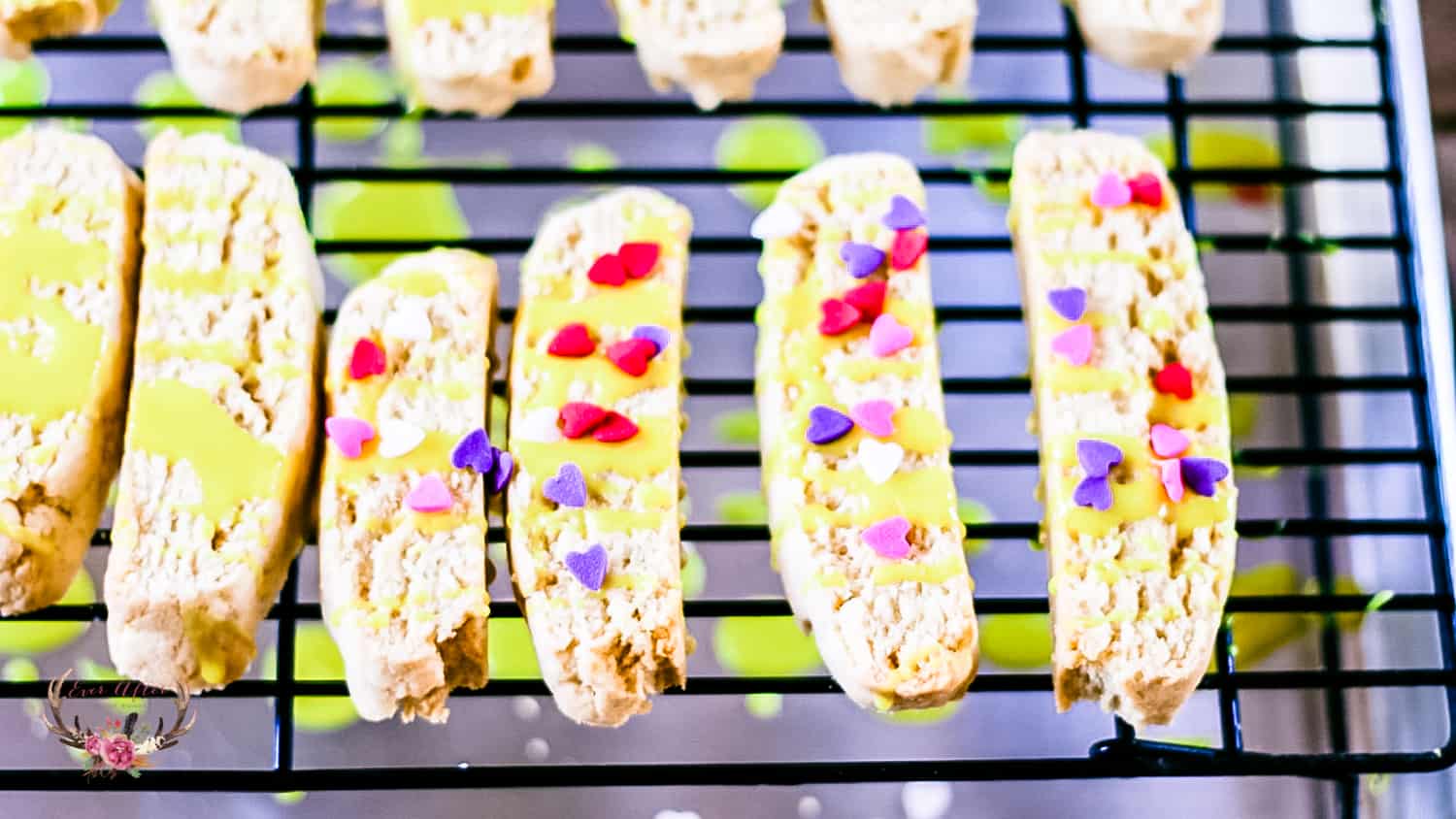 Help us make a difference by donating to Cookies for Kids' Cancer!
Our goal is to raise at least $3000. Because these three companies: OXO, Mediavine amd Dixie Crystals have each pledged to match our donations raised through this campaign up to $3000! That means when we raise $1, it turns into $4!
Thank you to so many of you who have already donated, please help us reach our goal so we can get the full matching donations and help us make an even huge difference!
Be sure to visit the other bloggers participating in the Valentine's Day event and check out their recipes!
Heart Shaped Chocolate Cake from Julie of The Little Kitchen
Easy Chocolate Mousse from Allison of Celebrating Sweets
Chocolate Marshmallow Cookies from Sheila of Life, Love, and Good Food
Lemon Biscotti from Jenn of Ever AFTER IN THE WOODS
Easy Cream Cheese Candies from Kelly of Live Laugh Rowe
Cornflake Cookies from All The Good Cookies from Wendy of A Day in the Life on the Farm
Strawberry Mochi Cookies from Heather of Delicious Not Gorgeous
Red Velvet Valentine Brownies Recipe from Jennifer of The Rebel Chick
Red Velvet Cupcakes Recipe from Faith of An Edible Mosaic
Chinese Five-Spice Snickerdoodle Cookies from Bridget of Bake at 350
Chocolate Molten Lava Cake from Ashley of Spoonful of Flavor
Double Chocolate M&M Cookies from Melissa of Persnickety Plates
Raspberry Lemon Macaroons from Sue of It's Okay to Eat the Cupcake
Raspberry Curd from Holly of A Baker's House
Red Velvet Brownies from Kelly of Kelly Lynn's Sweets and Treats
Toffee Chocolate Chip Ice Cream Cookie Sandwiches from Audrey of That Recipe
Creamy Raspberry Sherbet Pandemic Punch from Laura of Untwisted Vintage
Chocolate Dipped Strawberry Cake Balls from Lindsey of Lindsey Loo's Bakery
Chocolate Covered Oreo Pops for Valentine's Day from Heather of Totally Tailgates
Amaretto Cherry Swirl Cake from Samantha of Haute Pepper Bites
Gluten Free Double Chocolate Bundt Cake from Elaine of Small Farm Big Life
Easy Strawberry Mousse from Caroline of Caroline's Cooking
Cornflake Cookies from All The Good Cookies #HelpingCookies from Wendy of A Day in the Life on the Farm
Vanilla Bean Cherry Chocolate Kiss Cookies from Colleen of Faith, Hope, Love, & Luck Survive Despite a Whiskered Accomplice
Neapolitan Cookies Recipe from Lisa of Blogghetti
Small Batch Almond Thumbprint Cookies from Lauren of Healthy Delicious
Kahlua Truffles from Camilla of Culinary Adventures with Camilla
Red Velvet Brownie Cups from Nikki of Soulfully Made
Triple Chocolate Trifles from Coleen of The Redhead Baker
Cast Iron Skillet Cookie For Two from Aimee of Aimee Broussard
Festive Puppy Chow from Erin of The Speckled Palate
Chewy White Chocolate Raspberry Cookies from Jessica of A Kitchen Addiction
Hot Chocolate Bombs for Valentine's Day from Anna-Marie of Beauty and the Beets
Chocolate Sandwich Cookies from Lisa of Taste Cook Sip
Peanut Butter Snickerdoodles from Betsy of The JavaCupcake Blog
Cherry Blossom Cookies from Carolann of Apron Warrior
Chocolate Mint Frappuccino Cookies from Peabody of Sweet ReciPEAs
Mini Chocolate Covered Strawberry Cheesecakes from Kate of Kate's Recipe Box
Almond Flour Peanut Butter Cookies from Shashi of Savory Spin
Funfetti Cookie Bars from Becca of The Salted Cookie
Grapefruit Poppyseed Cake from Michelle of Cold Weather Comfort
White Rabbit Candy Cookies from Linda of Ketchup with Linda
Baby Yoda Valentine's Day Cookies to Support Cookies for Kid's Cancer from Jenn of justJENN recipes
Salted Peanut Butter Pretzel Cowboy Cookies from Bree of Baked Bree
Red Velvet Hot Chocolate Bombs from Erin of The Spiffy Cookie
Homemade Hot Chocolate Mix from Gwynn of Swirls of flavor
Cherry Chocolate Chip No Bake Cheesecake from Stefanie of Stef's Eats and Sweets
Valentine's Day Homemade Ding Dongs from TammyJo of The Chocolate Cult
Guava Macarons with Coconut Buttercream from Lindsay of Anchored Baking
Valentines Pink Dessert Charcuterie Board for Kids from Nicole of For the Love of Food
Hot Chocolate Cookies from Amanda of A Cookie Named Desire
Cóctel de Camarones from Rebekah of Kitchen Gidget
Cuccidati (Italian Fig Cookies) from Amy of The Nifty Foodie
Lemon Poppyseed Heart Shaped Sandwich Cookies from Lisa of Garlic & Zest
Valentine's Day Almond Flour Brownies from Kaitlin of I Can Cook That
Peanut Butter Chocolate Cake from Trang of Wild Wild Whisk