These pink velvet cookies will be a big hit this Valentine's day. My husband loves a classic red velvet cake or cookie so I decided to make a new version – pink velvet cookie with chocolate chips. These cookies are soft and delicious and will be the perfect touch to a Valentine's Day dessert.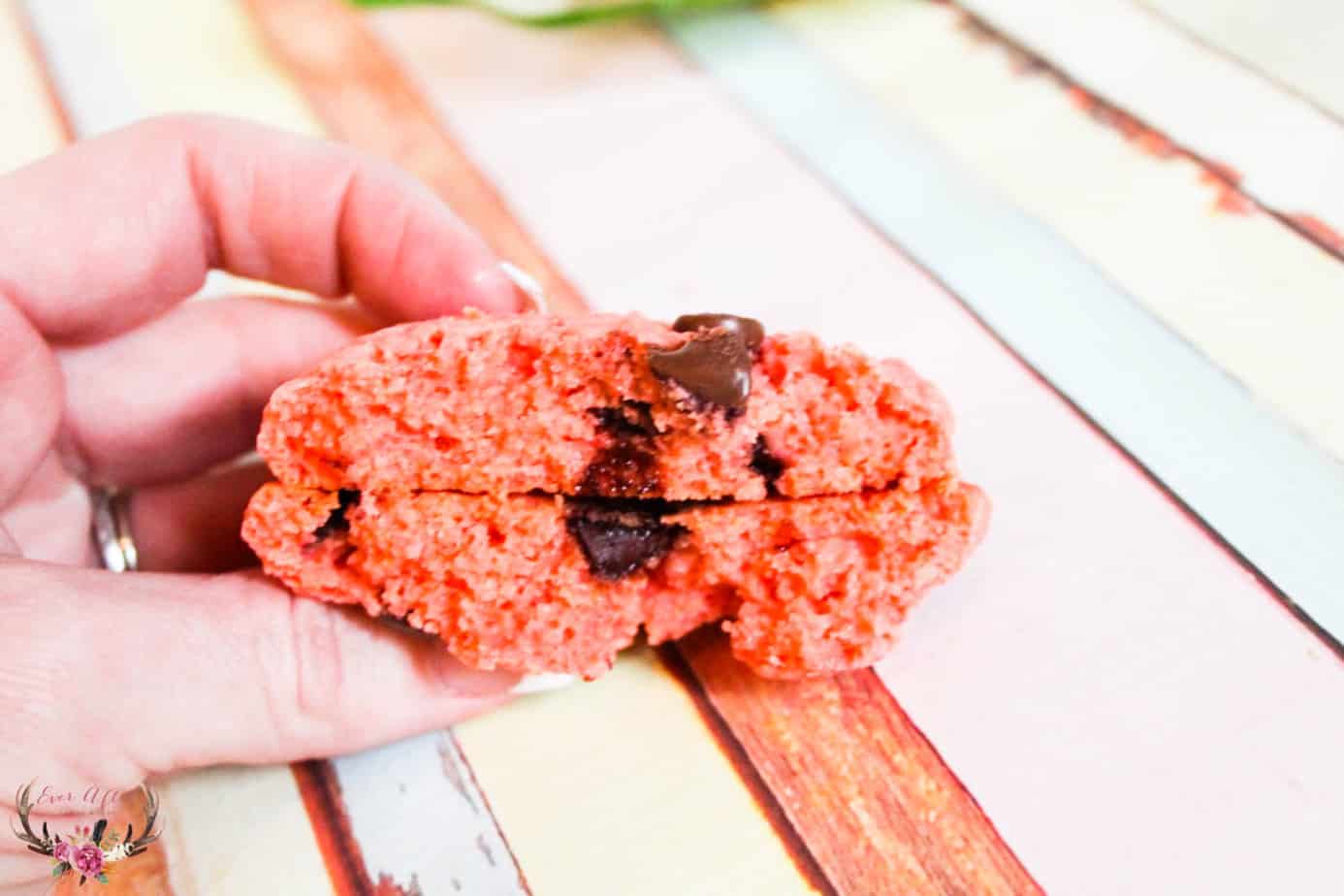 Pink Velvet Cookies
This recipe is a part of the Third Annual Good Cookies Food Bloggers' Valentine's Event!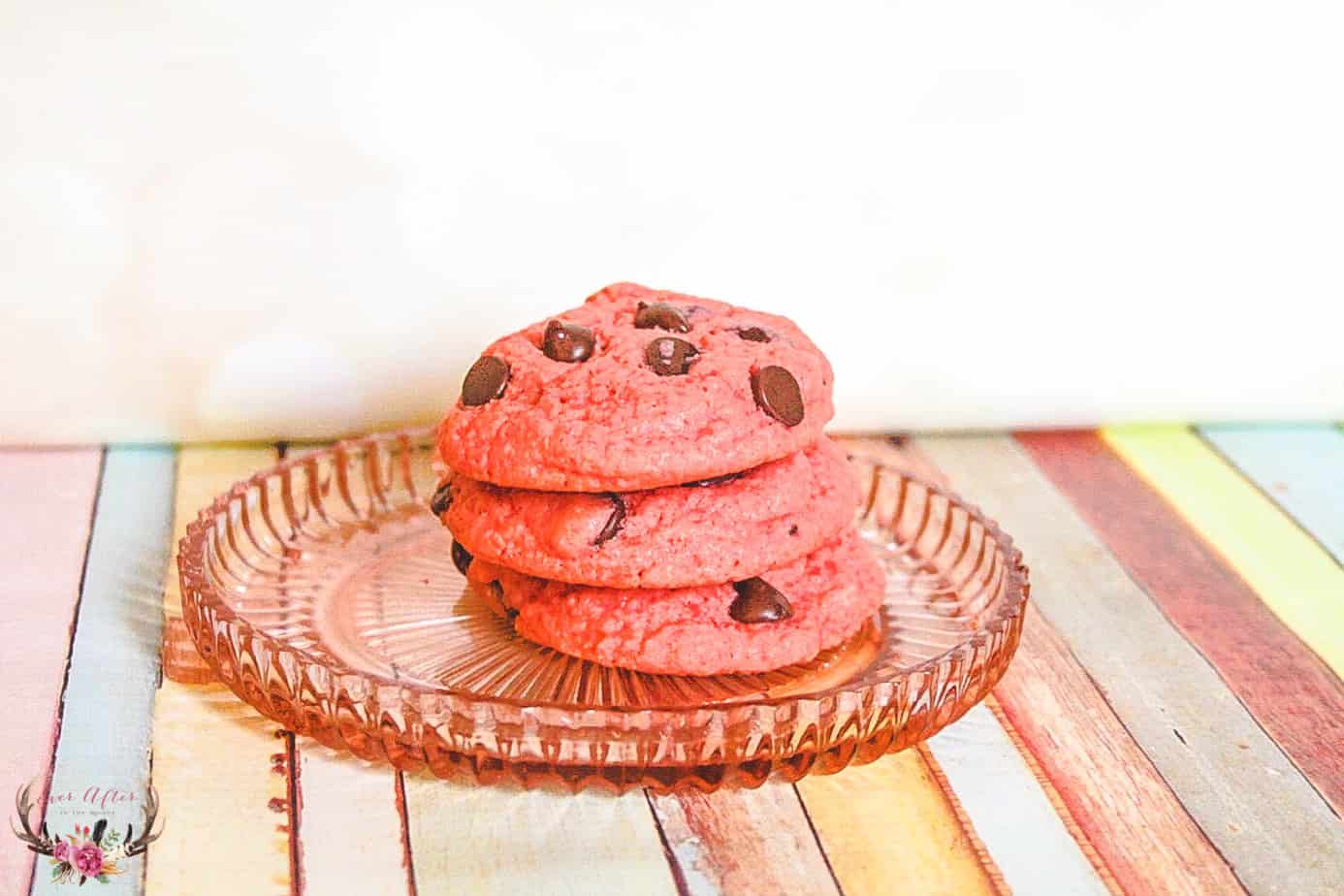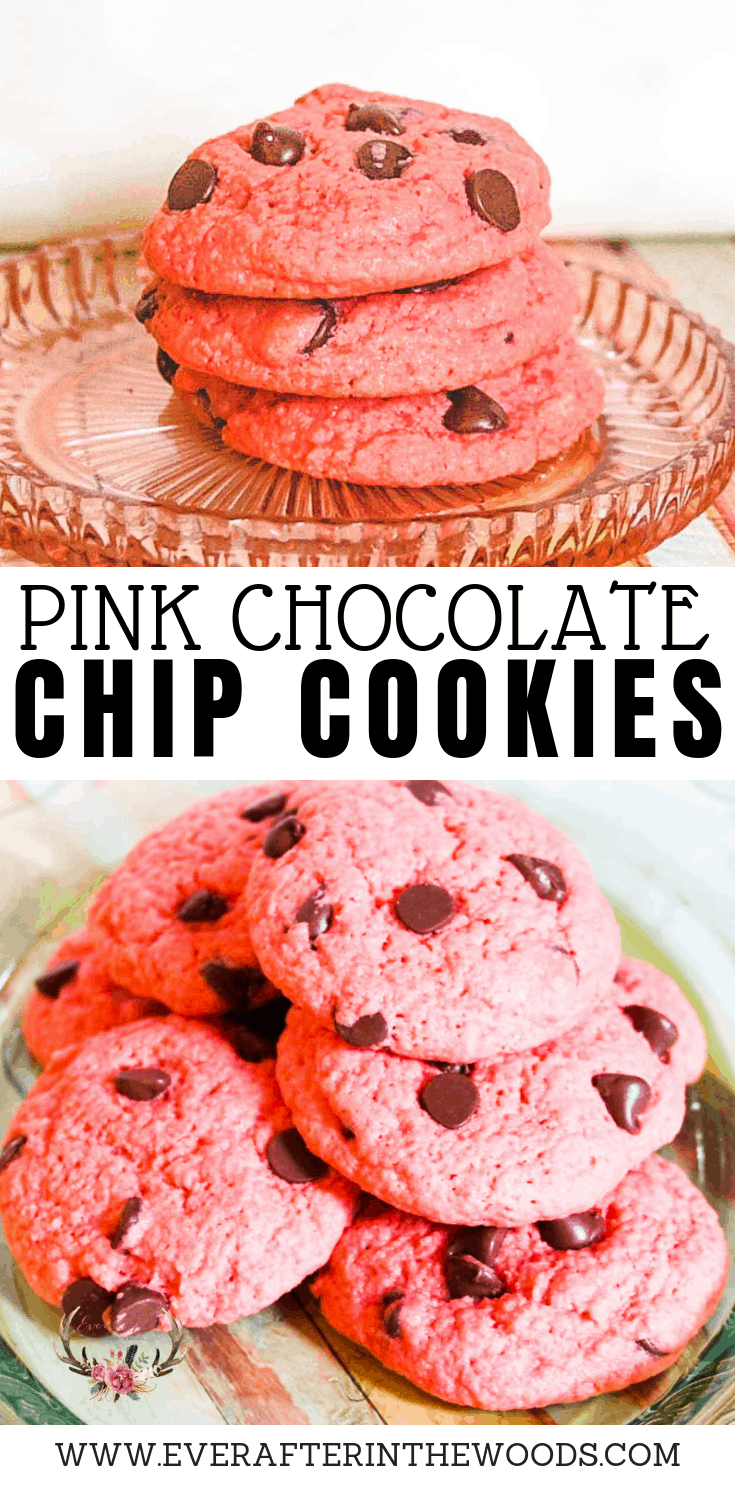 Pink Velvet Cookies with Chocolate Chips
Ingredients
1/2 cup unsalted butter, room temperature
1 cup sugar
1 egg
1/3 cup cocoa powder
1 teaspoon baking soda
1 teaspoon salt
1 teaspoon almond extract
1 teaspoon vanilla extract
1 drop of soft pink gel food coloring
1 3/4 cup flour
1 cup chocolate chips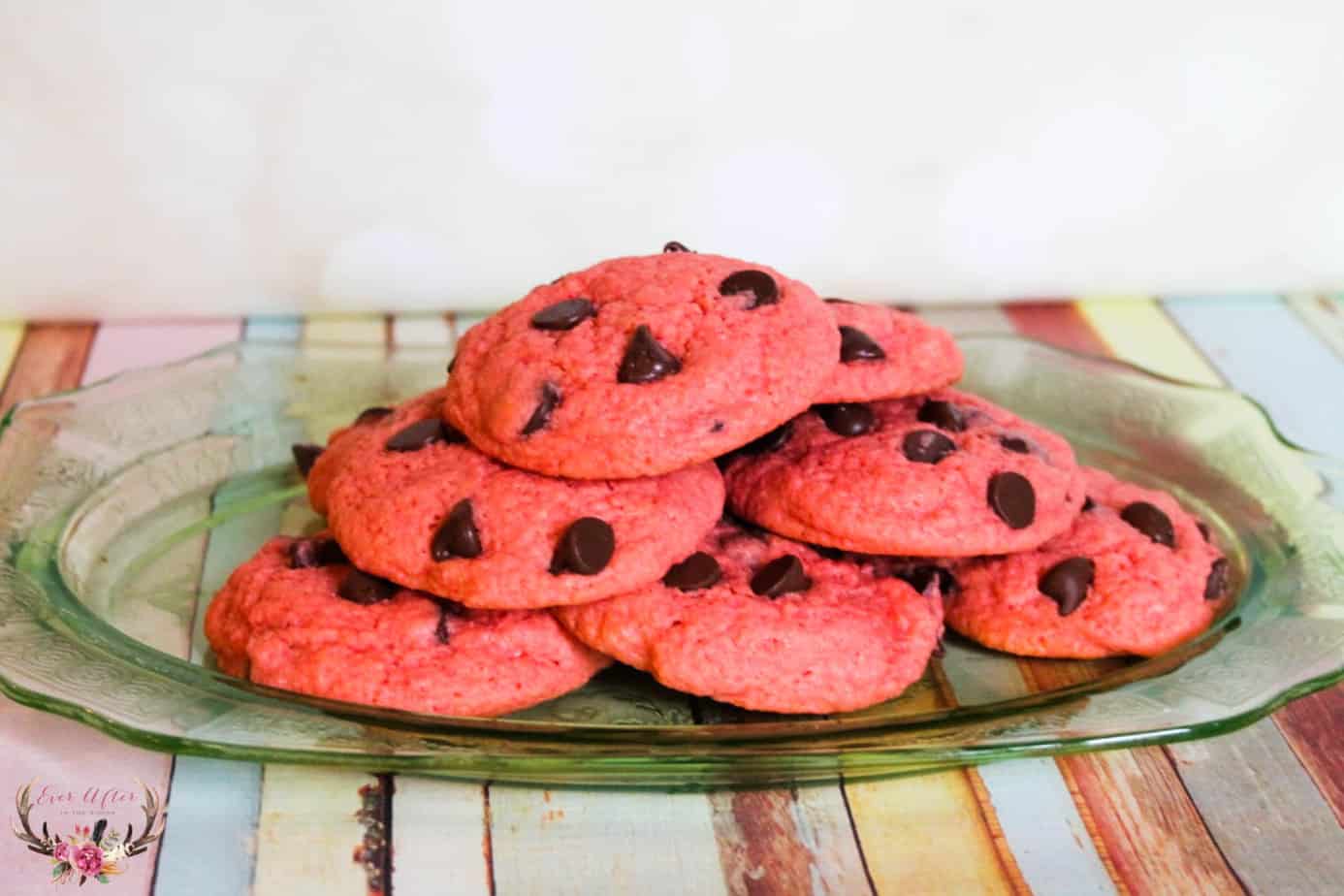 Instructions
Preheat oven to 375 degrees.
Cream butter and sugar together in a mixer with a paddle
attachment until light and fluffy.
Add in the egg and mix, about 2 minutes.
Add in the cocoa powder, baking soda, salt, almond and vanilla
extract and food coloring.
Scrape down the sides of the bowl with a spatula and mix again
for another minute.
Add in the flour and mix until fully combined.
Mix in the chocolate chips.
Chill the dough for at least 2 hours.
Scoop the dough into about 1 TBSP scoops and roll into a ball.
Place your cookies 2 inches apart.
Bake for 10-12 minutes.
Let cool 5 minutes before moving to a cooling rack.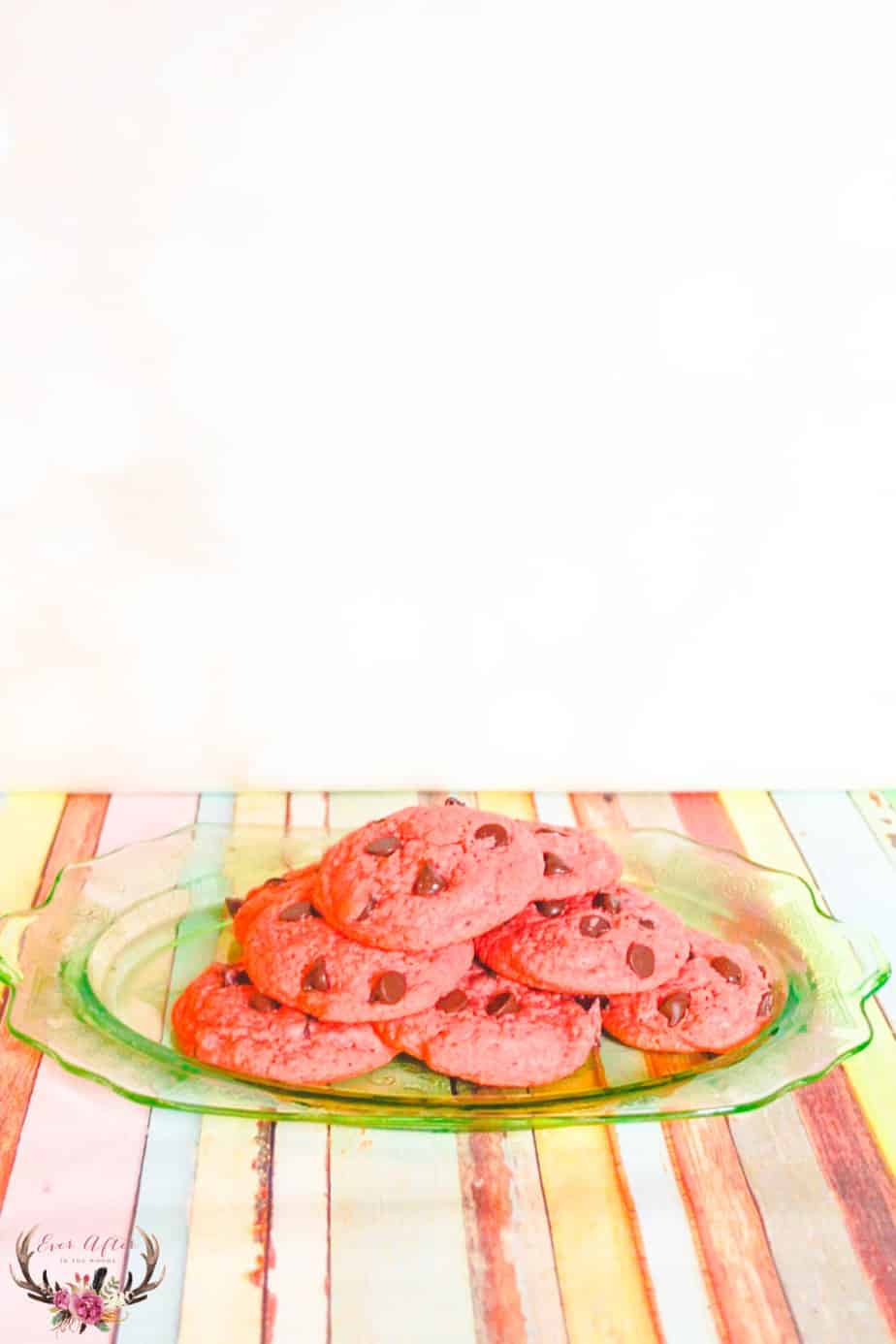 This cookie recipe is so easy to make but the key is to
chill the dough for at least 2 hours. Sometimes I allow the dough to chill
overnight. You can also roll into balls and then refrigerate the dough in ball
form if you like. We don't have enough refrigerator space to do that but either
way works just fine.
I added milk chocolate chips but you can easily substitute
white chocolate or dark chocolate chips as well. Dipping one side into melted
dark chocolate would be a nice variation to your recipe as well.
More Valentine's Desserts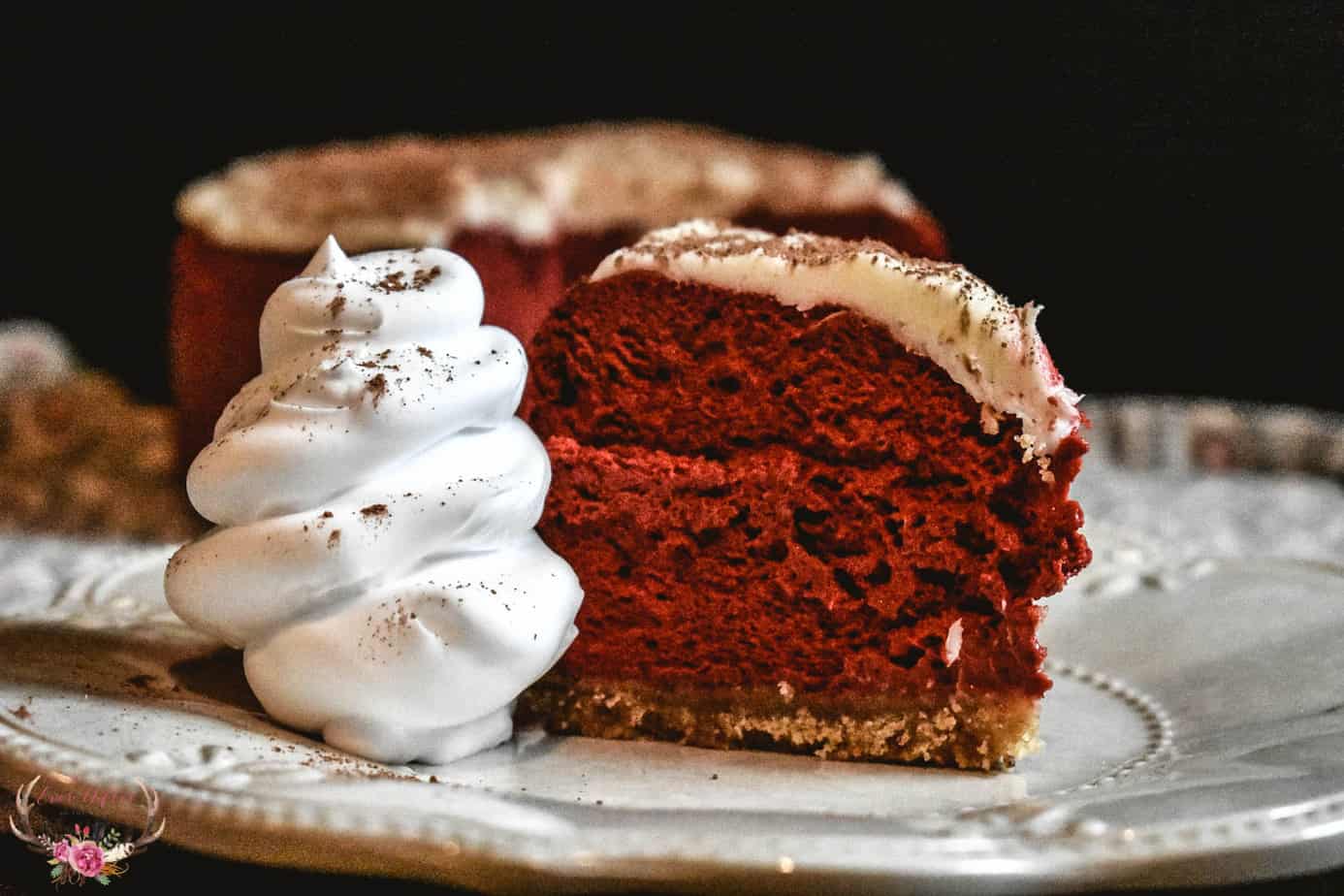 Red Velvet Instant Pot Cheesecake
Happy Baking!
More recipes from fellow food bloggers below!

Chocolate Chip Cookie Cake from Julie of The Little Kitchen
Læsø Salted Chocolate Chip Cookies from Camilla of Culinary Adventures with Camilla
Meyer Lemon Cookies from Linda of Simply Healthyish Recipes
Soft & Chewy Gluten Free Oatmeal Raisin Cookies from Allie of Miss Allie's Kitchen
Small Batch Bakery Style Chocolate Chip Cookies Recipe from Faith of An Edible Mosaic
Chocolate Madeleines from Caroline of Caroline's Cooking
Rainbow Rice Krispie Treats from Bree of Baked Bree
Tiger Butter Candy from Melissa of MamaGourmand
Valentine's Day Gluten Free Sugar Cookies from Brianna of Flippin' Delicious
Chocolate Spritz Sandwich Cookies from Carlee of Cooking With Carlee
Pink Velvet Chocolate Chip Cookies from Jenn of Ever After in the Woods
French Butter Cookies from Rebekah of Kitchen Gidget
Brown Sugar M&M Cookies from Sara of Imperfectly Balanced Sara
mini rose cookies from Meaghan of the decorated cookie
Raspberry Linzer Cookies from Stephie of Stephie Cooks
Red Velvet Brownies with White Chocolate Cream Cheese Frosting from Coleen of The Redhead Baker
Lemon Poppyseed Cookies from Becca of Two Places at Once
Warn Dark Chocolate Melting Cups from Lisa of Snack Girl
Salted Dark Chocolate Cookies from Jessica of A Kitchen Addiction
Cherry Cordial Bundt Cake from Carolann of Apron Warrior
Nutella Stuffed Cookies from Allison of Celebrating Sweets
Strawberry Pudding Cookies from Holly of A Baker's House
Slice and Bake Whirligig Cookies from Laura of Untwisted Vintage
Raspberry Strawberry Cookies from Heather of Delicious Not Gorgeous
Chocolate Strawberry Hand Pie from Trang of Wild Wild Whisk
White Chocolate Cashew Cranberry Cookies from Brittany of Diary of a Southern Mrs.
The Best Potato Chip Cookies Recipe from Marybeth of Babysavers
Darth Vader Valentine's Day Hug Cookies to Support Cookies for Kid's Cancer from Jenn of justJENN recipes
Hazelnut Shortbread Cookies with Jam from Lisa of Garlic & Zest
Sprinkled Chocolate Shortbread Heart Cookies from Lisa of Blogghetti
Double Chocolate Chip Cookies from Dee of Meatloaf and Melodrama
Homemade Salted Nut Rolls from Shaina of Food for My Family
Valentine Sugar Cookie Cups from Melissa of Persnickety Plates
Chocolate Dipped Cashew Butter Cookies from Ashley of Fit Mitten Kitchen
Chocolate Vanilla Striped Shortbread Cookies from Denise of Chez Us
Pineapple Coconut Bar Cookies from Barbara of Barbara Bakes
Chocolate Raspberry Roll-Ups from Sue of It's Okay to Eat the Cupcake
Raspberry and Rose Meringue Parfaits from Michelle of Cup of Zest
Chocolate Chip Pudding Cookies from Jade of Jonesin' For Taste
Raspberry Thumbprint Cookies from Emilie of Finding Zest
Chocolate Mousse Cups from Miranda of Cookie Dough and Oven Mitt
Grain-Free Dark Chocolate Raspberry Tart from Gretchen of kumquat
Chocolate Shortbread Cookies from Sara of My Imperfect Kitchen
Chocolate Chip Cookie Pie from Angela of About A Mom
Honey Pistachio Shortbread from Megan of Stetted
Red Velvet Oreo Cheesecake Cookies from Nicole of For the Love of Food
Chewy Coconut Macaroon Hearts (Gluten Free) from Taryn of Hot Pan Kitchen
Chocolate Peanut Butter Valentine's Cookies from Becca of The Salted Cookie
Chocolate Caramel Pie from Stefanie of Mommy Musings
Gluten-Free Red Velvet Brownies {Dairy-Free} from Audrey of Mama Knows Gluten Free
Chocolate Raspberry Cupcakes from Erica of The Crumby Kitchen
Dark Chocolate Bourbon Coconut Cream Mousse from Lisa of Taste Cook Sip
Maple Butter Chocolate Chip Cookies from Jamie of Southern Revivals
Red Velvet Mini Layer Cakes from Gwynn of Swirls of Flavor
The Best Potato Chip Cookies Recipe from Marybeth of babysavers
Brown Butter Chocolate Chip Cookies from Kara of Kara in the Kitchen
Brown Sugar Snickerdoodles from Kristin of On the Home Front
Valentine's Gummy Hearts from April of April Golightly
Cocoa Sweet Dough Hearts from TammyJo of The Chocolate Cult
Heart-Shaped Sugar Cookie Cutouts from Susannah of Feast + West
Cranberry Pecan Oatmeal Cookies from Denise of addicted 2 recipes