Here is the best recipe for Old Fashion Christmas Butter Spritz Cookies. These cookies grace our holiday cookie platters every year.
Old Fashion Christmas Butter Spritz Cookies
I remember when my Nana used to bring us these Old Fashion Christmas Butter Spritz Cookies in an old coffee container that was wrapped in holiday paper with a bow on top. I always thought that she baked them herself but it turns out that she would buy them every year at the church holiday bazaar!
So funny- she did have a recipe for these delicious melt in your mouth cookies and I totally thought she was baking them in her small kitchen, but no that wasn't exactly what happened!

Old Fashion Christmas Butter Spritz Cookies
Ingredients
2 sticks unsalted butter, room temperature
1 cup confectioners sugar
1 tsp salt
1 egg
2-1/2 cups flour
2 tsp vanilla extract
sprinkles for decoration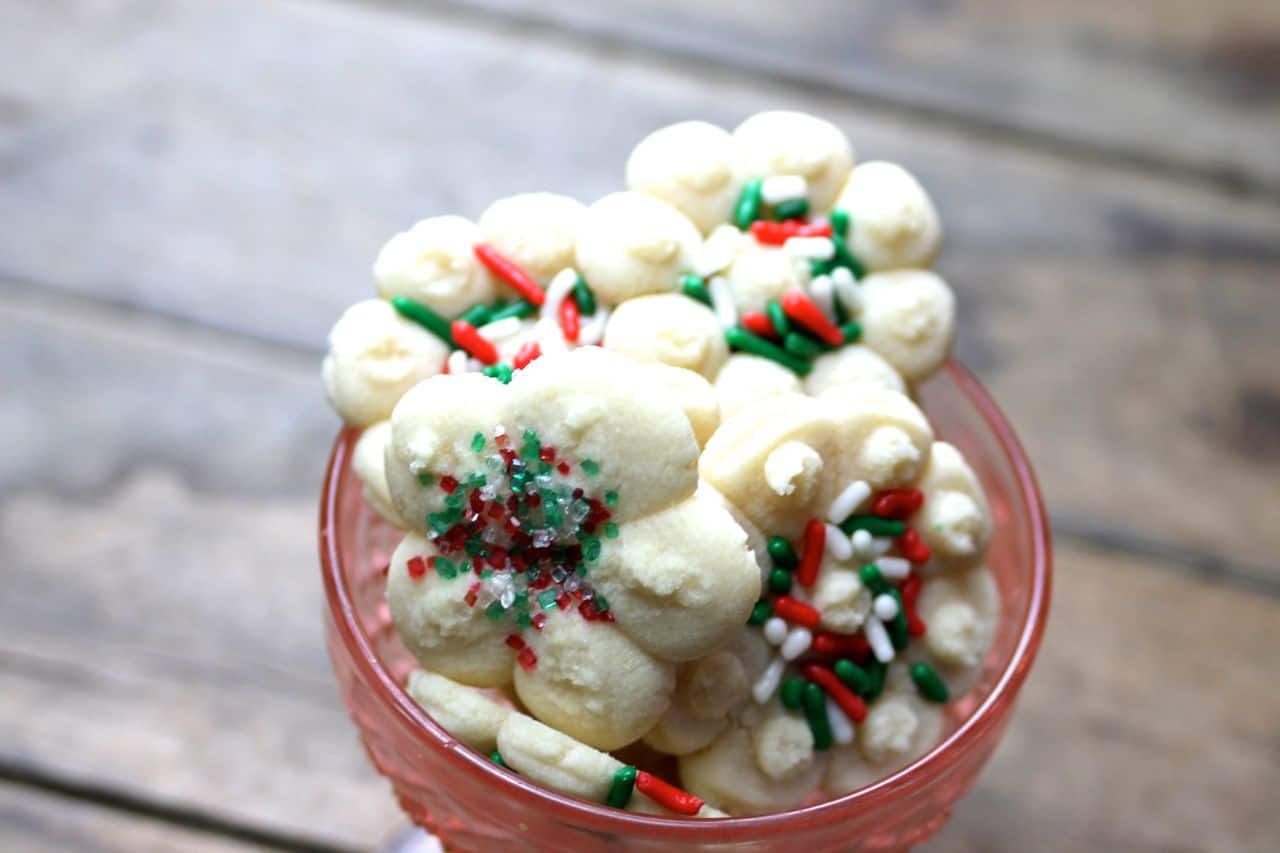 Directions
Preheat oven to 375. Prepare baking sheets with silicon mats.
Cream butter and sugar until light and fluffy. Add vanilla, salt and egg until well mixed.
Add the flour until combined.
Using a cookie press fitted with disk of choice. Press the cookies at least 1 inch apart.
Decorate with your sprinkles.
Bake until lightly golden about 7-9 minutes.
Cool completely.
These cookies really make a great addition to any cookie tray or platter this holiday season. You can also use this recipe if you are attending any cookie swap parties. This dough is a great dough for using a cookie press. The cookies always come out of the disks and trust me I have gone through my fair share of cookie presses. If you are a baker, you know there is a love/hate relationship with the cookie press. The dough has to be the perfect temperature to come out of the press easily. You should not use a chilled dough when working with a cookie press, at least that has been my experience.
Happy Baking!