The Instant Pot has taken over kitchens across the country. Did you know that you could make dessert in the Instant Pot as well? This Red Velvet Cheesecake Recipe is delicious and perfect for Valentine's Day.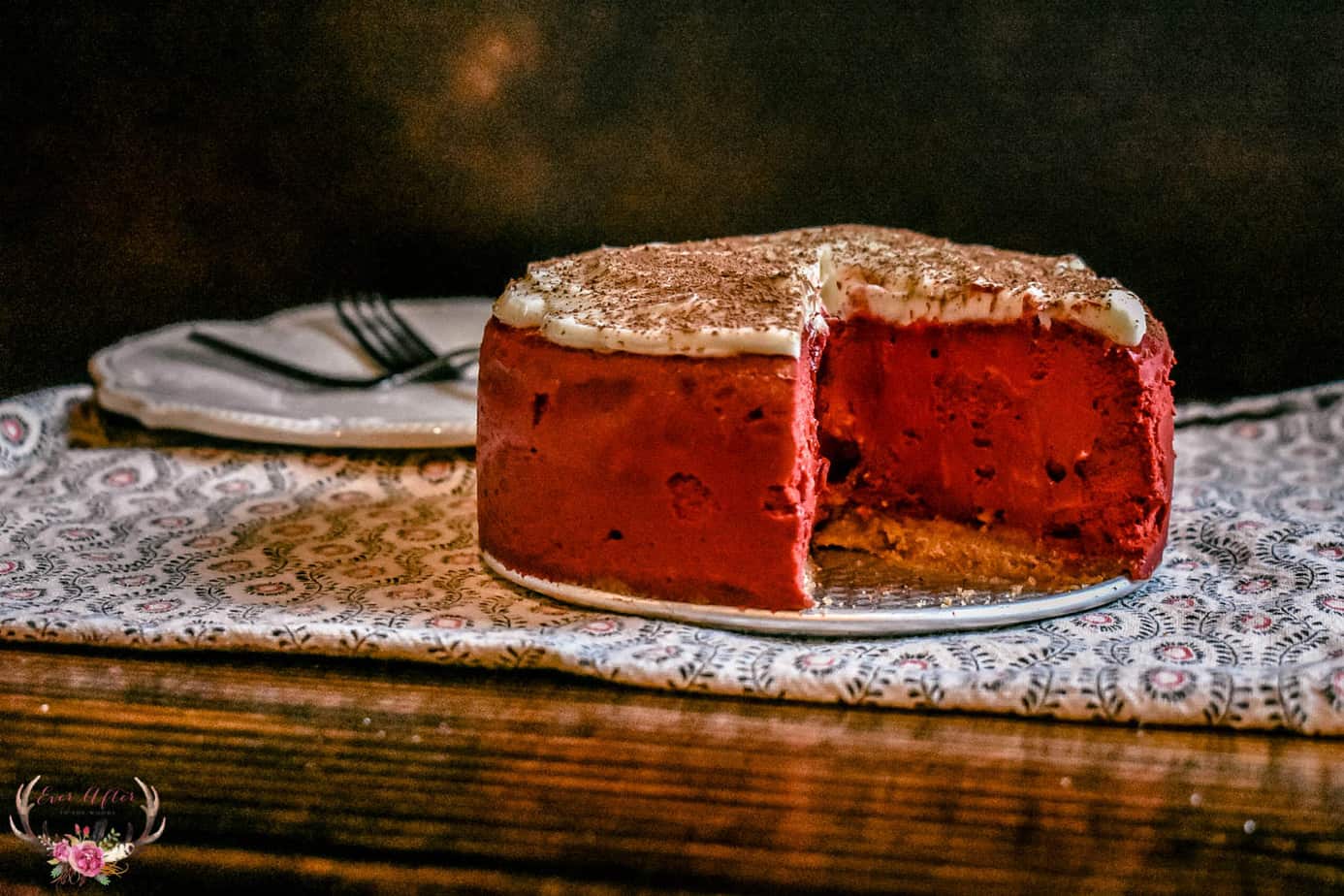 Red Velvet Cheesecake Made in Your Instant Pot
This is a great way to free up the space in your oven so this Red Velvet Cheesecake Recipe would be a great dessert to make around the holidays as well when oven space is tight.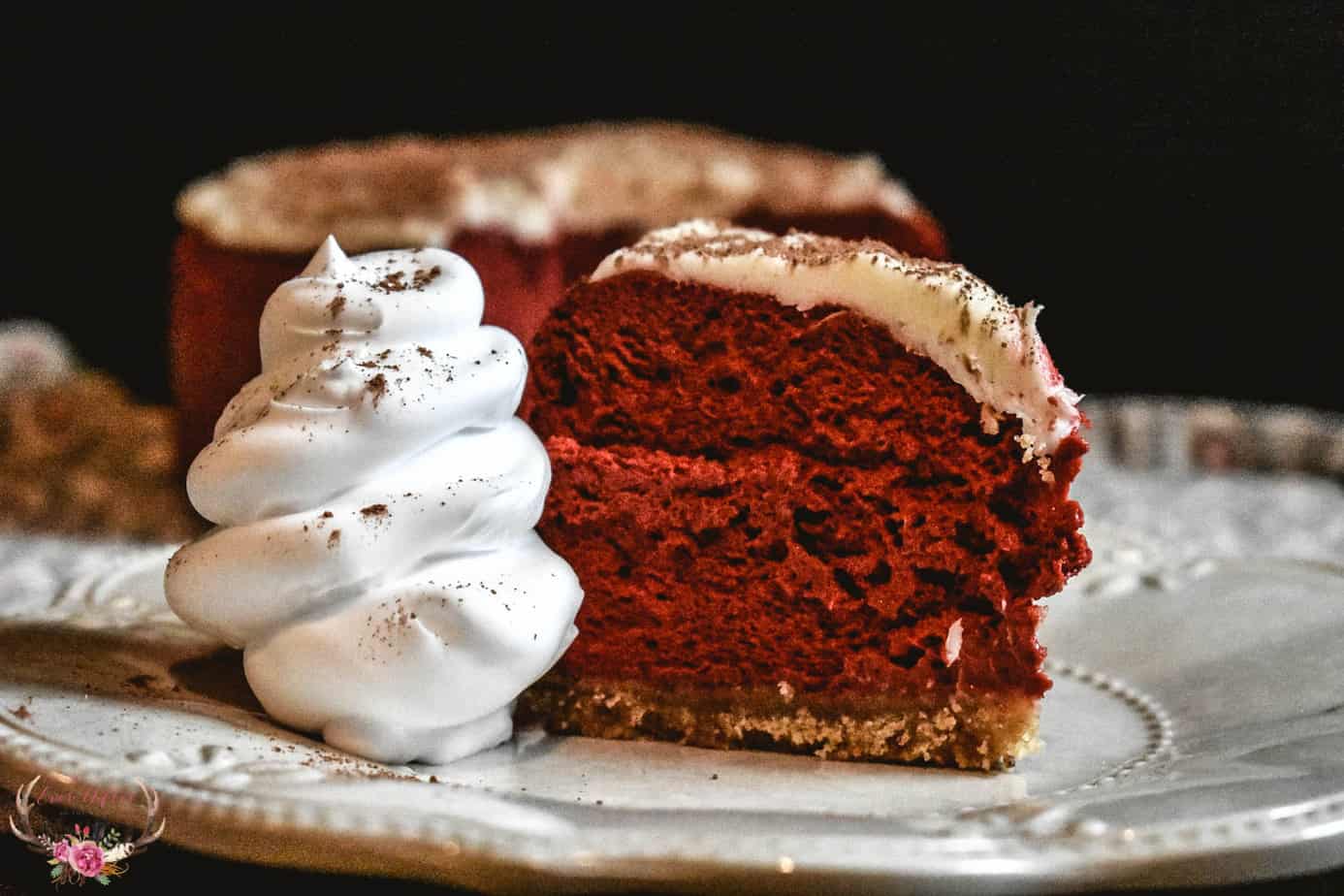 How to Make a Red Velvet Cheesecake in an Instant Pot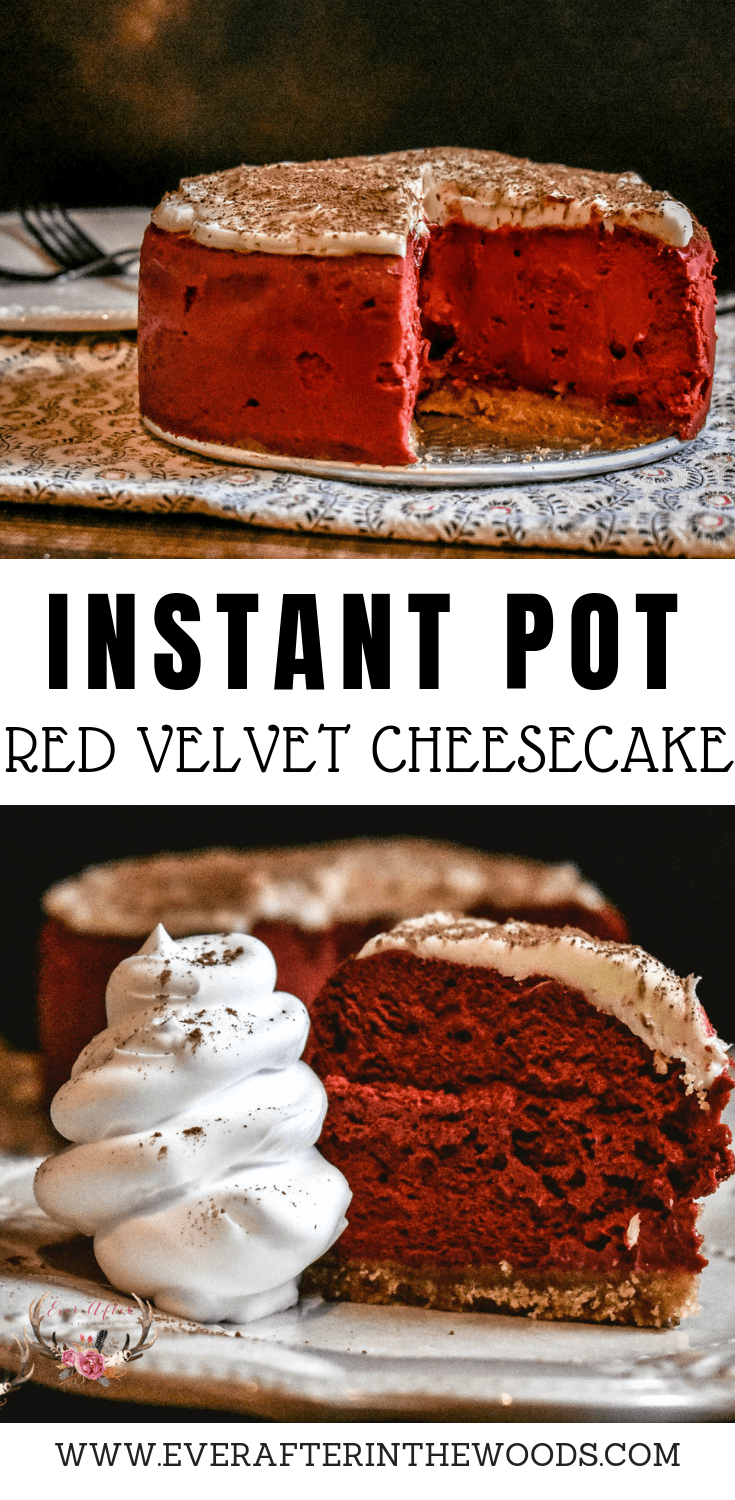 Ingredients
Servings: 6-8
Filling
2 8 oz packages Cream Cheese (room temp)
1/2 Cup SourCream (room temp)
6 Tbsp Sugar
2 Eggs
1 tsp Vanilla
3 tbsp cocoa powder
1 tbsp red gel food color
Crust
3/4 Cup Graham Crackers (Finely crushed)
3 Tbsp Salted Butter melted
Cream cheese topping
4 oz cream cheese at room temperature
1/2 stick butter
1 tsp vanilla extract
1 cup powdered sugar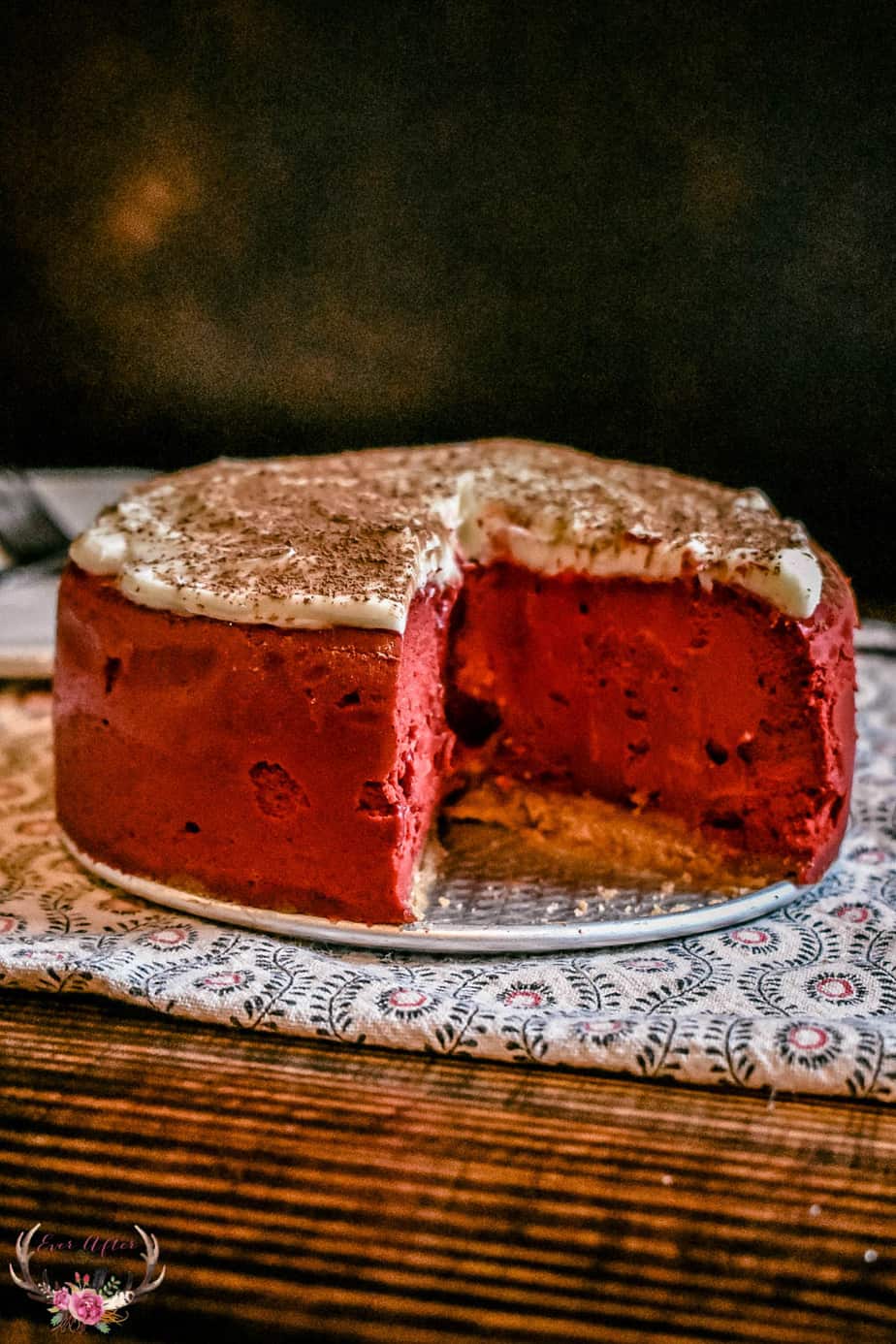 Directions
Prepare your crust by mixing the crushed graham crackers and the melted butter until combined.
Press crust into 6-inch spring form pan, prepped with parchment paper/ non-stick spray and freeze for at least 30 minutes.
Next, make your filling. Cream your cheese until light and fluffy. Next add in your sugar, mix well. Add in your sour cream and vanilla, mix until combined. Add in the cocoa powder and mix.
Add in your eggs, one at a time until just combined. DO NOT over mix.
Next add in your red food coloring.(I add about 1 tbsp of red to mine.)
Add the mixture into your prepared crust and bang on the counter a couple of times to release air bubbles. Cover with aluminum foil and make sure the top is sealed well.
Place one cup of water in your pressure cooker along with the trivet.
Set on manual high pressure for 35minutes. Add in your cheesecake, place the lid on and make sure the valve is closed. Press start.
After 35 minutes, do a natural release. (do not open the valve). Once cool, put your cheesecake into the fridge overnight.
After the cheesecake has set in the fridge overnight, make the topping.
Cream your cream cheese and butter until light and fluffy in a mixer. Next, slowly add in the powdered sugar until well combined.
Add in the vanilla extract and whip for about 2-3 minutes until the frosting is nice and fluffy.
Add to the top of your cheesecake and enjoy!
Keep in an airtight container in the fridge for up to three days!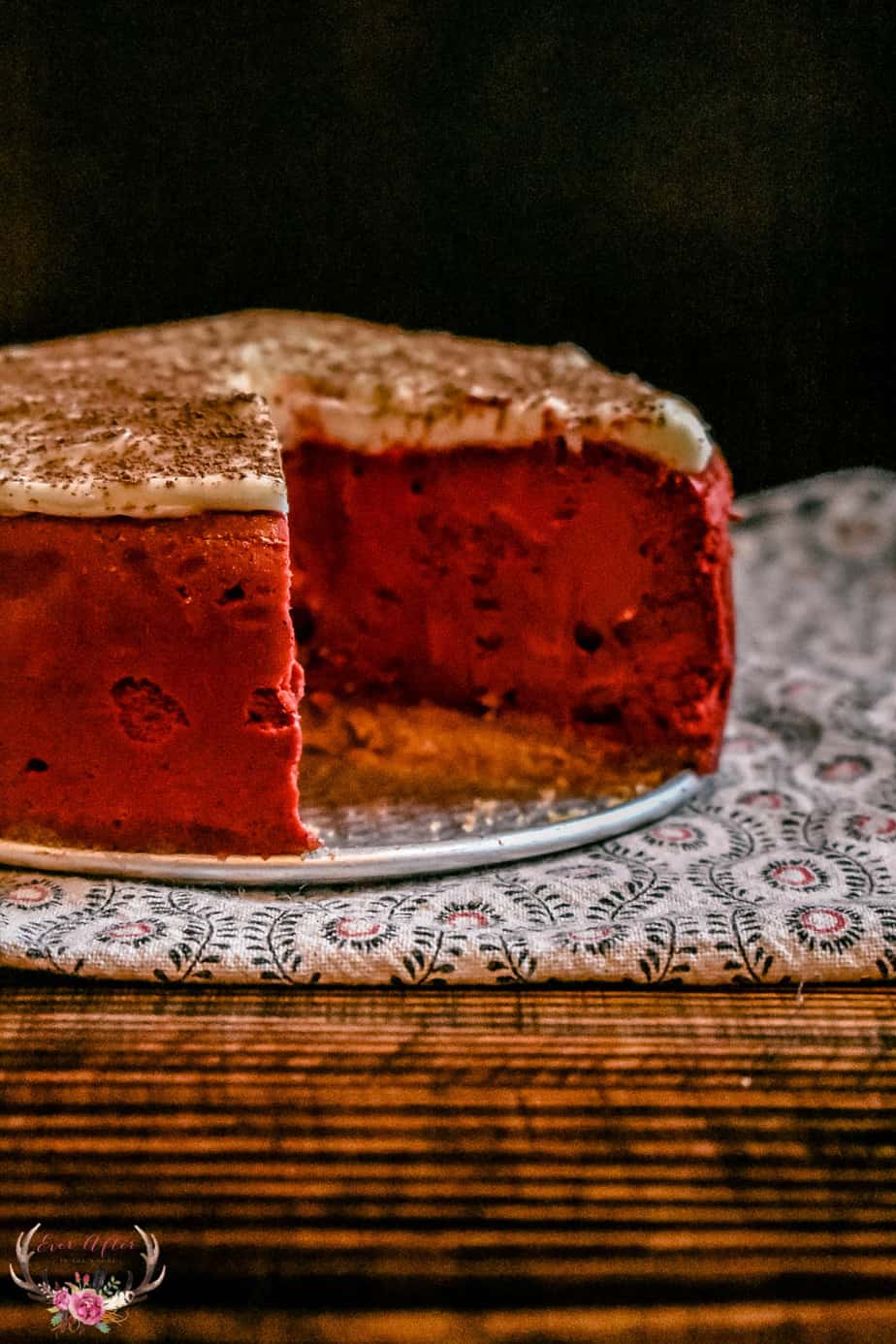 I love anything red velvet. There is something about the flavors of red velvet that are delicious. If you liked this recipe have a look at my red velvet donuts, red velvet bars and red velvet crinkle cookies.
Happy Baking!