Shark Week Frozen Drink
Shark Week Frappuccino
Shark Week Dessert Ideas – Shark Week Milkshake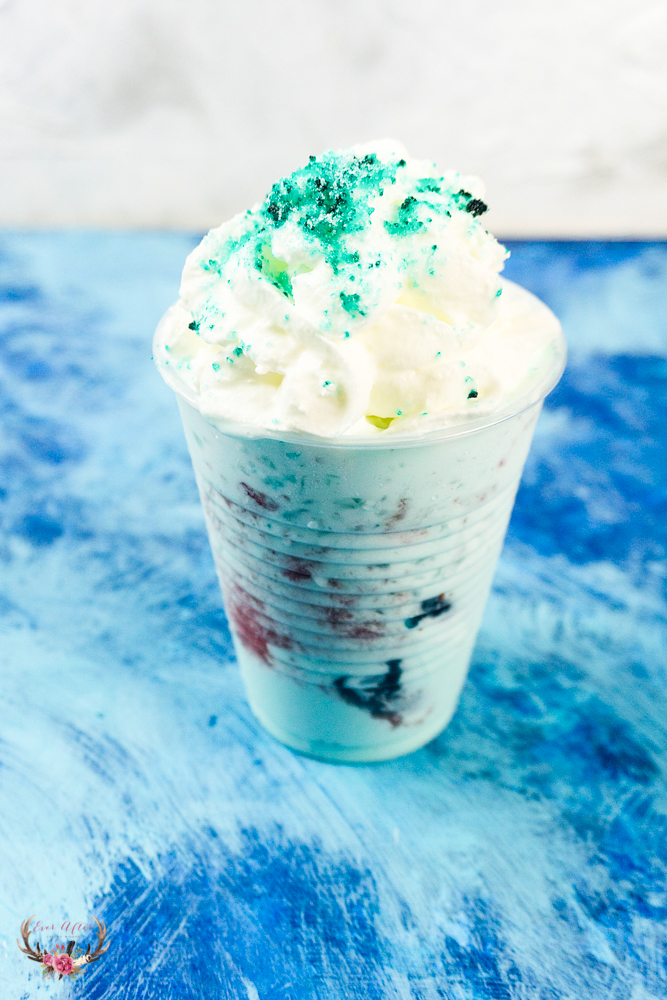 Be ready for Shark Week with this fun shark milkshakes or Frappuccino's with strawberries and gummy sharks!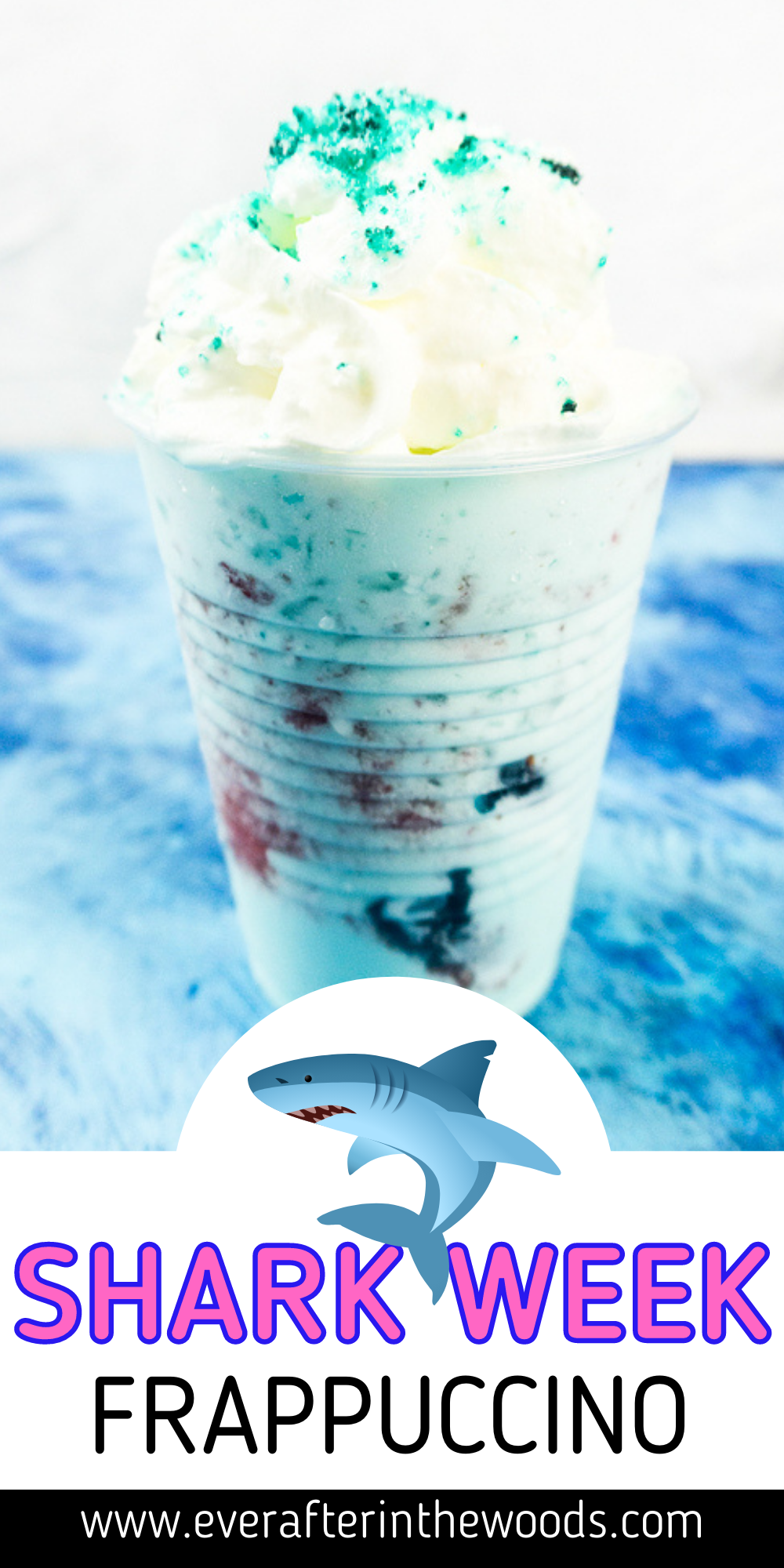 Shark Week Frappuccino
Makes: 2 Medium Frappuccinos
Prep: 6 hours (unless you are not using the ice cream recipe)
Ingredients:
4 cups heavy whipping cream
1 – 14 oz can sweetened condensed milk
1 small tub of white icing
2 drops light blue gel food coloring
4 tablespoons sugar
whipped topping for topping
1 cup frozen strawberries
1/3 cup water
10 shark gummies
ice
milk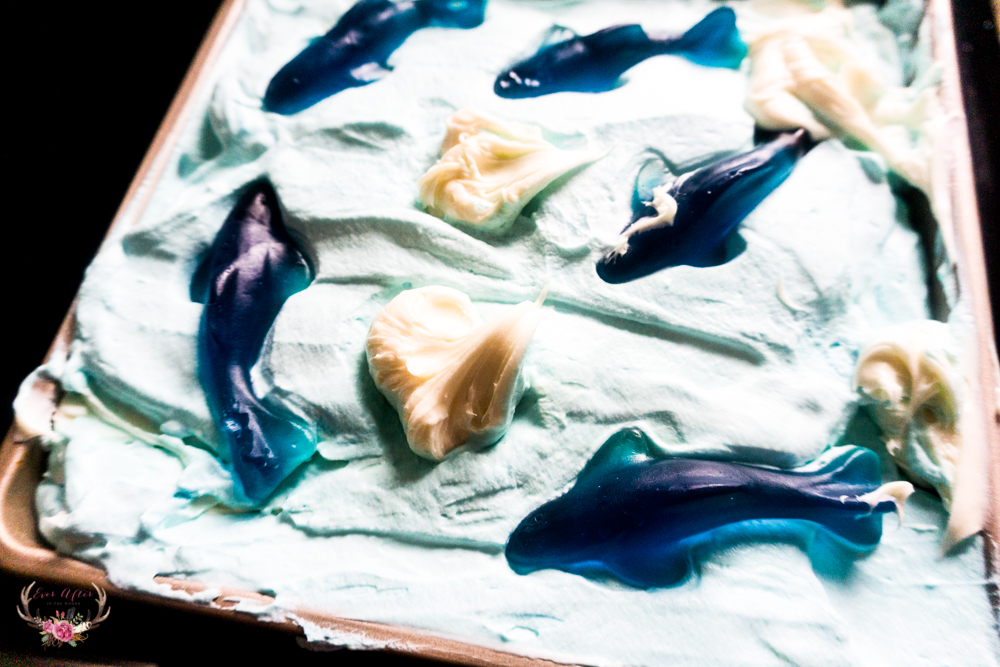 Instructions:
For Shark Ice Cream:
Place heavy whipping cream in a stand mixer with the whisk attachment. Add flavoring if you would like to like coconut extract. This can also be done with a hand blender with whisk attachment but will take much longer. Blend for 4 minutes on low speed and adjust speed going up to 6 as it thickens. Once it resembles whipped topping then it's ready.
Fold in the can of sweetened condensed milk and 1 drop of light blue food coloring. Then pour half into a 9 inch square pan.
Drop some of the white icing in different places into the light blue mix. Do not stir. Just drop it in and then top with more light blue and shark gummies. When if freezes and the ice cream is scooped the marbled effect will happen.
Once the ice cream is all in the pan. Place in the freeze for at least 6 hours but best if froze overnight.
**Please note you can use ready made vanilla ice cream with a few drops of blue food coloring and gummy sharks or Note: You may use a blue sherbert and vanilla ice cream if you do not want to make the shark ice cream from scratch. You can also top with blue food dust if you don't want to make the sugar topping.
For Shark Frappuccino:
Blend frozen strawberries with 1/3 cup of water. Use this to ad a little to the sides of the cup as you pour in the frappuccino mixture.
In a blender, blend together 3 to 4 scoops of the shark ice cream and 1 cup ice. If the mixture is too thick you may add a little milk.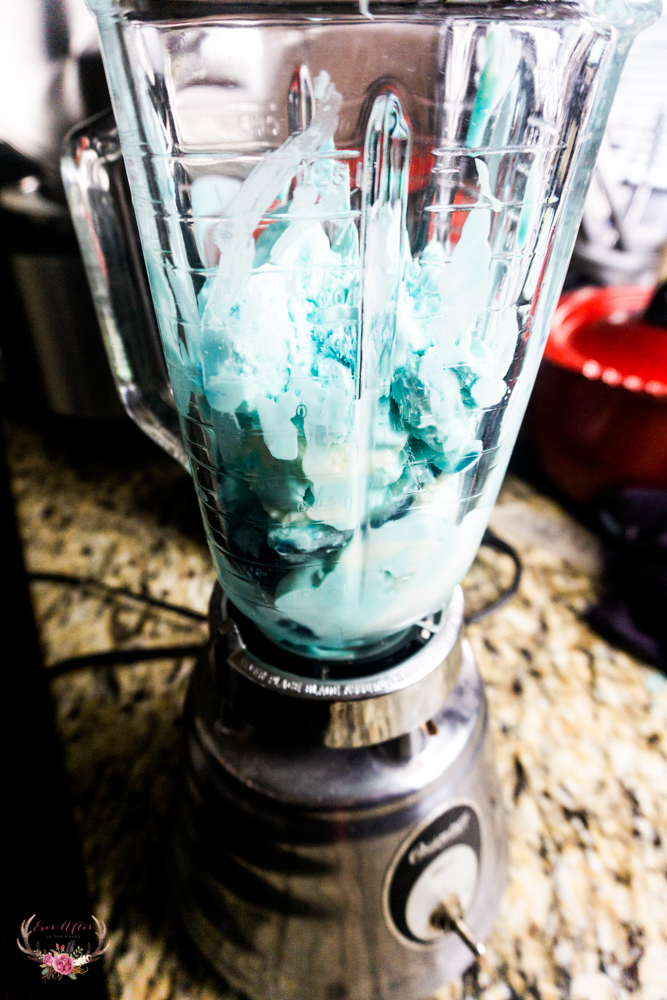 Pour some into the cup then add some strawberry puree. Then add more frappuccino. Top with whipped topping.
Mixture together 1 drop light blue food coloring and sugar. Use this top over the whipped topping.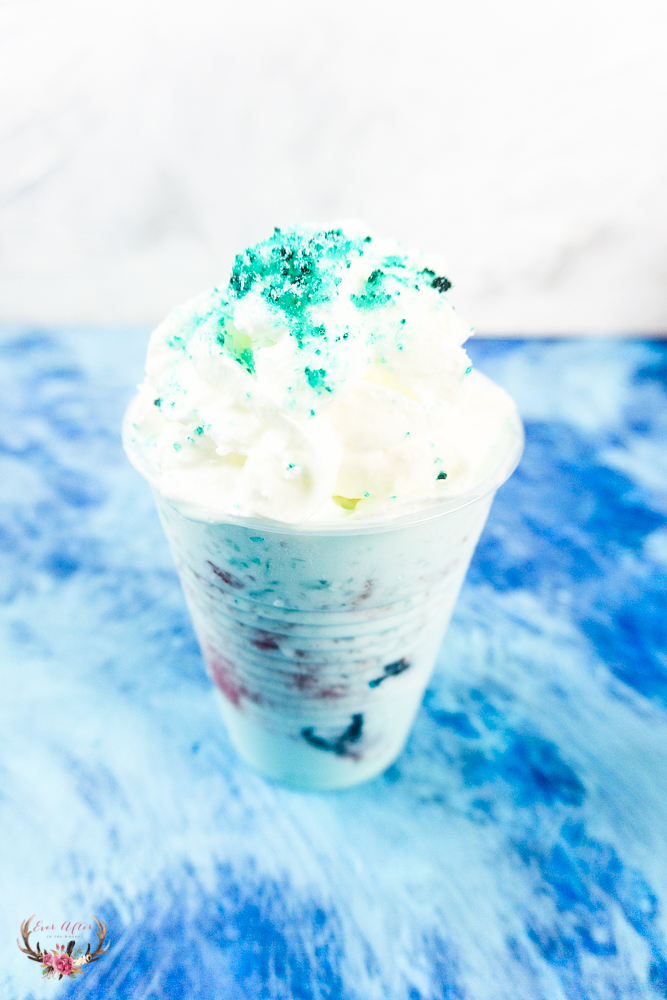 We love shark week in our home and have a variety of different recipes just for Shark Week!
Have a look!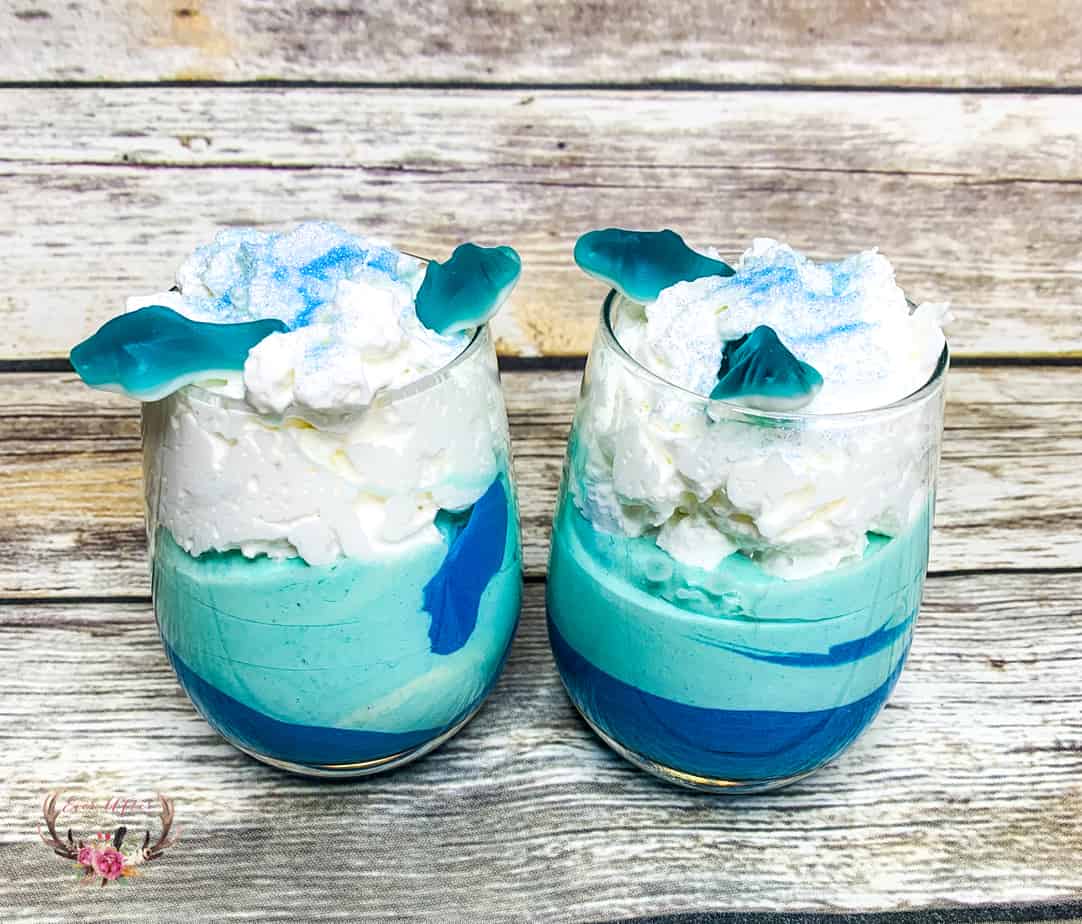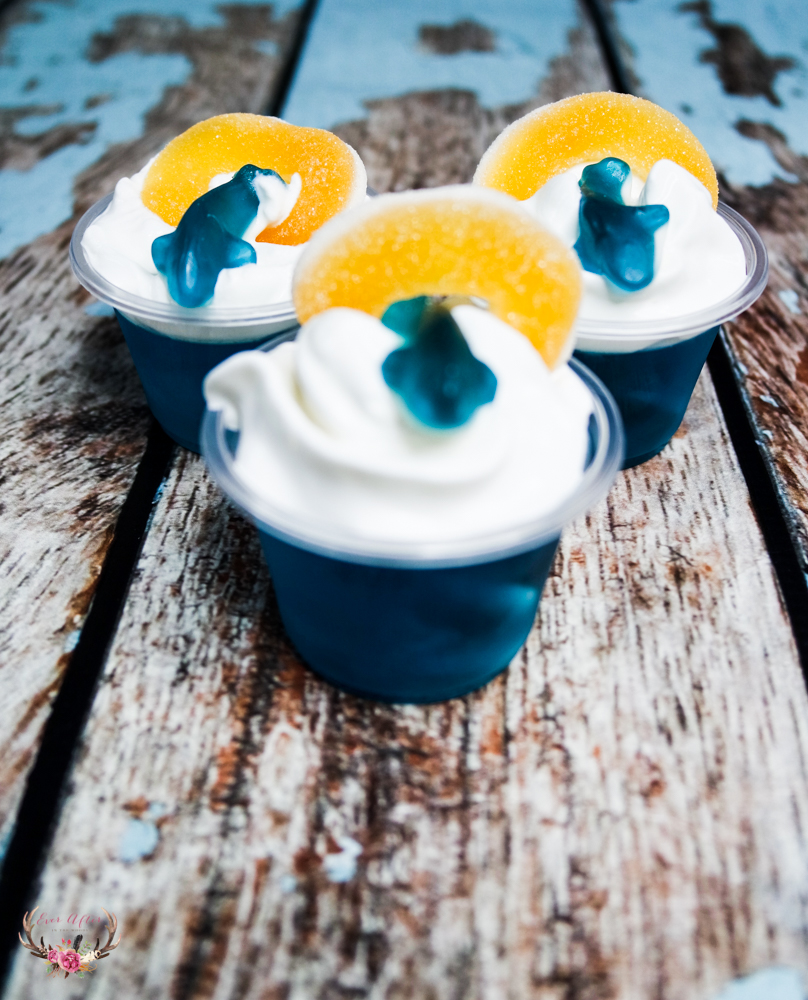 Shark Week Jello Shots – Adult version