This year is just flying by! I can not believe that we are in the middle of November already and the holiday season is upon us. For me that means a whole lot of cooking and baking for friends and family.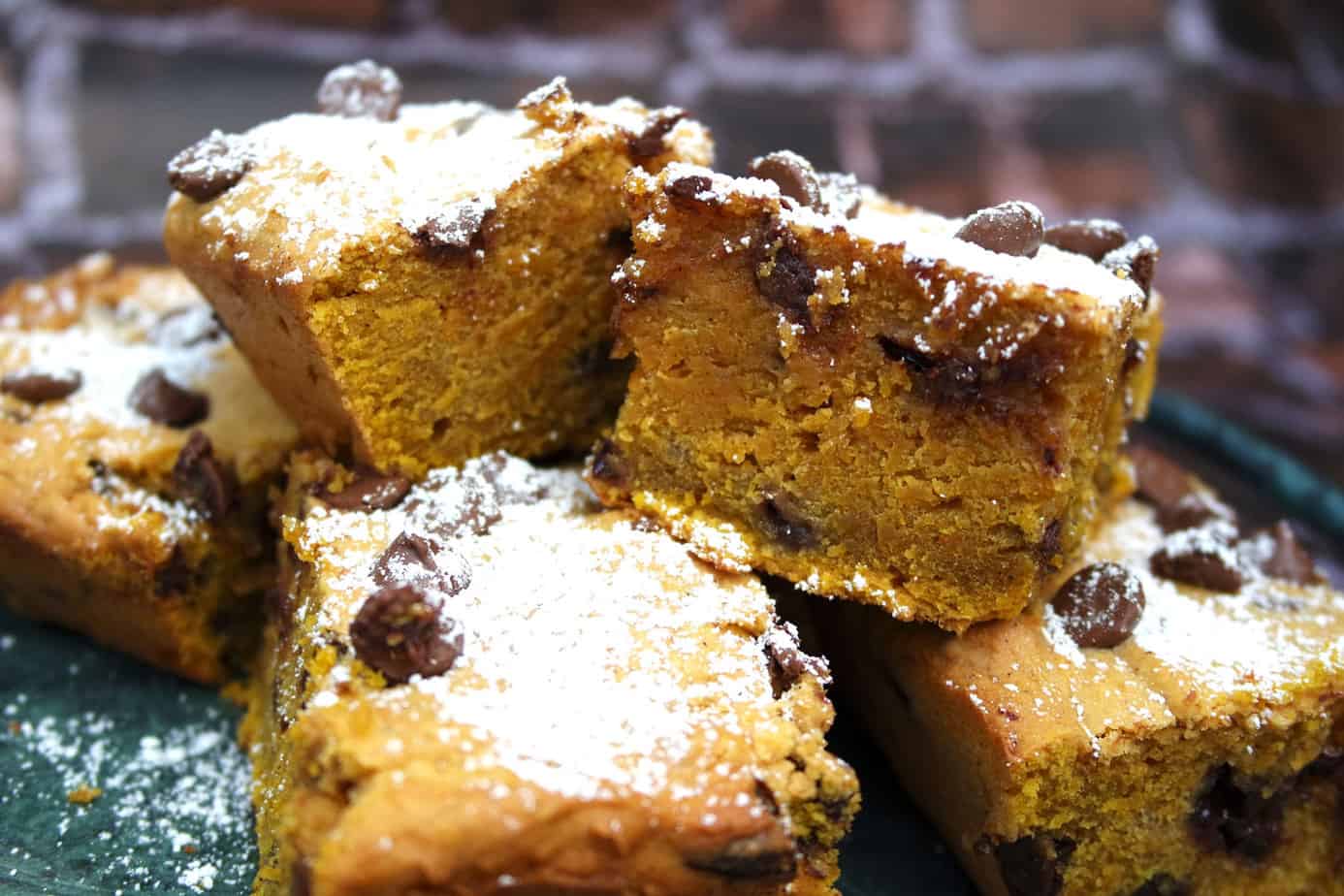 Sharing goodness through quality products is one ideal that I hold dear to my heart and NESTLÉ® products help me achieve that. As a busy working mom to three school aged children, I feel good knowing that everything is ok in moderation and sometimes you need a sweet treat and that is ok! On my last trip to Walmart I picked up a bunch of NESTLÉ® products and I could not wait to get baking! I purchased NESTLÉ® TOLL HOUSE® Semi-Sweet Chocolate Morsels, Libby's® 100% Pure Pumpkin and NESTLÉ® CARNATION® Evaporated Milk. Really these are products that I have stocked in my pantry at all time because I use them often. AT this time of year I try to use LIBBY'S® 100% Pure Pumpkin all the time. I make soups, breads, smoothies, and much more! The possibilities are endless.
This recipe for Chocolate Chip Pumpkin Bars is really a no-fail recipe. It is so good and the bars come up thick, fluffy and moist.
Easy Chocolate Chip Pumpkin Bars
INGREDIENTS
2 sticks butter, softened
1 cup granulated sugar
1 cup packed light brown sugar
3 eggs
2 tsp vanilla
1 15 oz. can LIBBY'S® 100% Pure Pumpkin
2 tsp cinnamon
1 tsp salt
3 cups flour
1½ cupsNESTLÉ® TOLL HOUSE® Semi-Sweet Chocolate Morsels, divided
DIRECTIONS
Preheat oven to 350 degrees.
Spray a 13 x 9 pan with cooking spray.
Beat butter with both sugars on medium speed in a mixer until fluffy.
Add eggs, canned pumpkin, and vanilla.
Add cinnamon, salt and flour and beat until combined.
Stir in 1 cup chocolate chips.
Spread batter into pan. Sprinkle the top with remaining chocolate chips.
Bake for 30 to 35 minutes or just until center is set and toothpick inserted in center comes out clean.
Everyone enjoys this recipe- it is sweet but not overly indulgent. I have been cutting them into small squares and packing them in my children's lunch boxes for school as well as in my lunch too! I love the creamy consistency of these bars. I love that these bars contain pumpkin so I feel good about baking these for my family.
TIP: If you wanted to make a healthier version, simply swap each egg for ½ cup of unsweetened applesauce.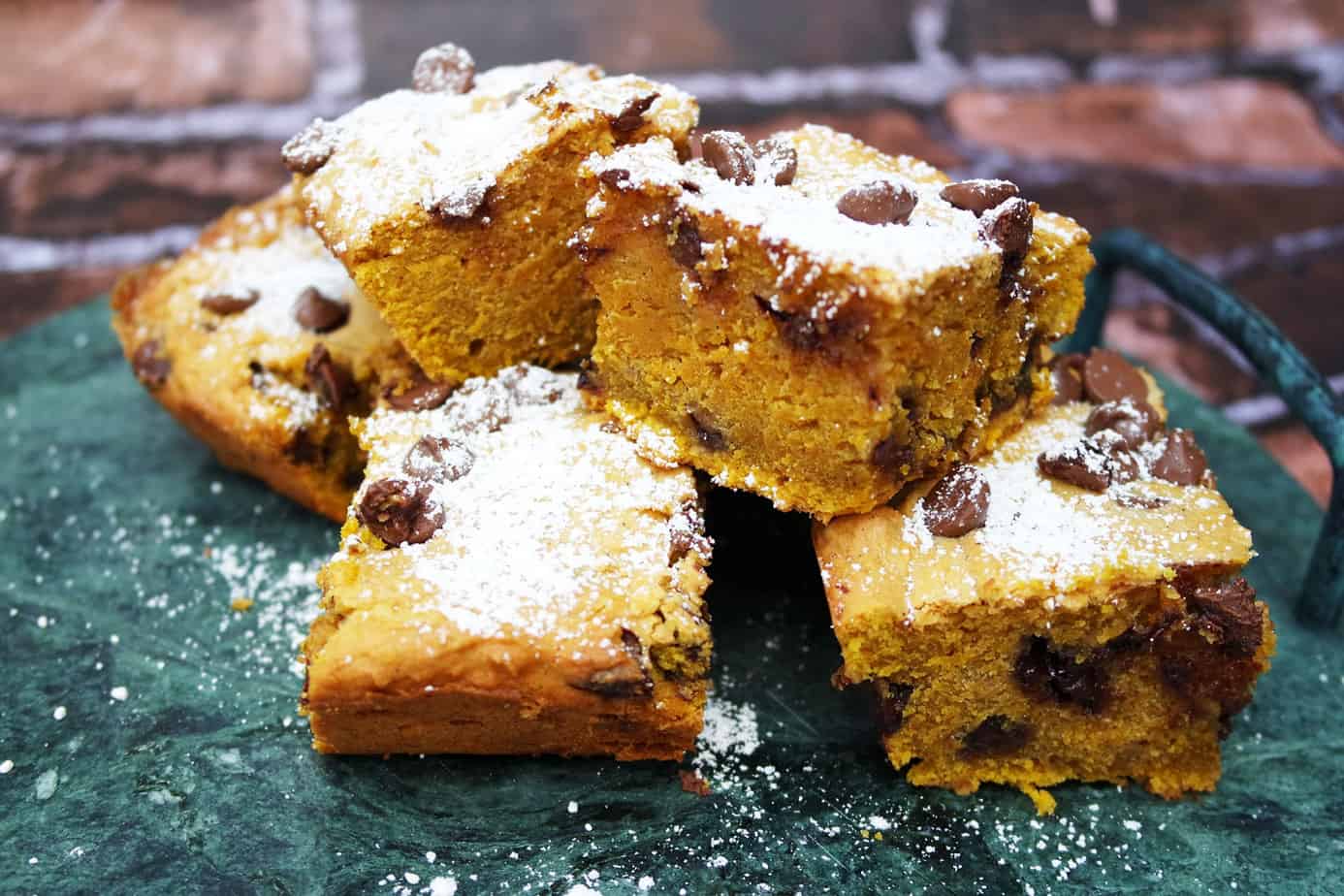 My pantry is stocked this holiday season with NESTLÉ® TOLL HOUSE® morsels in many different varieties for all my holiday baking. What recipes will you be creating this year? I know I have a list of new cookies to make that were inspired by all the new varieties of morsels available now.