Princess Belle Cupcakes
Beauty and the Beast Cupcakes
Disney Beauty and the Beast Cupcakes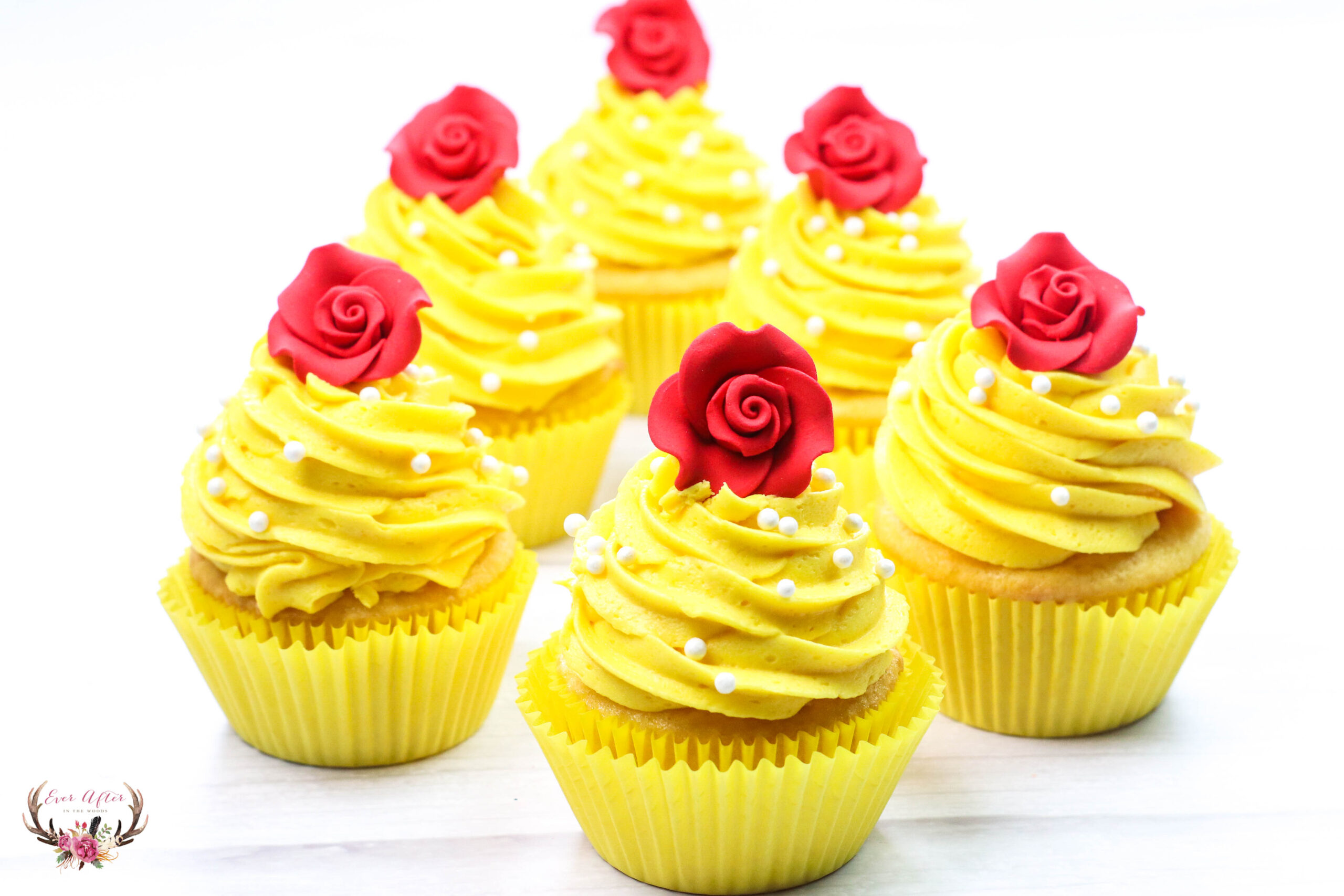 "Tale as old as time….." We love all things Disney in our home and Beauty and the Beast is one of our favorite movies! I mean who doesn't love a Princess that loves books? The Beauty and the beast cupcakes are inspired by Belle's ballgown and of course the red rose. This cupcake is light and fluffy and injected with strawberry jam.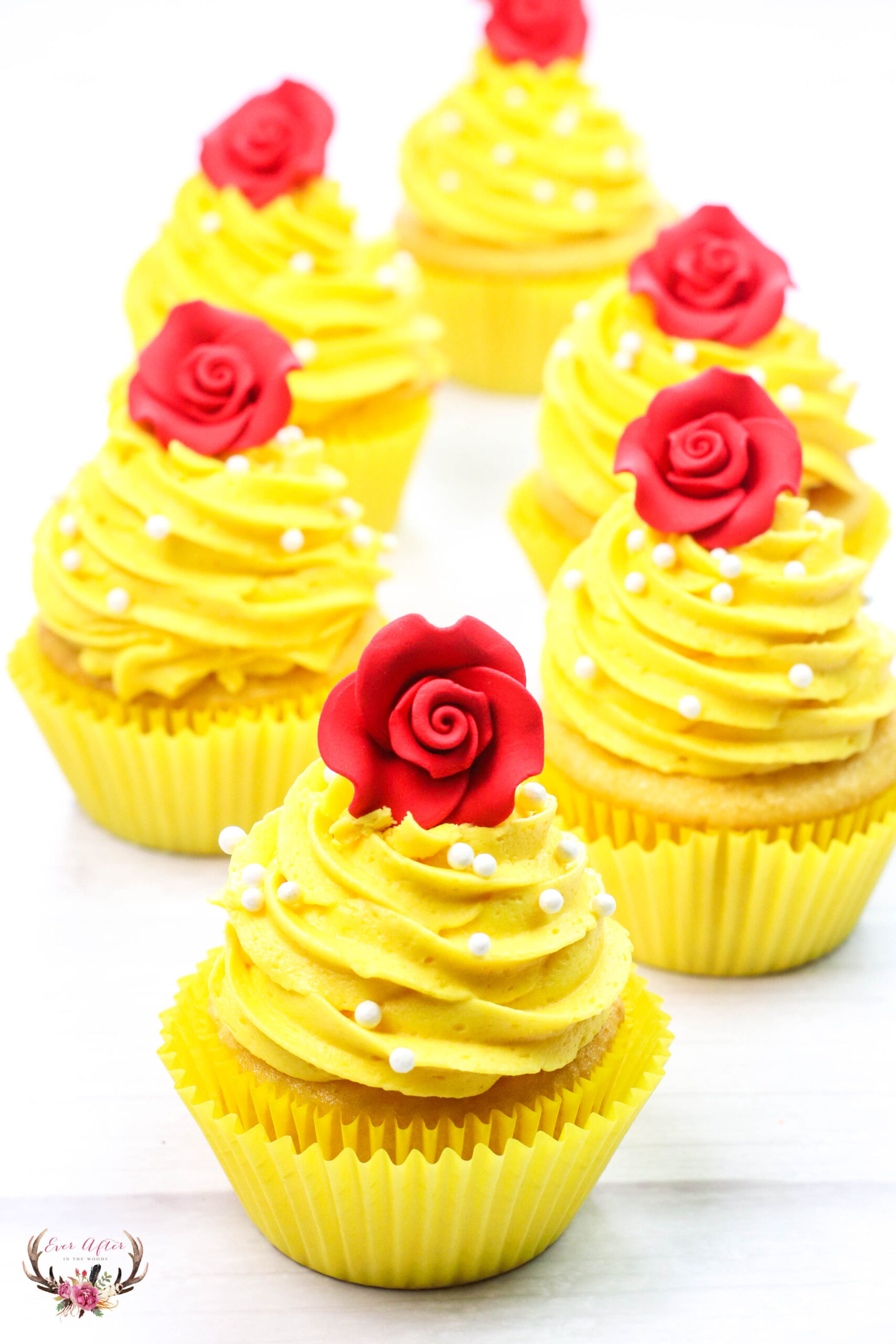 You can easily take a shortcut by using pre-made frosting as we often do or you can make your own lemon frosting which is AMAZING!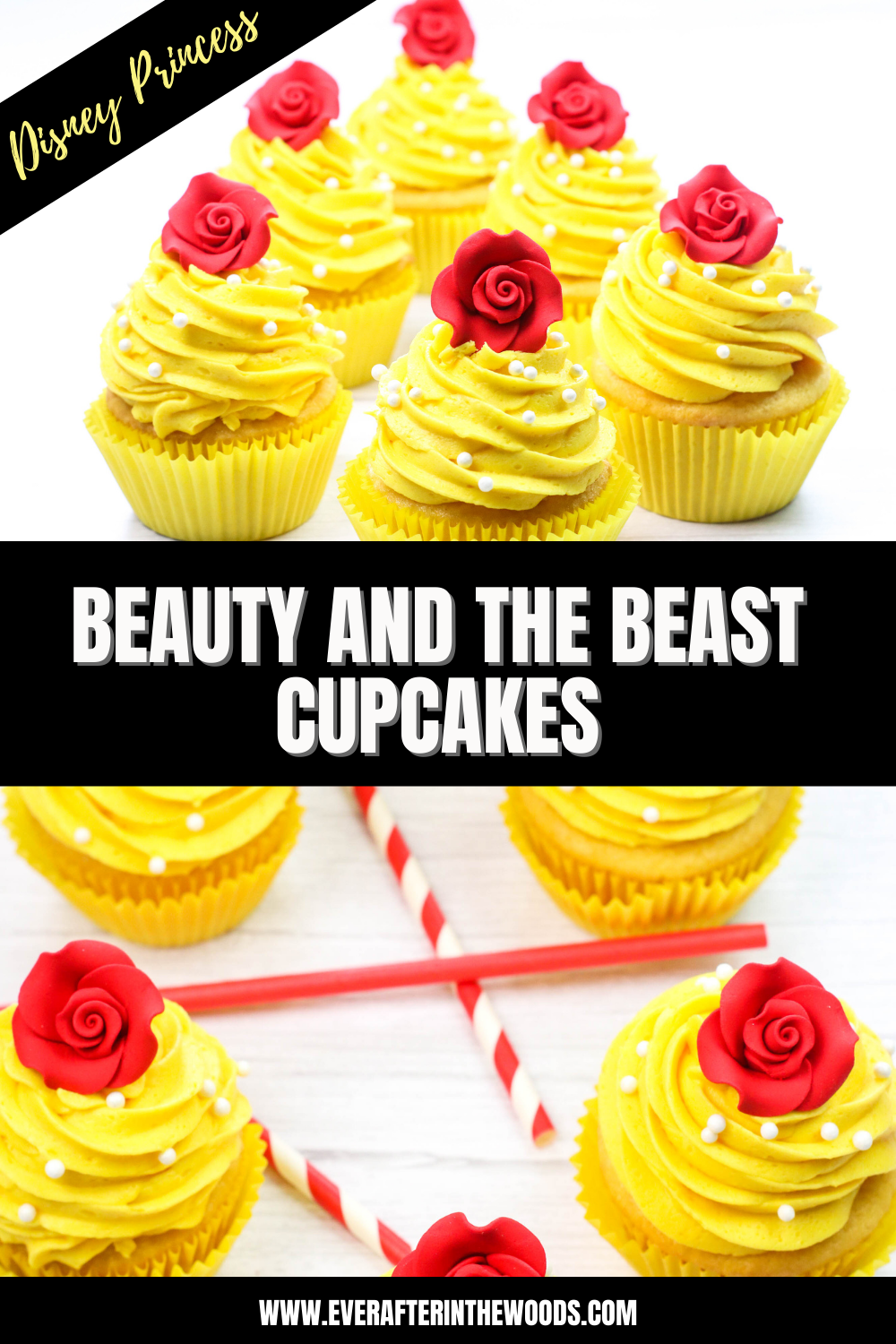 Beauty and the Beast Cupcakes
Cupcake Ingredients:
1 yellow cake mix
1 cup water
1/3 cup vegetable oil
3 large eggs
1 cup strawberry preserves or jam
Yellow cupcake liners (Get them on Amazon)
Cupcake Injector (Get them on Amazon)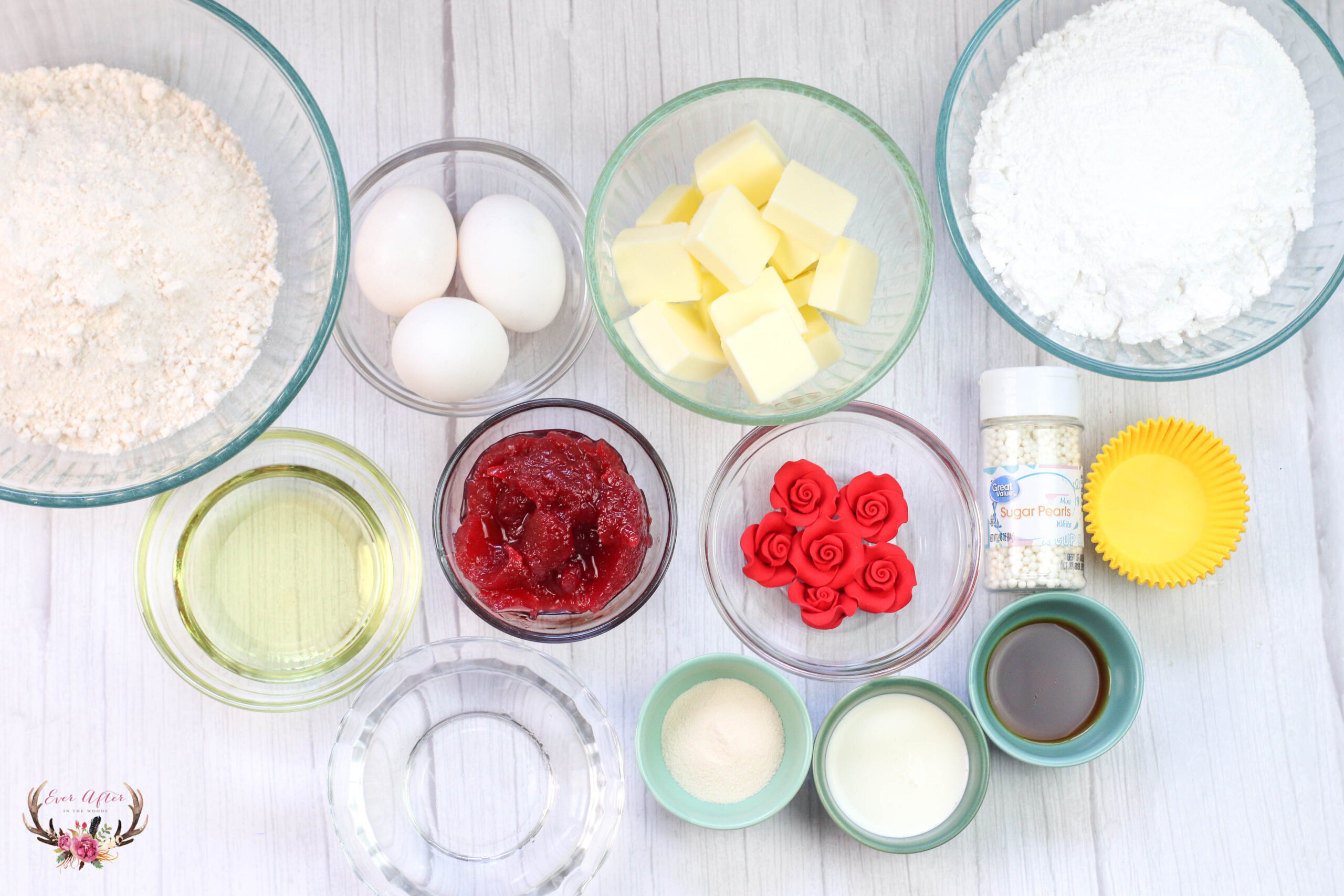 Frosting Ingredients
1 stick salted butter, softened
1 teaspoon vanilla
1 tablespoon Instant Lemon Pudding
4 cups powdered sugar
1 tablespoon half and half or whole milk
Yellow food coloring
1 large piping bag, 1 large round frosting tip
Wilton Rose Icing Decorations, 8-Count (Purchase on Amazon)
Wilton white sugar pearls (Get them on Amazon)
Directions for Cupcakes:
Preheat oven to 350 degrees. Spray or line a standard muffin tin.
Steps 1-2: Add cake mix to a large mixing bowl. Using a hand or stand mixer, mix in your water, oil, and eggs on medium until well incorporated.
Step 3: Add batter into the muffin tin until each is about 2/3 full. Bake for 16-20 minutes, or until a toothpick comes out clean. Allow to cool completely before adding the strawberry filling.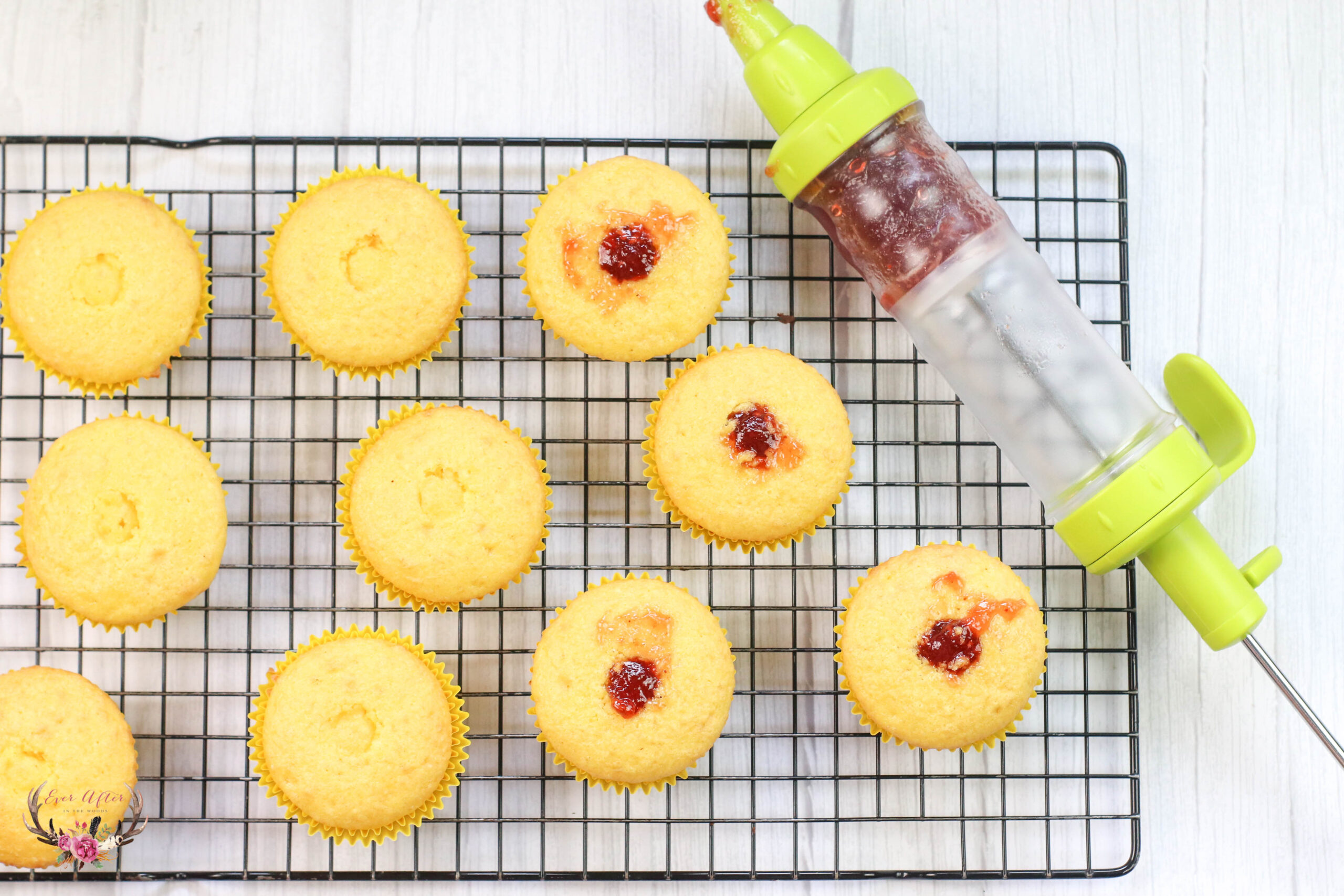 Directions for Frosting:
Steps 4-6: In a large mixing bowl or stand mixer, cream the butter, and beat until light and fluffy. Add in the vanilla extract.
Steps 7-8: Slowly mix in the powdered sugar, 1 cup at a time, while adding a bit of the half and half or milk in between each cup. Continue to mix for 1 minute or until creamy. Add in your yellow food coloring.
Step 9: Prepare piping bag and fill bag with frosting.
Step 10: Add the strawberry preserves or jam to the cupcake injector. Carefully inject the filling into the middle of each cupcake.
Step 11: Frost your cupcakes, add your white sugar pearls, and top each cupcake with a sugar rose. Enjoy!
Makes 24 cupcakes.
How to Make Beauty and the Beast Cupcakes
We certainly love Beauty and the Beast but we really love all things Disney! We have a variety of different recipes from Bugs on a Log to Zombies Cupcakes and everything in between! There is nothing better than watching a movie with a delicious and tasty treat.
Have a look at these other Disney Inspired desserts: