Christmas Wreath Cookies
Rice Krispies Christmas Wreaths
No Bake Wreath Cookies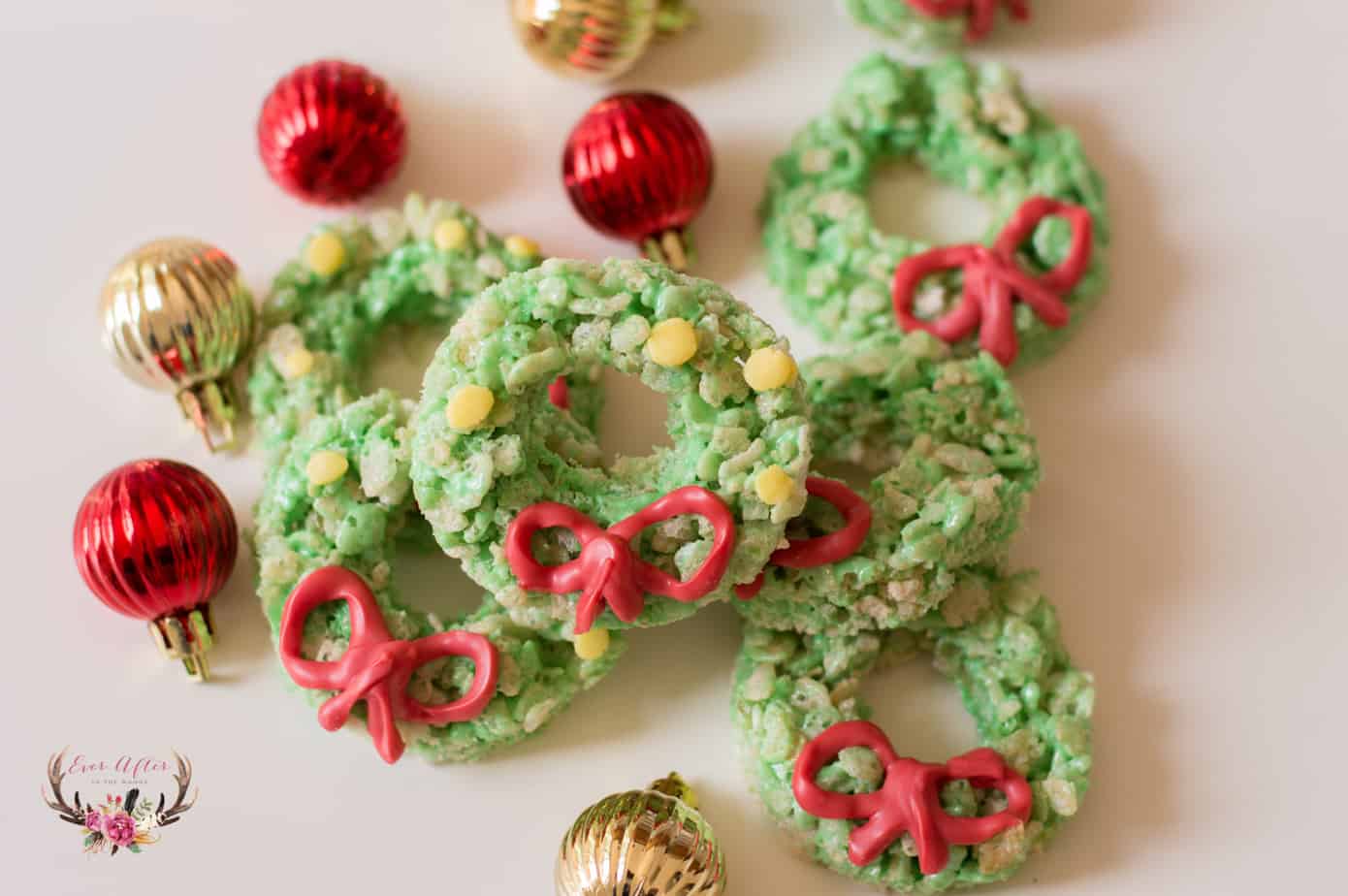 It is hard to believe that Christmas and the holidays are fast coming up! We love baking during Christmas and these new Christmas Wreath cookies are the perfect addition to any cookie exchanges you have this year or gifts to give. They add a fun pop of color to the cookies trays too.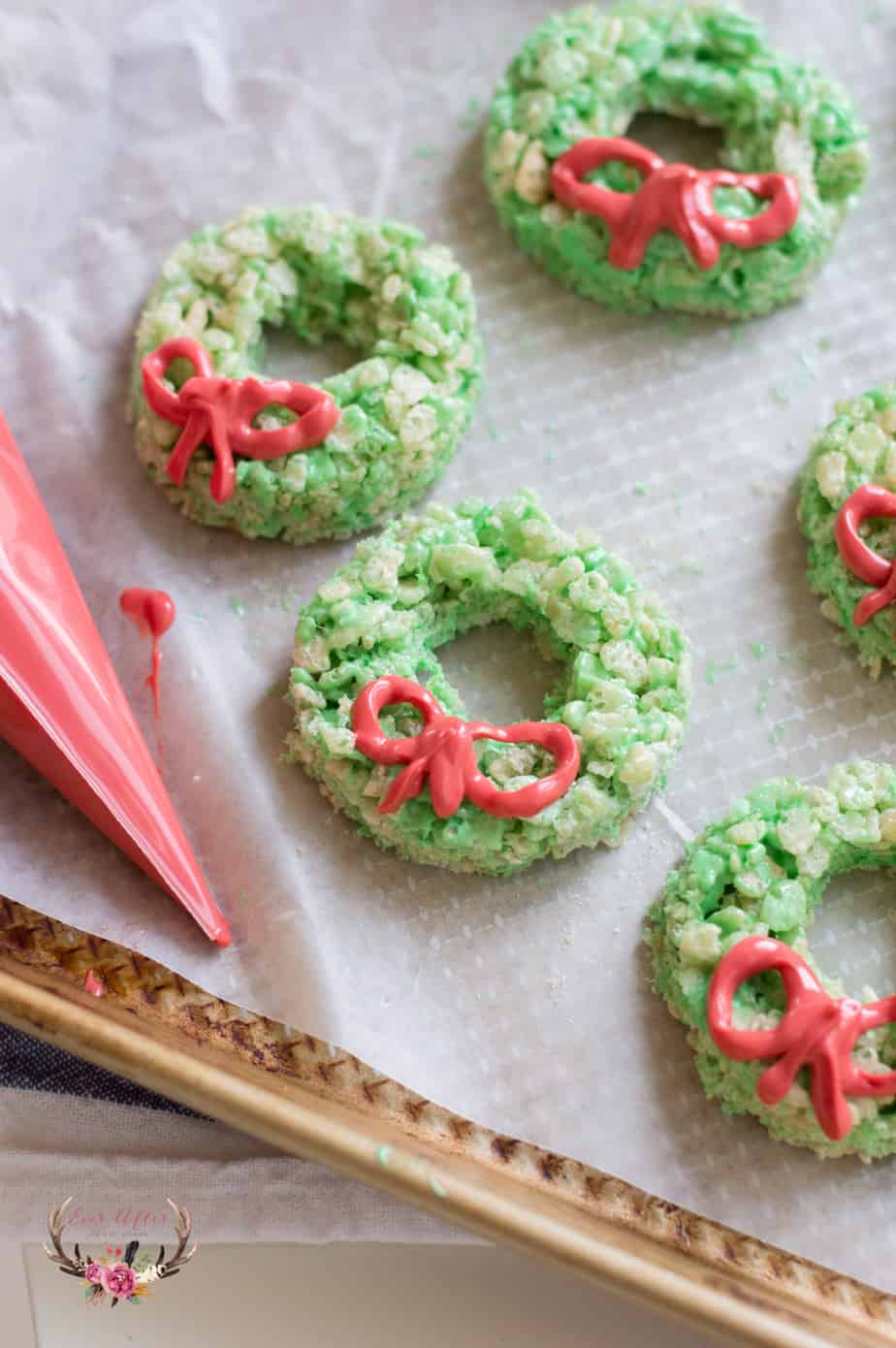 The kids really love helping with making these cookies but be careful we had to make a double batch because they were eating as they went!!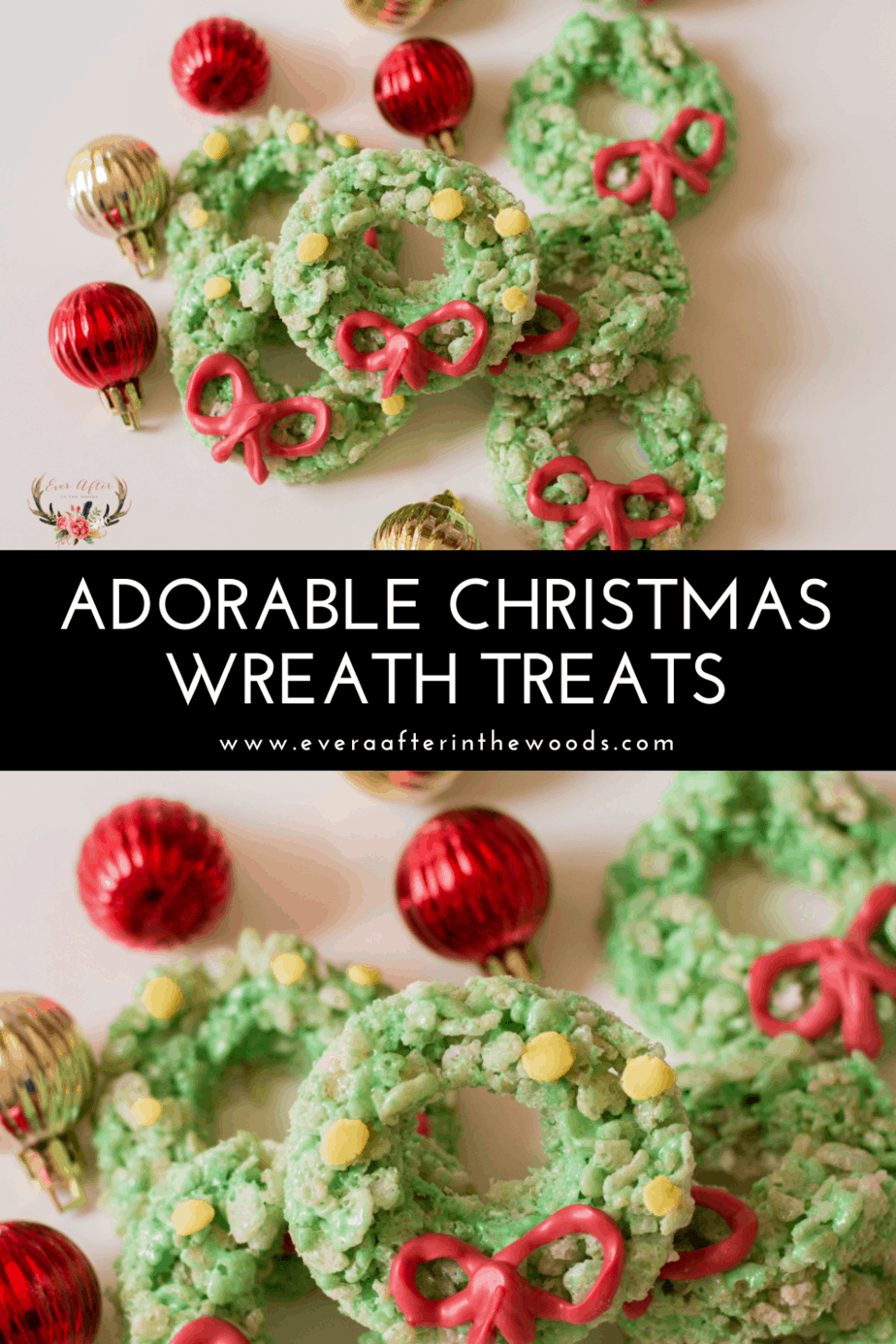 Christmas Wreath Cookies
Ingredients
3 tbsp butter
40 regular marshmallows
¼ tsp green gel food coloring
6 cups rice cereal
½ cup red candy melts
½ cup yellow candy melts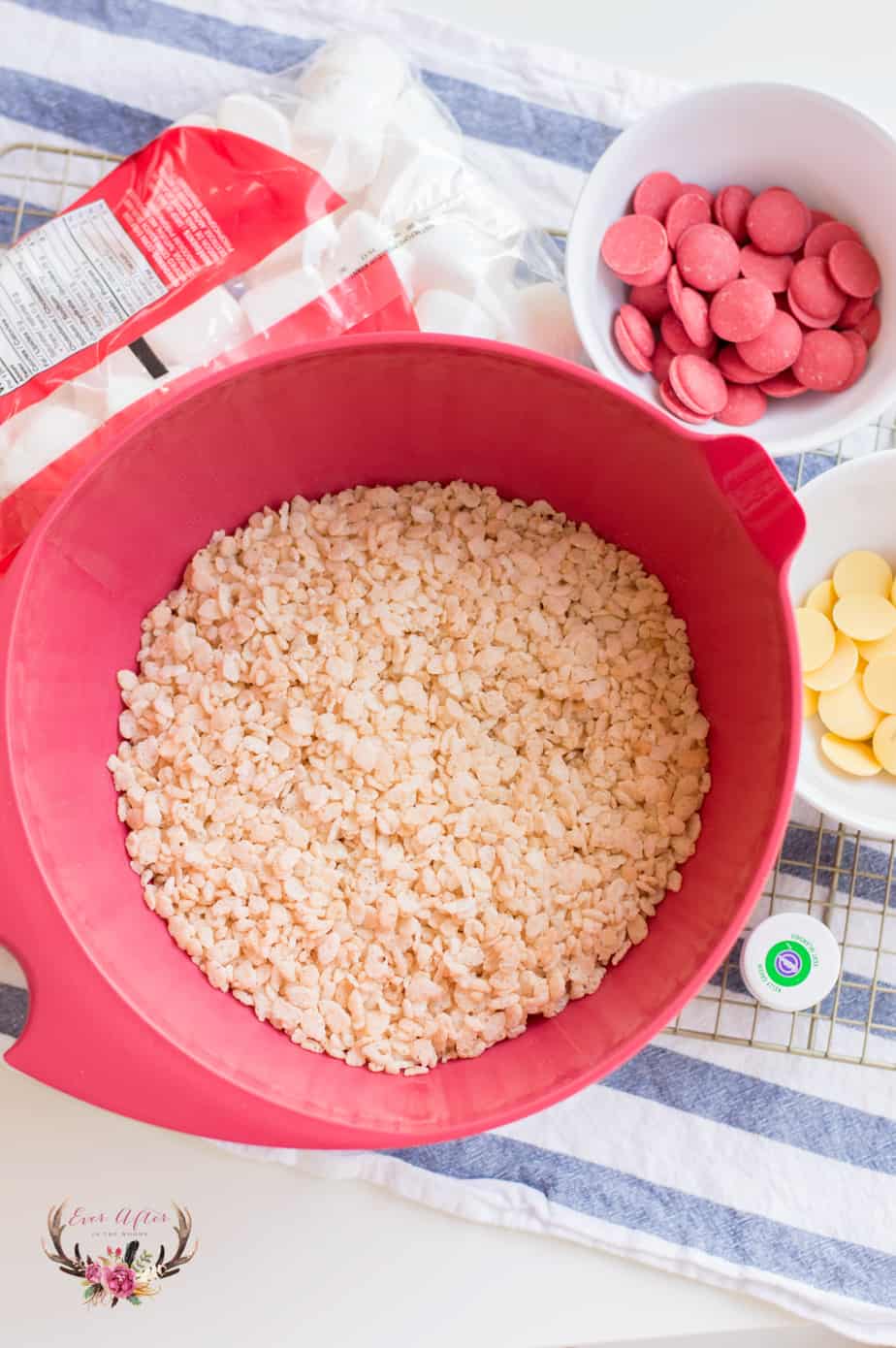 Yields: Approx. 12 wreaths
Directions
Line a baking sheet with wax paper set aside.
In a medium saucepan, melt butter over medium heat.
Add marshmallows and stir until completely melted. Remove from heat.
Add gel food coloring to melted marshmallows and mix until tinted.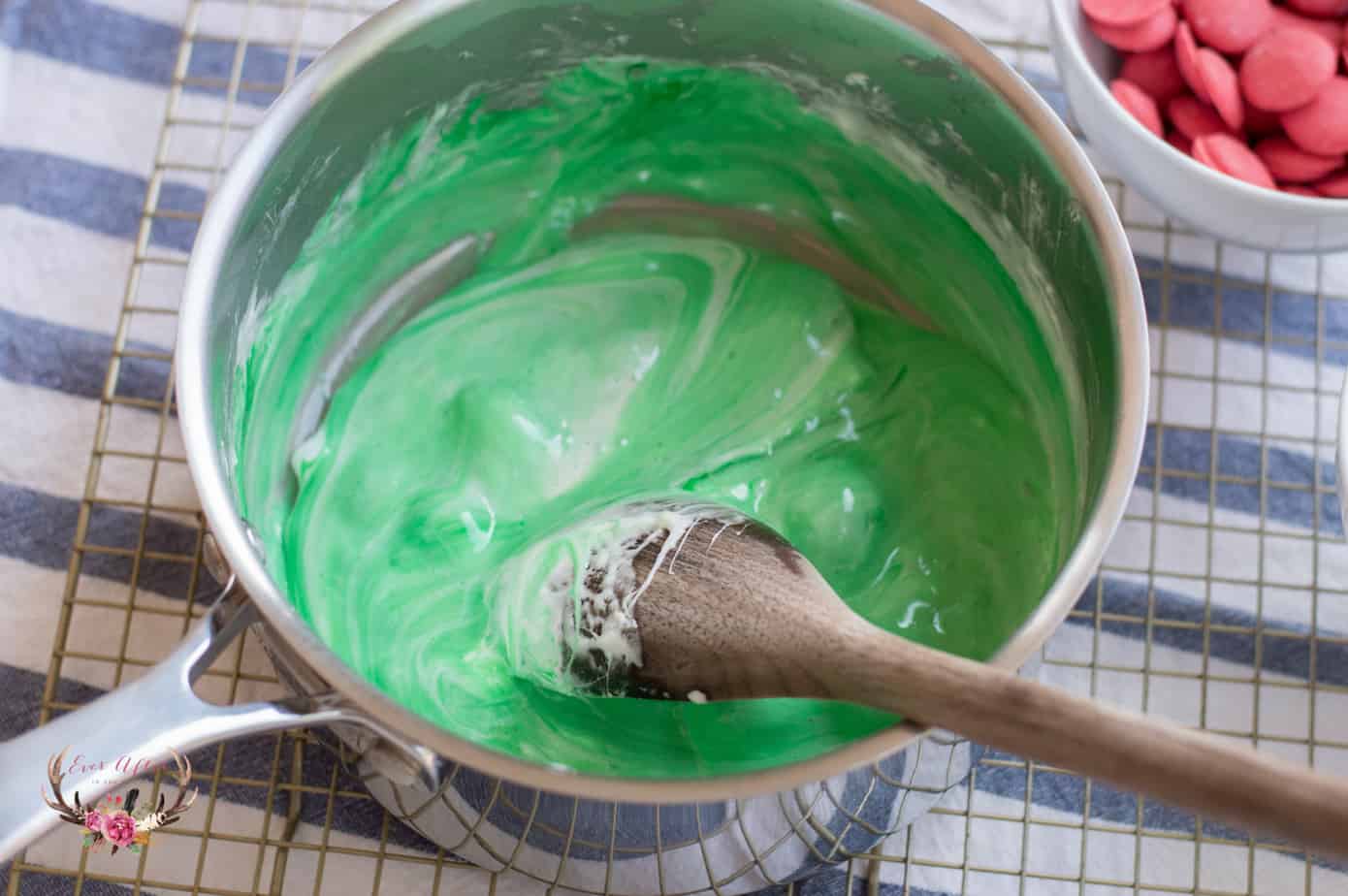 Add rice cereal and fold until all ingredients are well combined.
Use a spatula to evenly spread the rice cereal treats mixture onto the lined pan. Shape the Rice Krispies to be about 8 inches x 10 inches.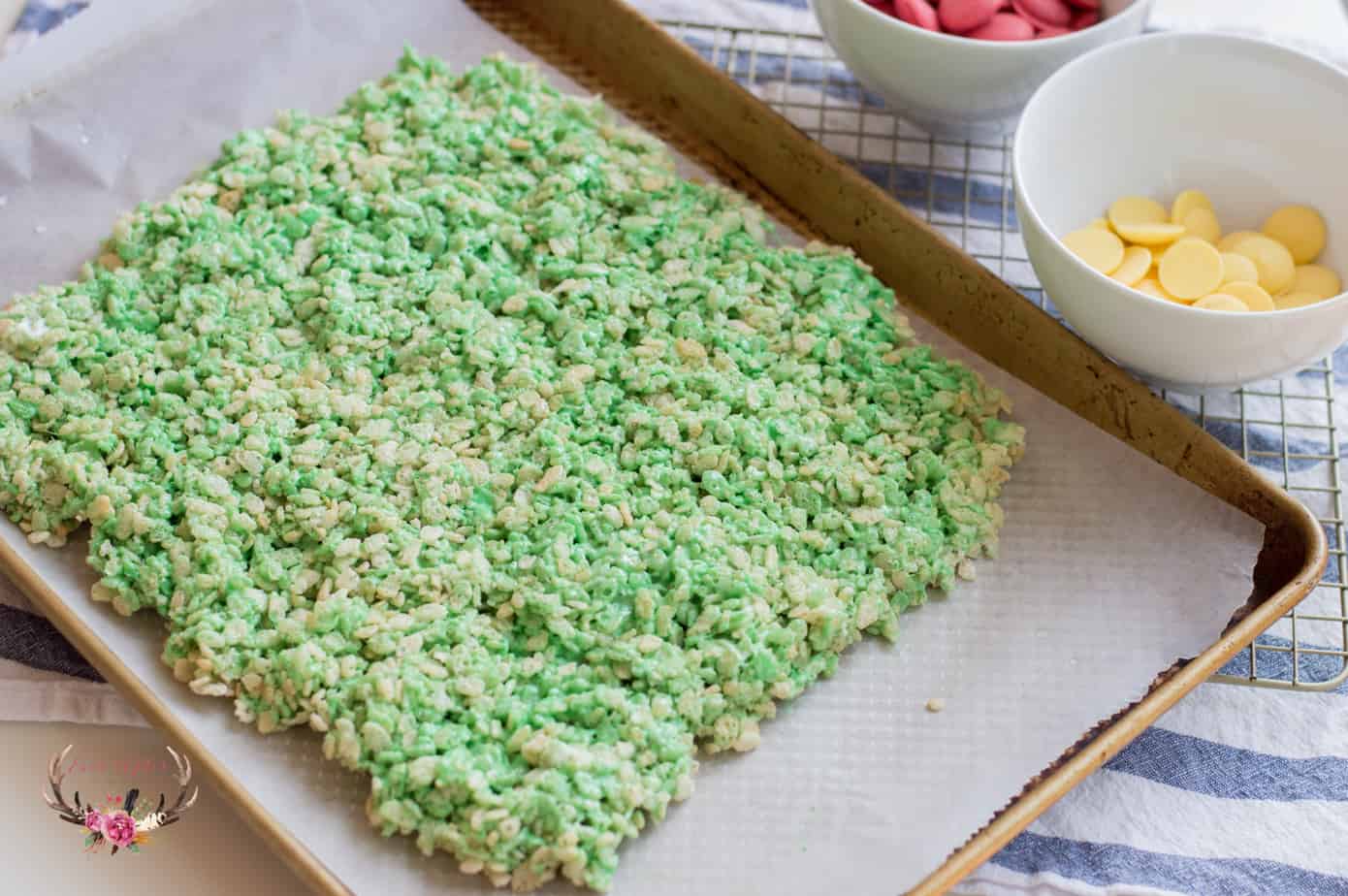 Allow the Rice Krispies to set for about 10 minutes.
Use a circular cookie cutter, 2 ½ inches in diameter in size and cut out circle-shaped rice cereal treats. Use another cookie cutter, ¾ inch in diameter and cut out circles in the center of each treat.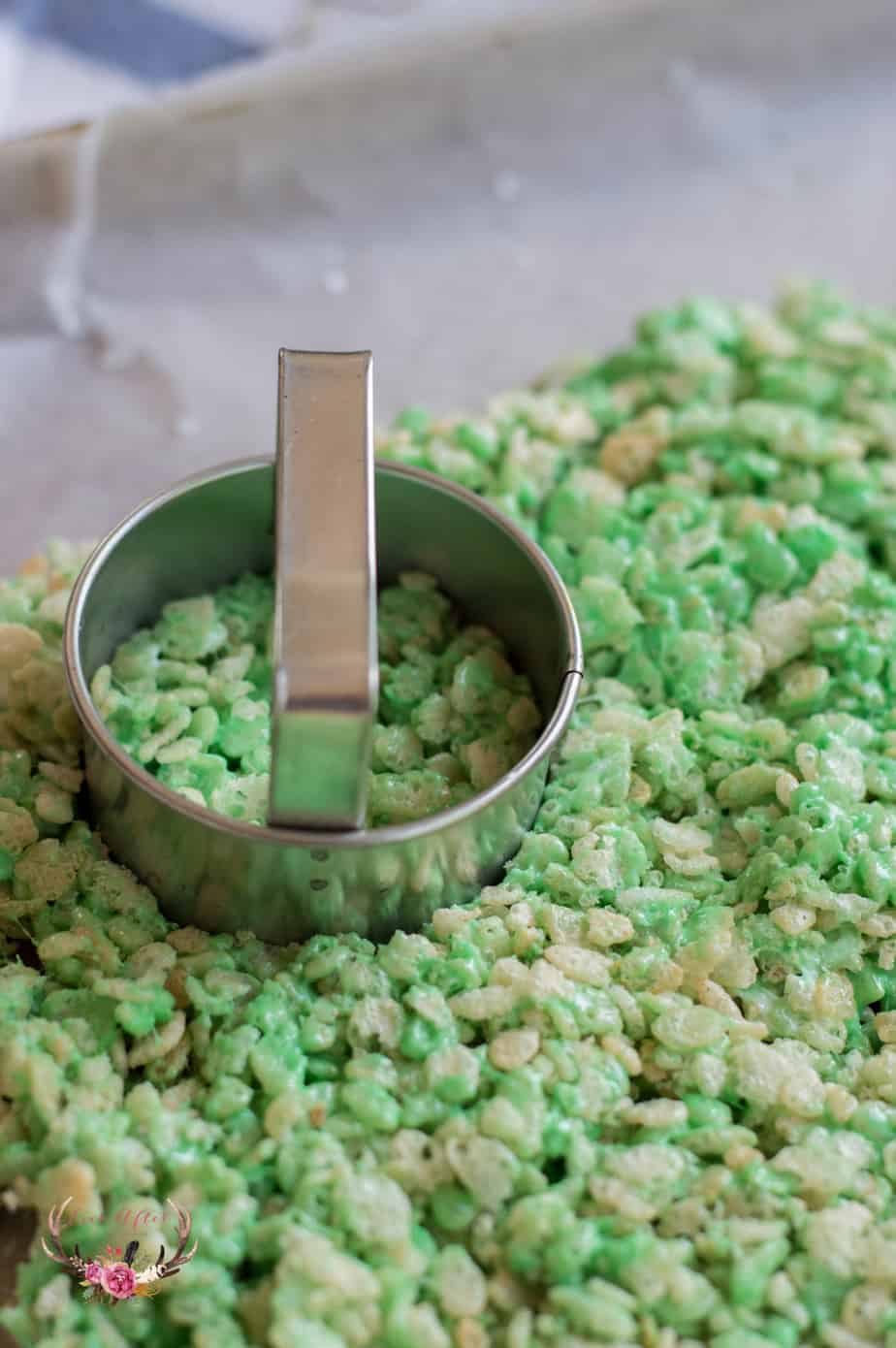 Add red candy melts into a microwave safe bowl. Microwave in 30-second intervals, mixing between each interval.
Scoop the melted candy into a piping bag. Pipe out a red bow on the bottom of each rice cereal treat wreath. To form the shape of a bow, begin by piping out two circles attached together, similar to an infinity sign. Next, pipe out two lines in the center.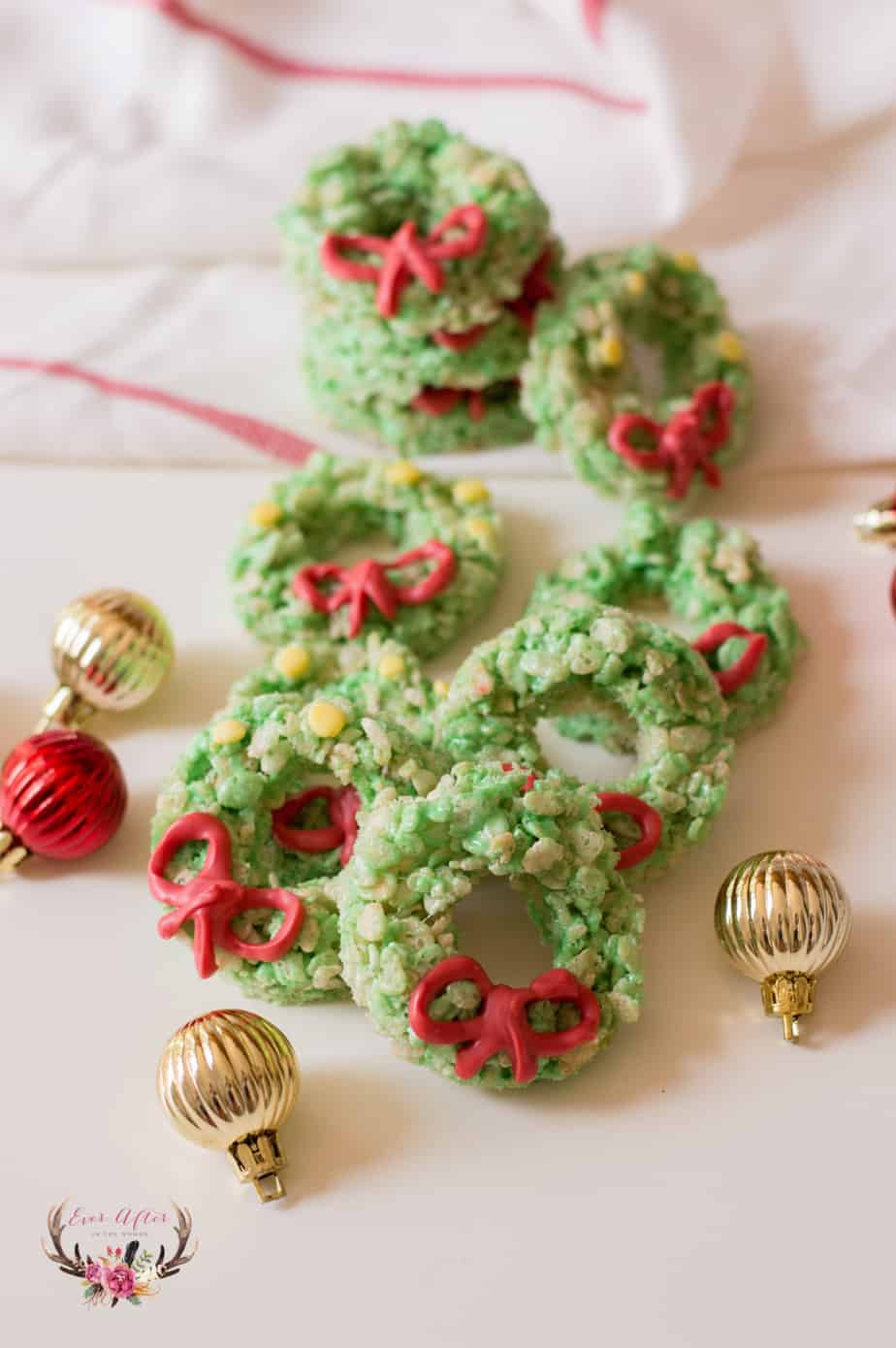 Next, melt the yellow candy the same way you did the red candy melts. Scoop into another piping bag and pipe out little yellow circle dots half of the wreaths (about 6 of them).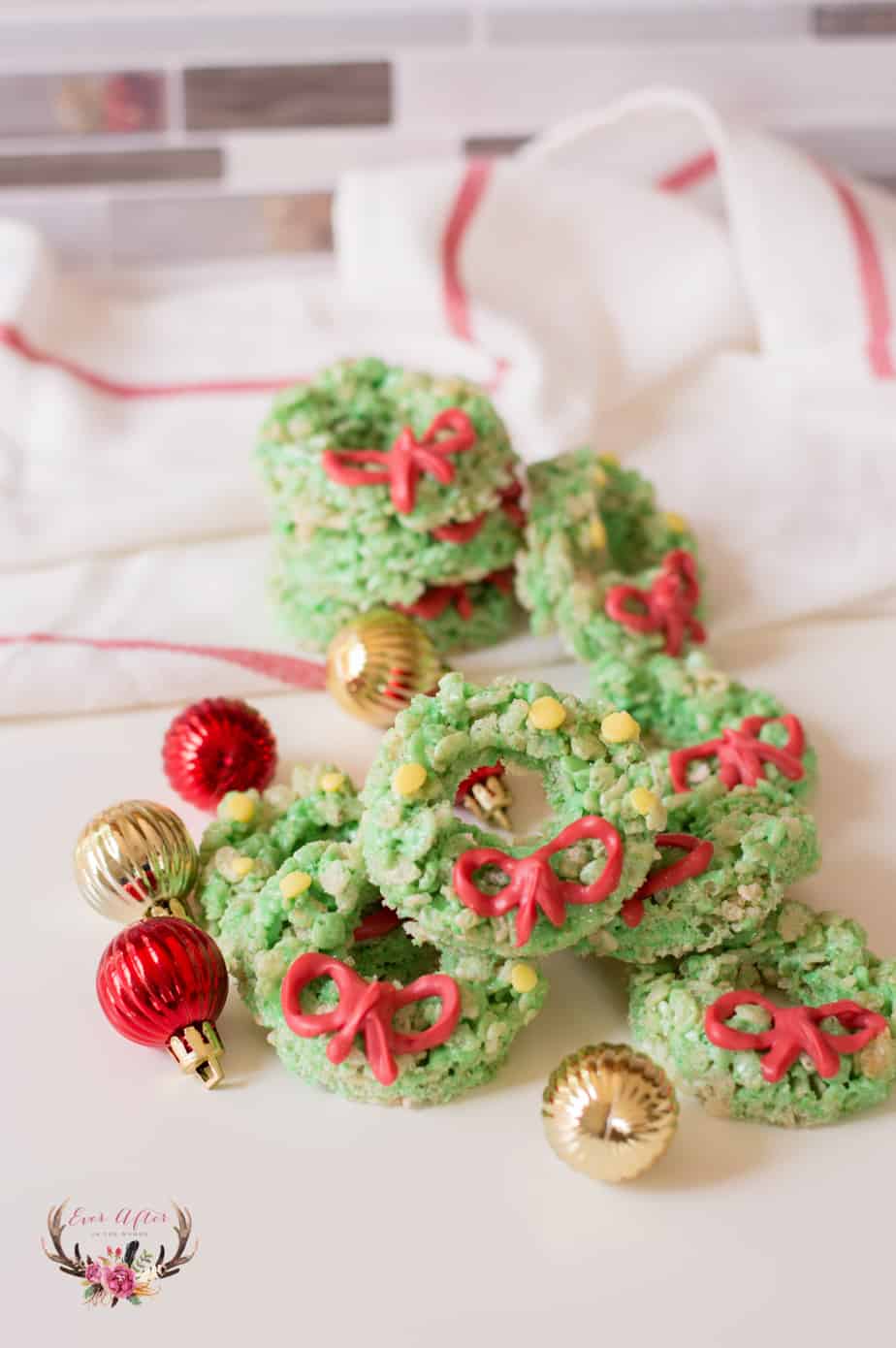 Allow to set and then serve!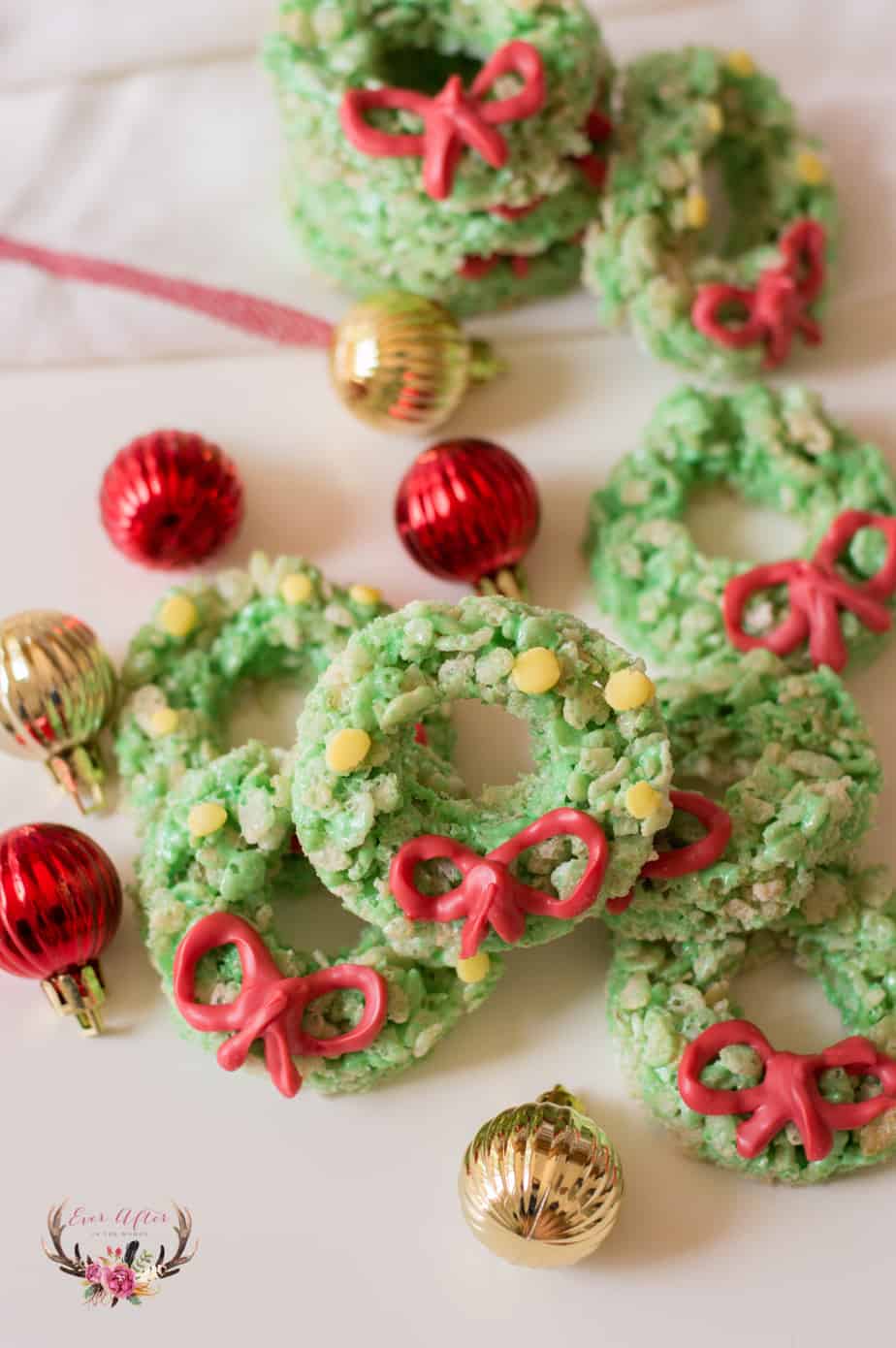 The Best Christmas Cookies – Our 12 Favorite Recipes
So here are my 12 favorite holiday cookies in no particular order! These cookies are perfect for gift giving or cookie trays for co-workers friends and family.
Chocolate Crinkle Cookies
These chocolate ooey gooey crinkle cookies are chewy and full of chocolate goodness. These are a delicious cake mix cookies with cream cheese and butter made famous from Paula Deen.
Butter Spritz Cookies
I remember when my Nana used to bring us these Old Fashion Christmas Butter Spritz Cookies in an old coffee container that was wrapped in holiday paper with a bow on top. I always thought that she baked them herself but it turns out that she would buy them every year at the church holiday bazaar!
Soft and Chewy Mint Chocolate Cookies
This is it. If you are a mint chocolate fan- think Thin Mints but chewy and soft- this is the cookie for you. This is the best chocolate mint cookie recipe. It has just the right hint of mint but no crunchy pieces of peppermint. They are so good and perfect for your Christmas cookie platter or holiday exchange.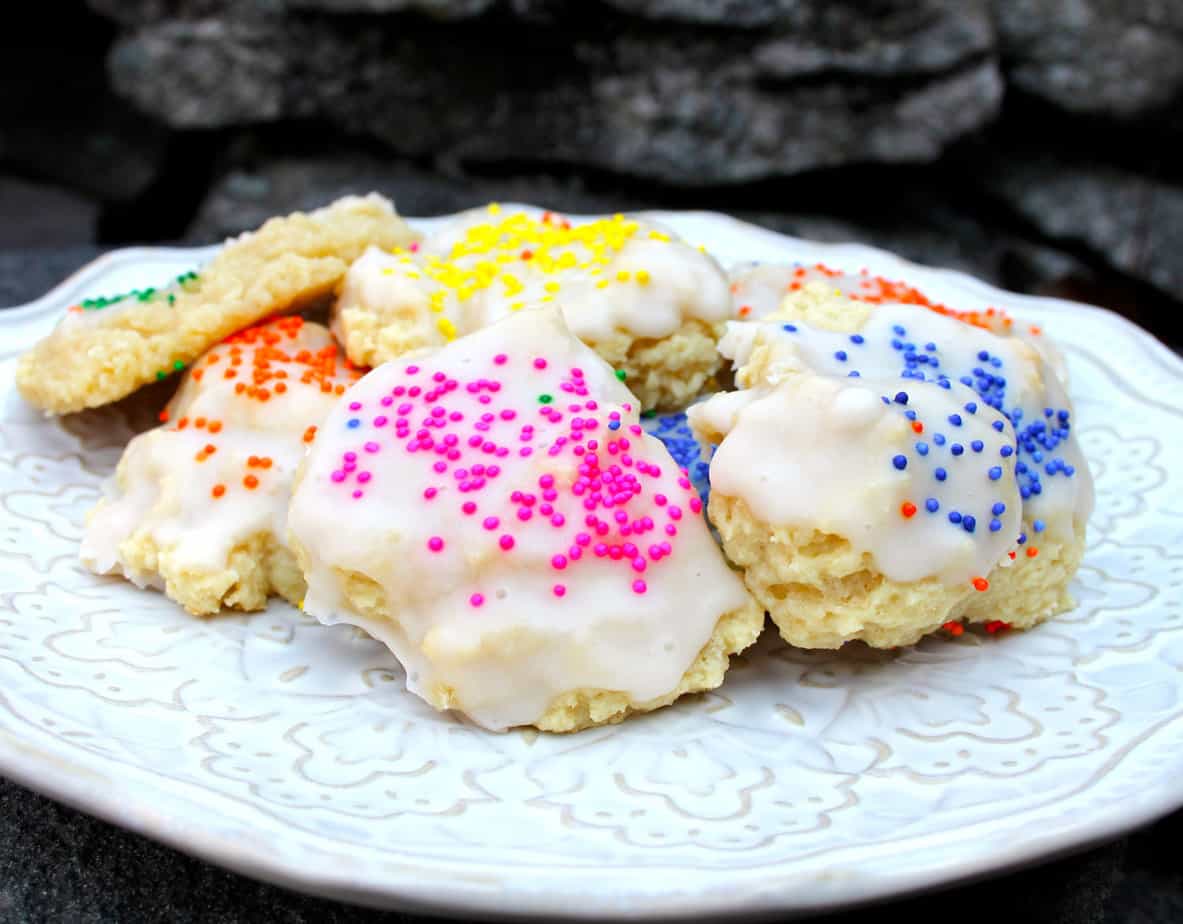 Italian Ricotta Cookies
Lately I have been trying to recreate some Italian cookie recipes that my Grandmother and her sister used to make. These Italian Ricotta Cookies are a delicious cookie for your morning coffee or afternoon tea.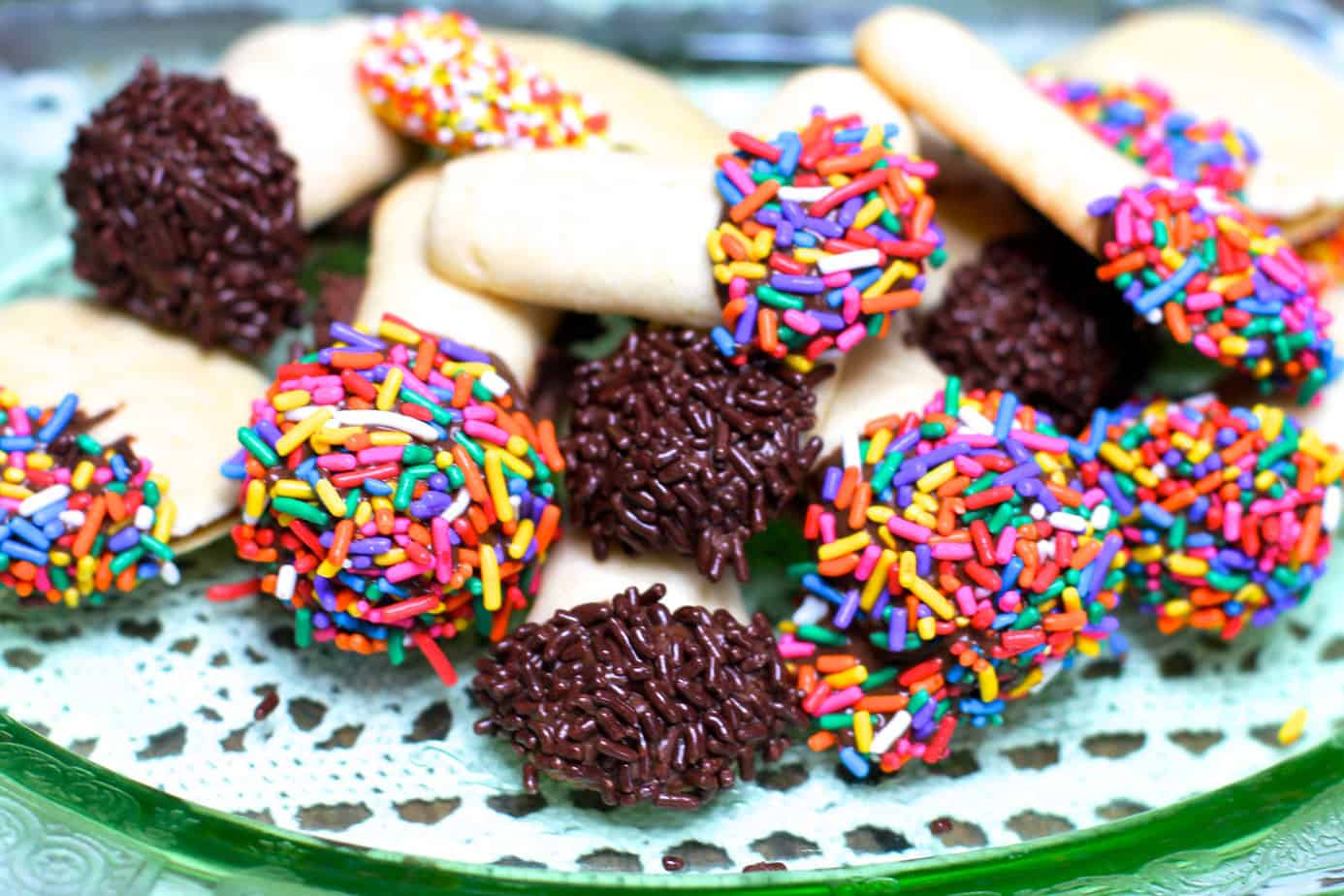 Italian Bakery Cookies
I have been trying to perfect this recipe for the cookies you get at the Italian Bakery. You know the one, that are filled with jam, dipped in chocolate and sprinkles? This recipe is just like the ones you buy at the bakery. Even better I think!
Cheesecake Jam Filled Thumbprint Cookies
My husband LOVES jam filled thumbprint cookies and I have my regular recipe that I make on the blog too. But these— these beauties are delicious with the right texture and creaminess of a cheesecake and just a few ingredients make for a delicious cookie. I made two batches of these beauties and filled them with a raspberry seedless jam.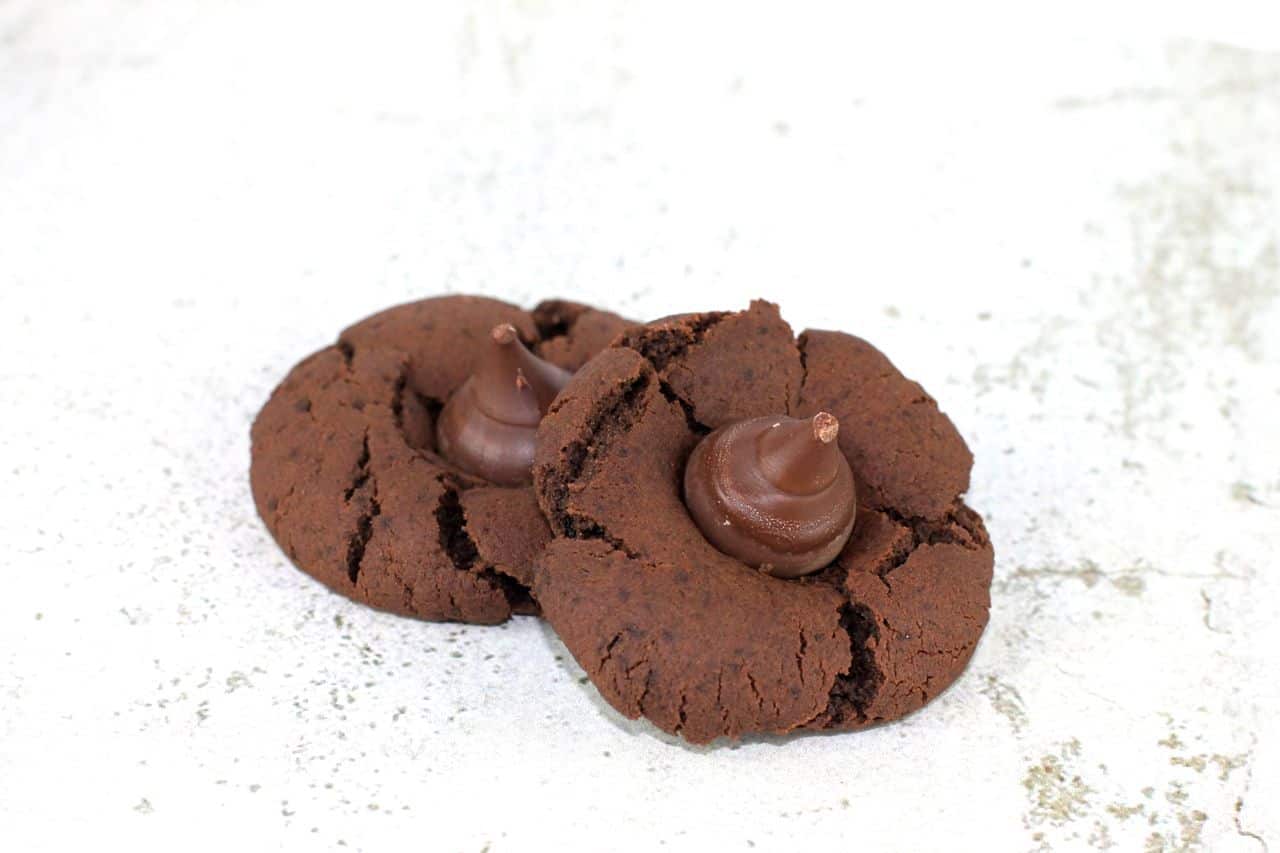 Cinnamon Chocolate Kiss Cookies
I love baking cookies for the holidays from jam filled thumbprints to butter spritz cookies we always have a large variety of treats to eat. These Cinnamon Chocolate Kiss Cookies are great option with a blend of cinnamon and chocolate. delicious. The kids enjoyed helping by unwrapping the kisses and of course licking the bowl!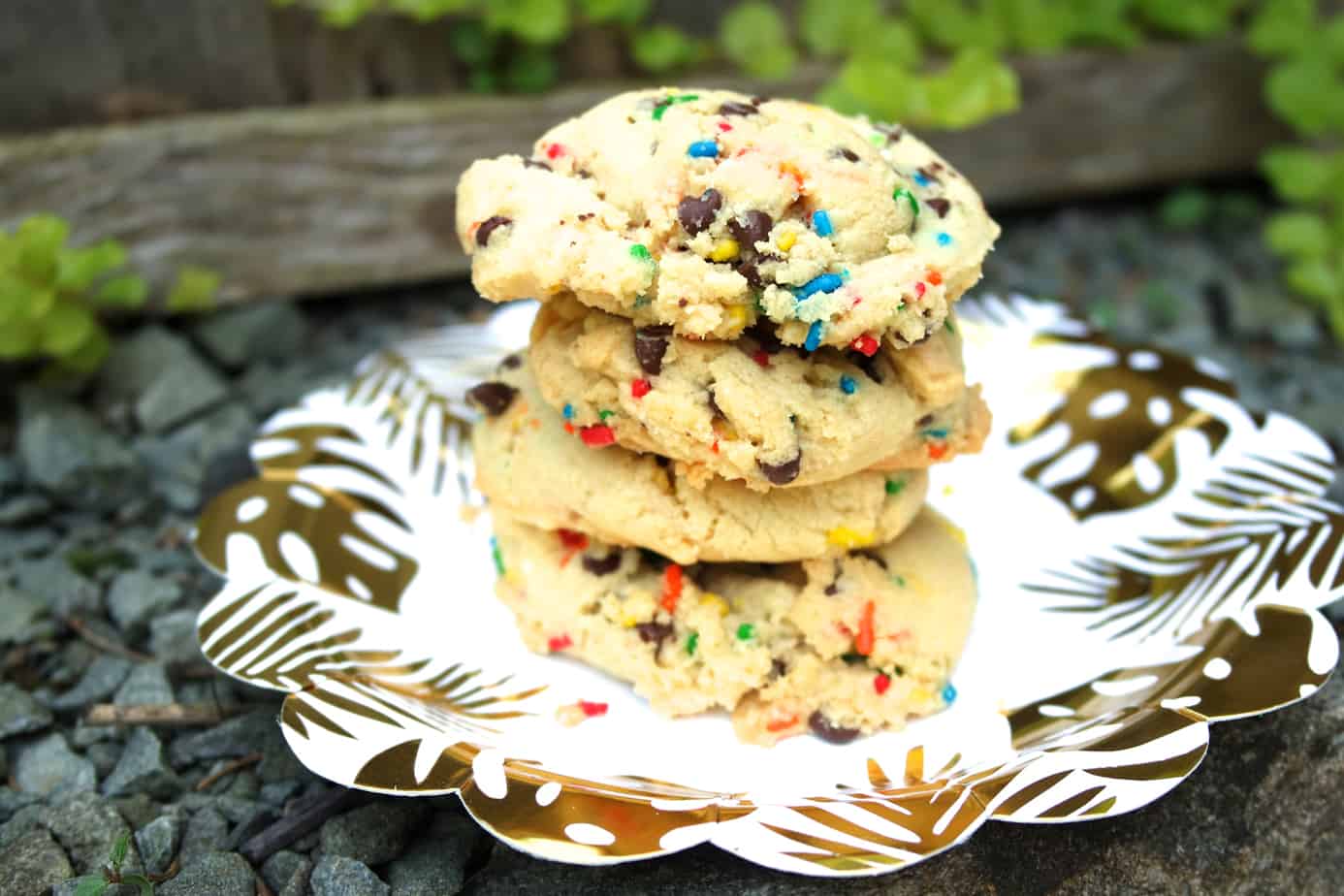 Funfetti Cookies
We love cookies as I am sure most of you know by now. We eat them in every variety that there is from chocolate chip to brown butter cookies and everything in between! I have this great recipe for a Moist and Chewy Funfetti Cookie that uses instant vanilla pudding mix to keep these cookies nice and soft.
Brown Butter Cinnamon Cookies
I have a new and delicious cookie recipe to share with you today. These brown butter cinnamon cookies are so yummy and decadent. When preparing the butter make sure to wait to get the butter brown. You should be able to smell the nutty flavor that it releases.
Coffee Chocolate Chip Cookies
The coffee in this recipe gives this recipe a new robust flavor. Brown butter cookies, mint chocolate cookies, almond cookies and more! This past weekend I tried a new version of the chocolate chip cookie- coffee chocolate chip. Now why didn't I think of that before?
Rosemary Pine Nut Cookies
At first I was a little skeptical about a savory cookie but these rosemary pine nut cookies are delicious! They are perfect for a breakfast treat, summer luncheon, BBQ – honestly everyone is going to love them. The best part you can use the herbs from your garden this summer! If you can't find pine nuts in your local food store, you can find them on Amazon.
Chocolate Chip Gingerbread Cookies
Tis the Season for everything that is holiday related and for me the smell of gingerbread baking resonates with Christmas. I do not like rolling out gingerbread to make cut out cookies at times, because it definitely is more time consuming. So what to do when you want gingerbread but do not want the hassle of rolling cutting and baking? Make these Gingerbread Chocolate Chip Cookies.
Christmas Cookie Recipes
This round-up of Christmas Cookies is only the tip of the iceberg with all of the cookie recipes we have on Ever After in the Woods. Each year I choose 5-6 cookies to bake and give as gifts for the holidays.